Copenhagen Cool-Girl Label Saks Potts Is Going Global
The brand's designers are sure to capture more fans around the globe with plans to show in New York and Paris next month.
As simple and cliché as it sounds, Saks Potts can truly best be described as "fun." During Copenhagen Fashion Week last August, for example, designer duo Barbara Potts and Catherine Saks provided showgoers with plenty of '90s nostalgia to enjoy, including a runway finale to Jennifer Lopez's "Waiting For Tonight."
Afterwards, backstage, models and attendees showered Potts and Saks with incessant greetings and praise. (That was my first attempt at interviewing them for this very story.) The vibe felt more like a party with close friends and family along the waterfront than an actual fashion show, and we assume wearing a Saks Potts piece imparts a similar feeling.
"From the beginning of our brand, it's been our mission to make clothes that you should have fun wearing," says Saks over the phone. She recalls the signature aesthetic of her native Denmark, generally comprised of a very minimal style and color palette. "We really pushed those boundaries for people to wear more colors."
RELATED ARTICLES
Indeed, colorful fur outwear was what made the label stand out when Saks and Potts, then 19-year-old students, launched their namesake brand in 2013. (Currently, Saks has one more year of studying design and Potts just graduated last summer with a bachelor's degree in art history.) With the help of Kopenhagen Fur, they managed to learn the ropes of the fur industry, designing their first-ever collection, which consisted of a single fur coat in multiple colors. "Working with fur as the first thing you do at age 19 is quite crazy. You need to learn so much about animal welfare, fur qualities, the difference between a female mink and a male mink and things like that," recalls Saks. "There are so many techniques. It's a very exciting material."
Crazy idea or not, Saks Potts was an instant hit among retailers, influencers and customers because of its hyper-focused point of view. Colette picked up its second collection and from there, the brand's presence went international, including Net-a-Porter, Matches Fashion, Browns and Shopbop. In 2016, the "Febbe" coat became a street style hit, spotted on Leandra Medine, Eva Chen and Emily Weiss in between shows at New York Fashion Week. According to Business of Fashion, revenue for Saks Potts has grown 100 percent year-on-year, and with its list of stockists boasting more than 50 doors, retailers see an average sell-through rate of between 80 and 100 percent with each collection. A celebrity following is also on the rise for the brand, with fans like Rihanna, Beyoncé, Lady Gaga and Gigi Hadid.
Perhaps smartly, Saks and Potts don't take a traditional approach to running their young and up-and-coming fashion brand. Each collection is numerated rather than tied to seasons, and when it comes to creating each collection, there's no calculated reasoning behind what's on offer in addition to the label's core outerwear styles. "It's important for us to not have a recipe for a collection with a certain amount of knitwear, trousers, shirts, dresses and skirts," says Saks. "We just make what we think is the right thing and that could be having 15 jackets out of 25 styles in a collection with three swimsuits, two T-shirts and two dresses. It doesn't have to be so by the rules."
They also try to adhere to a see-now, buy-now production cycle. "We make two collections a year and we try to have faster deliveries than other normal fashion brands because we think it's important for our customers to buy our clothing quickly after they've seen it on the runway and on influencers at fashion week," adds Potts.
They don't take the fashion show model so seriously either. As much as they enjoy being a part of Copenhagen Fashion Week, Saks and Potts prefer showing their collections in August exclusively. (They will not be having a runway show in January.) "Obviously, it's very important for us to show in Copenhagen, but showing in August really works for us because it's such a nice season for people to come to our show," says Saks. "It's also very untypical, so that's why we think it's fun to do something a bit different. It's quite important for us to have that flexibility because maybe we want to show in New York or Paris one season."
In fact, that's exactly what they plan to do come February. "It's no secret that Catherine and I really want to grow faster and hopefully build a bigger, more global brand," says Potts. In addition to possibly growing their team of six, the two designers plan on showing their ninth collection during New York Fashion Week and Paris Fashion Week. "That's actually quite a new step for us," says Saks. Though the two have yet to share exactly what they'll be doing in New York and Paris, or what's inspiring them for next season, we have a feeling we'll be pleased with what's to come. "We love to surprise people," says Potts.
See the Saks Potts Collection 8, available now, in the gallery below.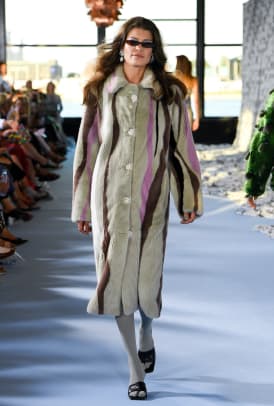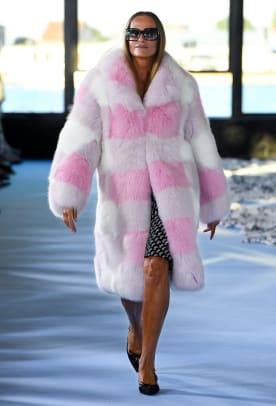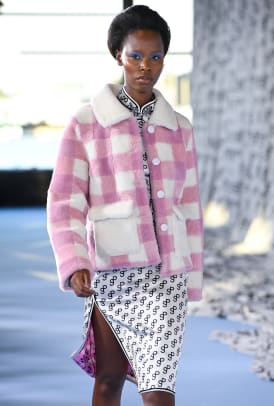 Want more Fashionista? Sign up for our daily newsletter and get us directly in your inbox.