Hey, Quick Question: Would You Wear Slouchy, Thigh-High Uggs?
Yes folks, they're real — and they're horrifying.
Welcome to our column, "Hey, Quick Question," where we investigate seemingly random happenings in the fashion and beauty industries. Enjoy!
A certain group of buzzy fashion brands seem to be locked in a stalemate concerning who can design the ugliest shoe imaginable that still retains enough of a "cool" factor to skyrocket it to cult status. Most notably, we have Balenciaga's Demna Gvasalia, who not only introduced platform Crocs on the French label's Spring 2018 runway in Paris, he's also the mastermind behind the chunky, Sketchers-esque sneakers that are arguably the most desired silhouette in footwear right now. (Everyone from Yeezy to Prada to Dior has a pair of them on offer currently.) 
Over the past few years, designers have worked to update utilitarian, decidedly unattractive shoe styles for a new generation of consumers, leading Teva, Birkenstock and Dr. Scholls to have a moment in the spotlight. But one classic brand, beloved by "basic bitches and bros," is really going for it: Ugg, which has collaborated with the likes of Thaddeus O'Neil, Jeremy Scott, Preen and Phillip Lim in recent reasons, is going all out to achieve a fashion revival. Its newest partnership is with super-hip French label Y/Project, a conceptual streetwear-influenced collective that's in line with Vetements, which debuted on the men's runway in Paris on Wednesday. 
Now, these aren't your typical ankle- or calf-high boots we're talking about. They're thigh-high! And slouchy! "Y/Project is about challenges. Since launch we've been twisting the grounded codes, we challenged the acceptable and triggered people by putting focus on the unexpected," designer Glenn Martens said in a press release. "By reworking the Classic boot with a typical Y/Project twist such as the triple overlaps and the extra-long legs we want to celebrate the UGG brand's unique history." While the early 2000s are inarguably back where trends are concerned, we'd guess that even aughts Ugg enthusiasts like Paris Hilton and Britney Spears would shudder at the mere thought of wearing these.
We know, nothing is toastier than shearling boots, and in the dead of winter, we're often forced to sacrifice style for warmth. But would you go to these lengths? If you're a brave enough soul — and can actually walk successfully in them — we hope you reach for the stars and pair them with a denim mini-skirt, as Miss Hilton herself probably would.
UPDATE, Thursday, March 1, 1:53 p.m.: We had not seen the last of this Ugg x Y/Project collaboration. A stiletto version of the Uggs — yes, thigh-high, slouchy stiletto Uggs — debuted on Y/Project's women's runway in Paris on Thursday, in addition to a heeled mule version. According to a press release, the designs will start at £195 (about $238) and be available at "select retailers" come September. Images below.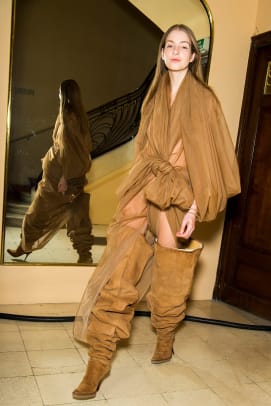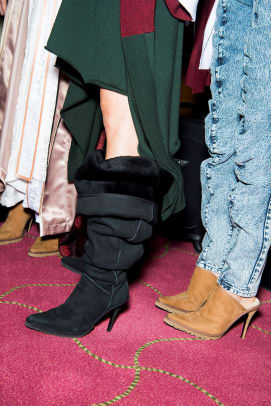 Want the latest fashion industry news first? Sign up for our daily newsletter.