See Every Look From Vetements's Fall Collection, AKA Things Fashion People Will Soon Spend a Bajillion Dollars on
This season, Demna Gvasalia took showgoers to an antique market in a suburb of Paris.
Earlier this month, Vetements began teasing its men's and women's Fall 2018 runway show — to be held in Paris during Men's Fashion Week — with delightful, fluffy videos of puppies, kittens and even baby goats (formally called "kids," I guess?). We were left hopeful that either the presentation or the collection itself would feature animals in some way, shape or form, à la Petements, so to shake up the Zürich-based label's subversive aesthetic. But alas, as we watched images of the show stream in from 5,800 miles away on Friday, we realized we were sorely mistaken. 
But that doesn't mean Vetements's latest offerings weren't as thrilling and shocking and rebellious as ever, because they were. Vogue described the collection as being "flea market chic," and they weren't wrong. In fact, Gvasalia even held the show in the Paul Bert Serpette antique market in the Parisian suburb of Saint-Ouen, and the range came complete with layers upon layers of appropriately eclectic garb, like floral silk scarfs styled with chewed-up denim jackets or roomy, paneled jeans with tweed overcoats and dad sneakers. There were, of course, plenty of references to heavy metal, including a pink ombré button-down emblazoned with a giant picture of Marilyn Manson and literal tattoo sleeves (you know, like the kind you could buy at Spencer's for your biker Halloween costume).
Out of the full lineup, though, we most expect to see the graphic tees — surely priced no less than $500 — all over the piece in the imminent future, most especially one that reads, "Hi. I don't care. Thanks." over an otherwise plain, eggshell frame. 
Click through the gallery below for everything fashion people will soon spend a bajillion dollars on, starting with the cheeky T-shirts. 
Unless you don't care. Thanks.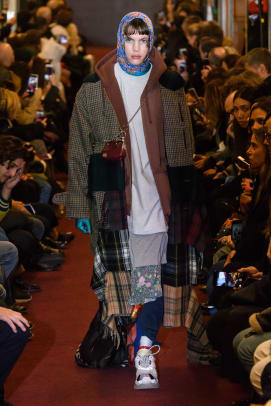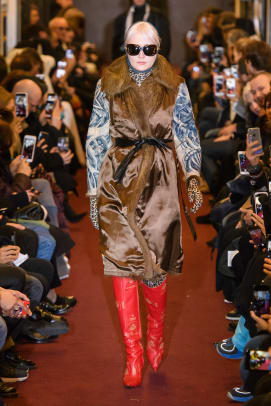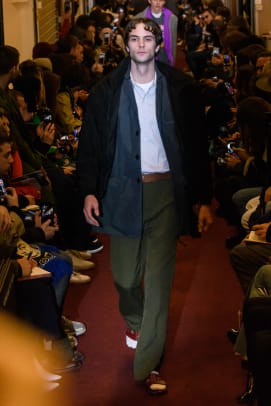 Homepage photo: Victor Boyko/Getty Images
Sign up for our daily newsletter and get the latest industry news in your inbox every day.