Abasi Rosborough, New York Fashion Week First-Timer, Is a Menswear Label to Watch
With a five-year anniversary ahead, Abdul Abasi and Greg Rosborough are expanding beyond their innovative suiting.
The Cadillac House was packed with eager attendees on Tuesday afternoon, as they waited for Abasi Rosborough's New York Fashion Week: Men's debut. Titled "Utopia/Dystopia," the Fall 2018 collection combines the brand's signatures in tailoring inspired by sport and military with an overarching conversational theme: technology and its advances, from social media and cryptocurrency to the iPhone X's facial recognition system and autonomous cars. "All of these things that can help society can ultimately destroy society," says designer Abdul Abasi.
"Are we leading ourselves into a utopian society or a dystopian society?" asks his partner, Greg Rosborough. "It's a double-edged sword and that's the tip of the iceberg with technology. Where is this taking mankind?"
Singer and songwriter (and Calvin Klein model) Kelela performed on the runway, alongside Abasi's brother and famous guitarist Tosin, as a diverse group of models showcased tailored looks with an Eastern influence in neutral colors, like navys and blacks — zen, peaceful, utopic — that progressed into a more deconstructed and disrupted wardrobe with bright primary colors and bold prints, or the aforementioned dystopia in clothing form.
RELATED ARTICLES
This season's consolidation of men's and women's fashion weeks may have brought more attention towards U.S. menswear, as well as NYFW at large, which is perfect timing for the New York-based brand to finally join the lineup. (Fall 2018 marks its eleventh collection.) "When you go to Paris, you don't like hearing that there's not really avant-garde or good creative designers in New York," says Rosborough on the recent exits of NYFW heavyweights for Paris. "We're from New York and we have some avant-garde ideas. We're pushing this aesthetic that's not just sweatpants and jean jackets." Indeed, with prize nominations from International Woolmark and LVMH, if there's a brand that the industry should keep an eye on right now, it's Abasi Rosborough.
Founded in 2013, the namesake brand's designer duo met while studying design at FIT. Together, they combined their fashion knowledge and past experiences — Abasi served in the military for eight years while Rosborough played basketball in college — to create a line of progressive tailoring for the 21st century. (Knit underarm panels for flexibility, extra pockets and reversibility, for example.) "I'm thinking of functionality and movement, and Abdul is thinking of utility and protection," explains Rosborough of their creative process. "We're not hiding what we've done before design school and this is what it is, and I think the story has become more interesting because of that."
With $10,000 saved up from previous jobs — Rosborough worked at Ralph Lauren and Abasi at Engineered Garments — the brand has been able to survive through the years by being extremely resourceful. "You have to solve problems relentlessly," says Rosborough, whether that's hiring friends for photo shoots, cold-calling buyers or using deadstock fabrics to produce limited runs locally. (Sustainability has been a strong pillar of the brand since day one.) The first season of Abasi Rosborough was exclusively picked up by Tokyo department store Isetan, and in an effort to garner even more retailers overseas, the two rented an Airbnb in Paris during market week for its second season, transforming the space — or rather, pushing the furniture aside — into a showroom. "It wasn't the most glamorous thing in the world, but you kind of get street cred for hustling in that regard," recalls Rosborough. "We got more accounts by being in Paris and more eyeballs on it." By season three, they launched e-commerce on their website.
With a five-year anniversary ahead, Abdul Abasi and Greg Rosborough are expanding beyond their innovative suiting. In September, they released their first-ever foray into footwear with a sneaker that embodies the characteristics of a Japanese tabi boot, Jordan basketball sneaker and English Chelsea boot. GQ debuted the shoe, calling it the "weirdest, most advanced sneaker" of 2017, and within a week, all 50 pairs sold out online. Sportswear is also in the pipeline, with tees, hoodies and more casual apparel that still holds true to the Abasi Rosborough methodology. "We've taken a few years to establish what our brand is, the architecture, the design language and now we're able to imbue other pieces of clothing with that," says Abasi. The range will also come at a lower price point — the line generally ranges between $300 and $500. "Ultimately," adds Abasi. "We believe good design should be for everyone."
See Abasi Rosborough's Fall 2018 collection from New York Fashion Week: Men's in the gallery below.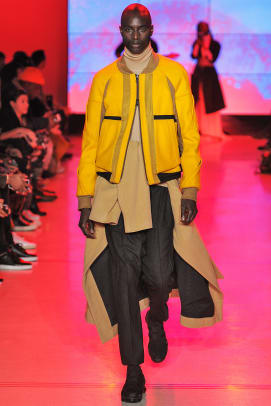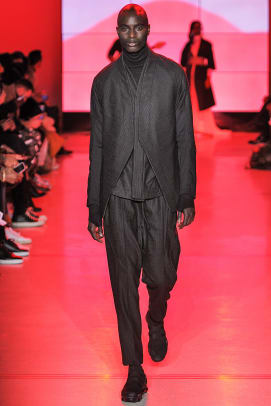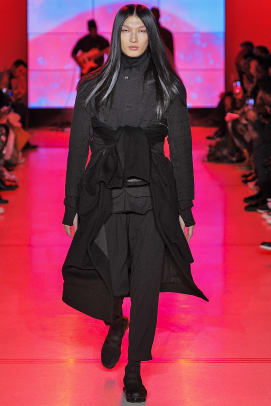 Sign up for our daily newsletter and get the latest industry news in your inbox every day.