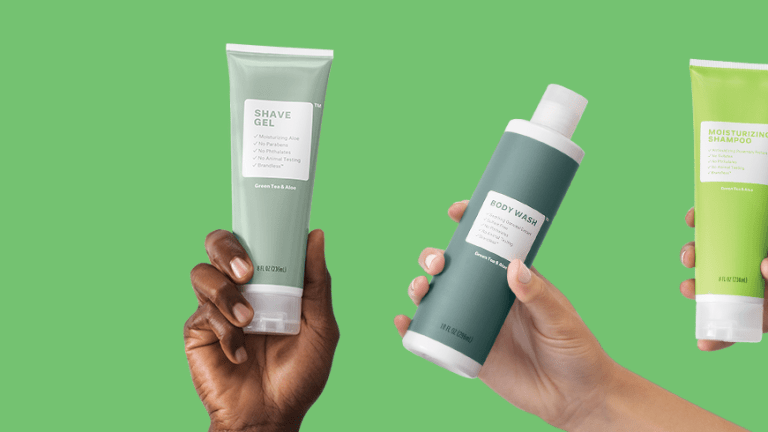 Is Brand-Free Beauty The Wave of The Future?
"We're trying to redefine what it means to be a brand by using it to transact authenticity — not make up a false narrative about a product you haven't even tried yet."
Conventional wisdom and years of tradition have told us that in order make it in the beauty industry, a brand must have a "personality." That can mean everything from a hyper-specific packaging aesthetic to  flowery copy to lab-coat-clad salespeople or, of course, celebrity spokespeople — all of which are supposed to communicate the aura, point-of-view and uniqueness of a brand. But over the past few years, a growing number of companies have begun turning that model on its head by foregoing the bells and whistles in favor of a more authentic, transparent, no-bullshit approach. The focus is not on crafting a lifestyle, but rather on providing no-frills, straightforward products that do what they promise and are anything but extra.
"It used to be that the only way you would find out about a new product was either by having a department store consultant tell you about it or by seeing it in a glossy magazine with the latest Hollywood star," says Nicola Kilner, co-CEO of Deciem, the company behind basic skin-care darling The Ordinary. "Now people consume their information and their knowledge through social media and what their peers are saying."
According to Kilner, this peer-to-peer recommendation is what spurred Deciem to focus on transparency, both in ingredients and pricing. "The ingredients in The Ordinary are 10-, 20-, 30-years-old, but they are some of the most effective and trusted ones in the world," she says. The company also took advantage of the fact that modern-day consumers are increasingly more knowledgeable about ingredients and actively seek certain ones out.
For that reason, The Ordinary made the unusual move of naming its products after the ingredients featured in them. While that may seem unimaginative in the age of Magical Unicorn Tears of Youth monikers, by calling a retinol a retinol, the brand guarantees clarity — and, more importantly, a coveted spot at the top of the SEO heap. "If [consumers] Google that ingredient, we come up quite high on those results because they are searching the product name instead of, like, the miracle elixir, which is very difficult to latch onto [in an online search]," says Kilner.
Those established, familiar ingredients also happen to be much less expensive to manufacture nowadays, which is how The Ordinary can sell products without the massive markups. Kilner equates it to health care: "If you went to the drugstore and saw aspirin for $3 or $300, you would never dream of spending $300 when you know the $3 aspirin is going to get rid of your headache," she reasons. "There's nothing wrong sometimes with being cheap. If that's the ingredient you want and that you know is effective, we don't need to put all the fuss around it." By cutting down on the excessive amount of money most beauty companies dedicate to marketing and branding, The Ordinary can establish price points for its products that are far more accessible to consumers.
Marcia Kilgore, founder of factory-direct beauty brand Beauty Pie, is also an early-adapter of the excess-free method. "The beauty industry has been built on selling customers a fairy tale. A lifestyle they can't have, ads where the models look better than they ever will," she says. "And they use that fairy tale to justify a really huge markup on products from lab to retail."
In contrast, Kilgore's brand serves as a "sourcing service" for luxury beauty, straight from trusted labs around the world. Most luxury lipsticks, she argues, are produced in the same places and use the same formulas. But putting a designer name on them and placing them in a department store with all of the typical marketing elevates the price of that $3 lipstick to $30 or more. Instead, Beauty Pie sells under a membership model where customers pay $10 a month for access to at-cost product prices. "Consumers are basically getting a backdoor pass to come into the factory with me and shop directly off the production lines," says Kilgore. "I think people are ready for something new — the old [fairy tale] is now boring."
But it's not just small companies that are an altruistic mission to save us from the marketing machine. The latest entrant into the brand-free landscape is the sincerely named Brandless, an online retail destination that boasts an impressive assortment of bespoke food, home, health and beauty products, each costing a cool $3 or less. The site's offerings include a range of household must-haves, from olive oil to body wash. "We want the products to speak for themselves — applesauce is applesauce. We turn 'brandless' into an attribute, where every product speaks for itself," says co-founder and CEO Tina Sharkey. "We're trying to redefine what it means to be a brand by using it to transact authenticity — not make up a false narrative about a product you haven't even tried yet."
Like The Ordinary, Brandless relies on its consumers to spread the word, both to their own network and in a feedback loop to the brand. And it's paying off. "People are coming back with double-digit orders every day," says Sharkey. "They discover one thing and then they share their experiences. Then they try several more things, and soon they're replenishing and discovering new things. The kind of community we are building is one that's bigger than any individual product."
That simplification, coupled with entry-level prices, means consumers aren't as hesitant to take a risk on something new. That said, all three founders stressed that if you take away all the "smoke and mirrors," as Kilgore calls it, you better be damned sure your product does the talking for you. "The thing about branding and marketing is you can get anyone to buy your first product if you put the right spin on it," says Kilner wryly, "but if it's not a good product, they'll never buy a second one from you again." 
Affordability is a core pillar of this micro-movement, but that doesn't mean there isn't room in this space for brand-free prestige offerings. Take, for example, the case of Soho fragrance boutique Perfumarie, where it's a matter of removing the recognizable to get to the heart of a product.
Founder Mindy Yang provides customers with a service called a Perfume Flight, an immersive experience that creates a blind tasting of sorts. For $20 (first-time visitors can partake for free), consumers are given access to 32 identical, label-free mystery taps, each stocked with a scent to sample. After going down the line, customers narrow their choices to two contenders, then try those on the skin to ultimately pick their personal winner. You are given a 5ml sample of that scent in a blank bottle and sent on your way. At the end of the month, Yang unveils what was in each tap, and you find out if your new perfume of choice is from an obscure, artisanal brand, a trendy, new designer scent, or… Pitbull. Yes, the rapper has his own scent and yes, it's been featured — and surprisingly, quite popular. The taps rotate each month, which Yang insists helps members build and evolve a fragrance collection and ultimately "form their own relationships with scents," rather than relying on packaging or marketing shtick.
Related Articles
"The removal of the trappings liberates us to choose more authentically," says Yang. "You can actually ask questions about the fragrance, to understand it, and choose what really speaks to you. It's empowering, unlocks creativity, and it's therapeutic." By disrupting the retail status quo, Yang posits that it throws down a gauntlet for the industry to innovate with the help of its consumers. "Together, we can create more things that people actually want to buy."
That "we're all in this together" spirit is what Sharkey says is a signifier of a palpable shift in the beauty landscape. "In the old model it was the one to many, meaning one person or one company or one [product] would climb to the top of the mountain and shout, 'Here's what I'm about!' and everyone is standing there listening," she says. "But in today's world, people are their own publishers and arbiters of experiences. They're sharing their experiences with their friends and influencing others. Brands need to reimagine what it means to be part of those communities and conversations."
Recognizing that the roles of consumer and brand are blurring means pressure will be on companies to leave the proverbial mountaintop and engage in new ways. But, predicts Kilner, brands that adapt and incorporate their users in an authentic way will reap the rewards. "The best marketing you can ask for as a brand is customers becoming evangelists and really sharing their experience," she says. Sorry unicorn tears, but looks like you're no match to the power of the people.
Homepage photo: Courtesy of Brandless
Never miss the latest fashion industry news. Sign up for the Fashionista daily newsletter.