Get Ready for the Apocalypse with Calvin Klein's Fall 2018 Collection
Like Raf Simons's dark view of America, these looks had many layers.
It doesn't look like Raf Simons has grown any more optimistic about America since moving stateside to take the creative reins at one of this country's most iconic fashion houses. Beginning with his first season at Calvin Klein one year ago, his approach to the runway collections, at least, has been to provide an outsider's commentary on America. He happened to show up at, well, not the best time in our country's history, so understandably that commentary hasn't been the most positive. But his follow-up to Spring 2018's horror-movie theme was the darkest yet.
In the show notes, Simons mentions a "wider, universal" view of American society and a democracy where "there is no cultural hierarchy." His statement is accompanied by a list of words including "firefighter," "pioneer," "cinema" and "collage." There's also "civil" followed by "war" and "new" followed by "world." The set was barns filled with popcorn, which also accompanied the show's invitations. It didn't make a whole lot of sense until you realized the barns looked burned and the popcorn, just maybe, was meant to represent burned-up corn fields. Yep, very dark.
The survivors of whatever apocalyptic disaster Simons has in mind for us were dressed in one of his most adventurous collections for the house thus far — and looked appropriately protected for a cold, dangerous dystopia. There was neon orange construction-worker garb, a slew of pieces incorporating Mylar and a fashion-y interpretation of hazmat boots and gloves. Most models also wore balaclavas that, while practical, had a very creepy effect en masse. In keeping with the barn theme, there were a number of prairie dresses, as well as dresses that appeared fashioned out of patchwork quilts and some aggressive layering tactics: Think threadbare sweaters (some of which featured Looney Tunes characters Roadrunner and Wile E. Coyote) layered over wool blazers layered over button-down shirts layered over turtlenecks. The Western shirting that's become Simons's Calvin Klein signature was also present.
Until this doom befalls us, at least we'll have some practical clothing and accessory options for New York's next cold winter; and once it does, the hefty prices we'll have paid for it will have been worth it — at least for those of us who survive.
See the full collection in the gallery below.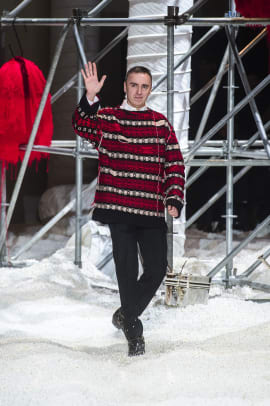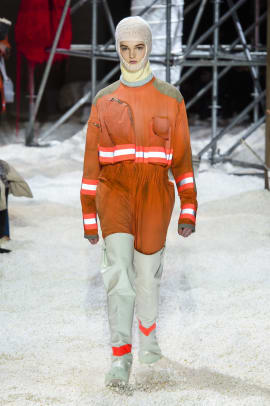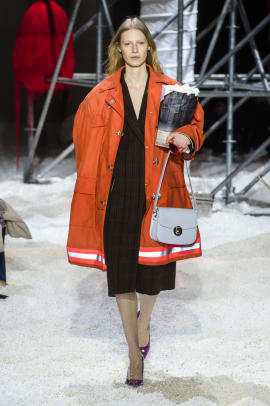 Never miss the latest fashion industry news. Sign up for the Fashionista daily newsletter.