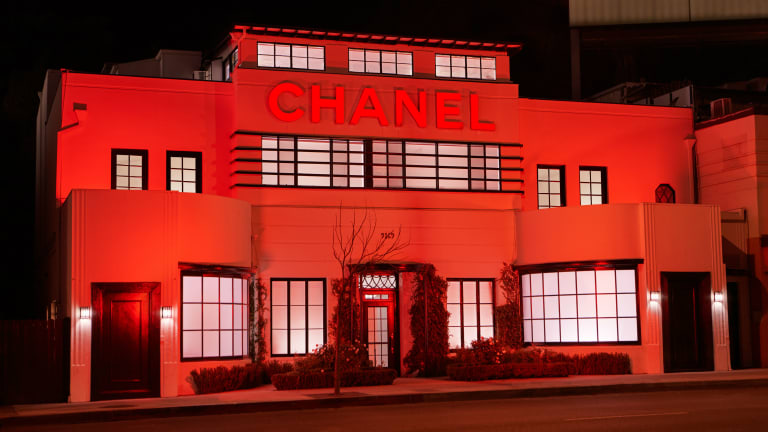 Inside Chanel Beauty House, Which Aims to Be the Most Instagrammable Pop-Up Ever
The Los Angeles experience, open to the public Thursday, has virtual reality, color-themed cabanas, a pearl-filled bathtub and much more.
In a way, Chanel has been a pioneer when it comes to digital and influencer marketing: There are the vaguely employed, wealthy, stylish and attractive "ambassadors" that have been populating its front rows for years, and it's engaged in Insta-bait runway show tactics since before Instagram even existed. The brand is also a prime example of how to do all that without sacrificing its air of luxury and exclusivity.
Its latest marketing initiative, however, is perhaps its most democratic yet: On Feb. 21, it launched @welovecoco, a new Instagram account dedicated to user-generated content that incorporates Chanel beauty products. It follows the January launch of a dedicated official @chanel.beauty account.
To promote the new account, the French company hired a selection of U.S. fashion and beauty influencers to post about it on Instagram. And, of course, there's also an IRL component: On March 1, Chanel Beauty House will open to the public for four days in Los Angeles. It's Chanel Beauty's answer to the experiential retail pop-ups that have become ubiquitous lately, although Chanel has been doing those for a while, too. (In 2016, it opened an "I Love Coco" beauty pop-up at the Chateau Marmont.) But the 2018 version is on another level.
The brand transformed a literal house on Sunset Blvd. into an immersive experience with a different, delightful installation in every room: In the "dining room," covered nearly floor to ceiling in red laquer, lipstick is on the menu. It houses lipstick stations equipped with chic coloring books in which to test out shades without covering your hand, plus stickers with the names of each shade. From there, you can head outside to one of the color-themed makeup artist cabanas to have your preferred shade applied, then head back in and take a photo of your lips in a customized Chanel photo booth; your lips then show up instantly on a screen on the other side of the room.
There's the bedroom, which houses an actual bed swathed in pink neon light with a mirror on the ceiling that reads "Provoke in Pink" — designed expressly for taking selfies. It's also equipped with its own makeup artist. A "dressing room" houses virtual reality makeup try-on stations: You sit down, look at a screen and the camera magically identifies your lips and allows you to "try on" any lip shade with the click of a button. There's a bathroom with coral Chanel-branded towels (which the brand should really sell; I would spend all the money on those) and a magic, high-tech, resettable mirror on which you can draw whatever you want using special "lipsticks." There's also, of course, a bathtub filled with pearls and, yes, you can get in and take photos.
Next up is not a kitchen or study, but rather a room in which you can swing on the actual pink swing from Lily-Rose Depp's latest Chanel beauty ad and have the images turned into a gif. Finally, there's a "content room" that just has a bunch of products and items for guests to create a nice flat lay. There's also a chic bar and a living room with a glass coffee table filled with lip gloss.
A report released by Quartzy Tuesday found that beauty brands made up only 5 percent of the social media conversation in 2017; it seems that Chanel alone could drive that percentage up with its latest initiatives.
While blatantly Insta-bait experiences like this can often make one's eyes roll (especially when you're an editor in LA who encounters them constantly), this one is undeniably delightful and dreamy. The Chanel brand is so iconic and aspirational that it feels more fun than desperate — and smart, given that LA surely has more content monsters per capita than any other city. Not to mention celebrities: On Wednesday night, the brand will host a cocktail party at the Beauty House for celebrities and influencers, so get ready to see that on your Instagram feed, too.
Chanel Beauty House is open to the public March 1 to March 4. You can sign up here. Browse more images below.
Never miss the latest fashion industry news. Sign up for the Fashionista daily newsletter.