Christian Siriano's 10th Anniversary Spectacular Was a Fabulous, 72-Look Blowout
He truly pulled out all the stops to celebrate his brand's milestone.
As of Saturday, Christian Siriano — design wunderkind and beloved champion of inclusivity — has officially been in the business for a decade. Saturday, of course, marked his 10th anniversary show, a true blowout that featured everything for which his presentations have become New York Fashion Week highlights, but done up at an 11. And, really, why not? Siriano has so much to celebrate and deserves to do so as best as he knows how: with high-wattage theatrics, beyond-excellent casting, a delightful celebrity presence (Cardi B!) and finally and most importantly, truly superb clothes.
In the case of the latter, this latest collection for Fall 2018 may have been his strongest yet. Siriano is renowned for knowing how to design for women, plural, not the single, waifish definition of "woman" that the fashion industry apparently landed on centuries ago. This strength of his was showcased prominently, and expertly, with a delicious sampling of evening pieces worn by women of all makes and models, including several famouses: Selma Blair strutted out in a nude, embellished jumpsuit; Danielle Brooks looked nothing short of divine in flowing, teal green; Ashley Graham, a celebrity in her own right, opened the show in a voluminous, belted red coat with glossy over-the-knee boots. 
The star power both on the runway and in the front row was palpable, and a true testament to the admiration and respect Siriano has built across a myriad of industries over the last 10 years; his supporters are loud and proud, and have made audience participation at his presentations a rule, not an exception. There was Cardi B, who made showgoers positively lose their minds upon her arrival, sitting alongside the likes of Laverne Cox, Molly Shannon, Christina Hendricks, Jaimie Alexander, Meg Ryan, Coco Rocha and Whoopi Goldberg; Leslie Jones, otherwise engaged in her official Olympics duties, was sorely missed after last season.
But, okay, the clothes again: There were 72 looks, a number that falls more on par with couture collections presented in Paris than the luxury ready-to-wear we see stateside. There were dainty, sequined Cinderella ballgowns; super-sexy patent leather minis; embossed brocade short-and-jacket sets; fanned tulle; hot-pink silk with matching headbands; fluffy skirts with cropped satin bustiers — and that's only the beginning. What the range perhaps lacked in one concrete "theme," it made up for in pure, perfect drama — and perhaps this time, that's the on takeaway that matters.
Congratulations, Christian, on a wonderful 10 years. We'll see you here for your next anniversary, ready for whatever you have for us.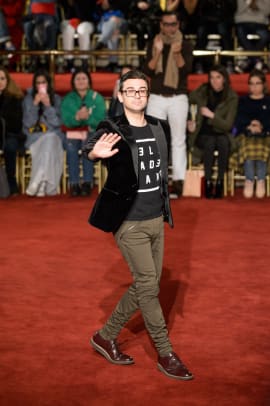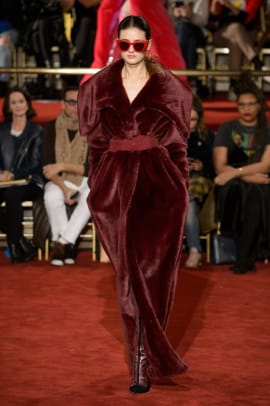 Sign up for our daily newsletter and get the latest industry news in your inbox every day.