Coach, a Spooky Forest and a Damn-Cool Fall 2018 Collection
Or, "Stranger Things" comes to New York Fashion Week.
We've known that Coach's Stuart Vevers has been a fan of "Stranger Things" since, at least, September of 2016, when Millie Bobby Brown and Winona Ryder sat side-by-side in the front row of the house's Spring 2017 runway show. While the second season of the Netflix smash-hit dropped in October, it was very clearly still top of mind on Tuesday for Coach's Fall 2018 presentation. Showgoers arrived to find Coach's set at Basketball City filled with something we don't see too often in New York City, save for those of us who live within walking distance of a park of some sort: trees, sneakily suspended from the ceiling, as well as a number of eerie, flickering televisions littered throughout the "forest." It wasn't until we were seated that we could see that each tree had been lightly sprayed with glitter, giving the whole set an iridescent sheen, similar to so many of those midnight "Stranger Things" scenes that give the show that campy, hormone-tinged charm.
The "Stranger Things" visual is pretty familiar to that of Coach's, actually: As Coach continues to look to the all-American styles of the '70s and '80s, "Stranger Things" remains firmly planted in the small-town, Midwestern Americana of 1984. This season, that manifested itself in heaps of fringe, Western shirting and clompy cowboy boots, as well as a new range of leather backpacks that you can already expect to see all over Instagram later this year. The brand's now-signature peasant dresses came accessorized with no shortage of punchy hardware, while its similarly signature jackets got a slight streetwear update with structured, likely detachable hoods. Perhaps influenced by the Coach's recent uptick in red carpet appearances (see: Selena Gomez), the runway lineup concluded with a series of flouncy prairie gowns, busily decked out in velvet embellishments, dainty lace and velvet paneling. While this is an aesthetic that could, theoretically, skew rather twee, it came off harder, slicker and sharper, and with darker undertones, like, perhaps, the "Stranger Things" kids after their first bout with the Demogorgon.
Maybe it wasn't quite as "Stranger Things"-inspired as I'm projecting. Or, maybe Vevers really is that obsessed with the gangly, fictional teens of Hawkins, Ind. Either way, it was nice to be transported out of that NYFW bubble for even 10 minutes, wherever I ended up. 
See Coach's full Fall 2018 collection in the gallery below.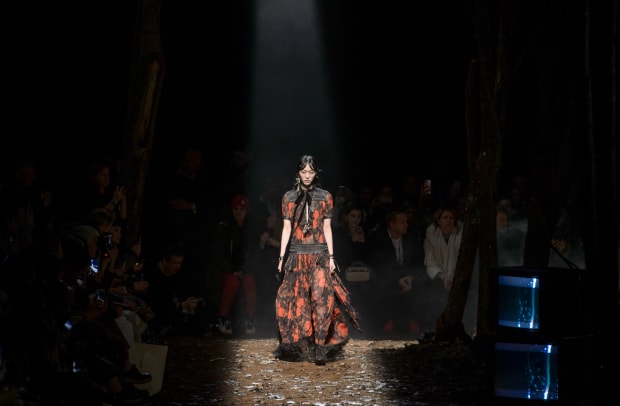 Sign up for our daily newsletter and get the latest industry news in your inbox every day.