Twinfluencers Reese and Molly Blutstein Made Their Runway Debut at Collina Strada
The up-and-coming Instagram style stars appeared as twin "flower girls" alongside other social media sensations in a fashion-show-turned-mock wedding ceremony.
Hillary Taymour, the designer behind indie label Collina Strada, has a habit of picking pretty concrete themes for her runway shows. Unlike her designer peers, who may pepper their show notes with vague references and inspirations, Taymour tends to lean hard into one concept per show, whether it's the potential pitfalls of social media or the dystopian future we'll all face if we don't learn to take better care of the planet.
This season, Taymour chose to build her show around a mock wedding, which featured multidisciplinary artist and Insta star Sasha Frolova (perhaps better known as @sashafro) marrying her "higher self" while style sensations Reese and Molly Blutstein (@double3xposure and @mollyblutstein, respectively) followed her down the runway-turned-aisle as flower girls. Other notable models included artist Alexandra Marzella (aka @artwerk6666) as a bridesmaid and therapeutic meme-maker Bunny Michael (@bunnymichael) as a spoken-word-spitting officiant. While not Insta-famous, there was also a live infant so cute that he probably deserves his own handle.
"There's so much hate on Instagram right now with things like #TimesUp, and I get it," Taymour told Fashionista after the show. "We can't not acknowledge any of that, but also... Let's deal with the problem within ourselves first. Let's turn back to love. I hope someone goes and reads about their higher self after this and finds out what it is if they didn't know before. Or at least meditates for five minutes."
Click through the gallery below to see every look from Collina Strada's Fall 2018 collection.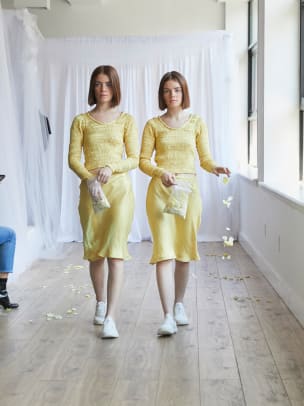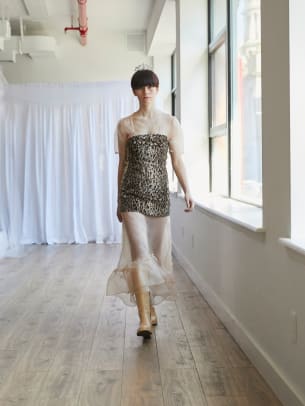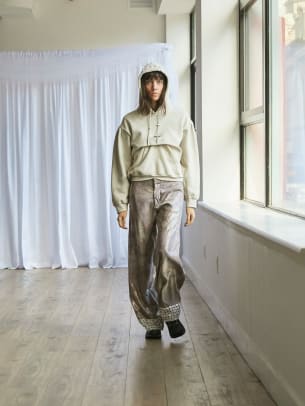 Stay current on the latest trends, news and people shaping the fashion industry. Sign up for our daily newsletter.