Dior's Fall 2018 Show Went All-In on the Resistance
The set was inspired by the landmark 1968 student protests in Paris.
Since coming on board as Dior's first female artistic director nearly two years ago, Maria Grazia Chiuri has made it clear that her future is, in fact, female. From her own artistic imprint to the French house's broader campaign imagery, she's pulled out all the stops to support the modern-day feminist movement, the most prevalent symbol of which remains her debut season's still-ubiquitous "We Should All Be Feminists" tees. It's a sentiment that — all current events considered — isn't going away anytime soon, including, apparently, at Dior.
Grazia Chiuri has also proven that she loves a theme, and Dior's latest range for Fall 2018, shown on Tuesday in Paris, delved even further into politics. This time, the brand abandoned its now-traditionally sparse set for one that was inspired by France's landmark 1968 uprisings, which began with a series of student protests against such topics as capitalism, consumerism and conservative sexual values. Upon entering the venue, showgoers were brought back to that time 50 years ago, with the walls, benches and even runways covered in tear sheets of fashion magazines from 1968. A familiar message — "Women's rights are human rights," courtesy of Hillary Clinton in 1995 — was blown up to cover a portion of a wall, with a similarly potent, albeit less widely-distributed Diana Vreeland quote opening the show notes: 
The Sixties were about personalities. It was the first time when mannequins became personalities. It was a great time of great goals, an inventive time...and these girls invented themselves.
The clothes certainly evoked a late-1960s aesthetic, both physically and in opinion. The runway lineup opened with Ruth Bell in a graphic sweater that read, "C'est non non non et NON!" (translated to "It's no no no and NO!"), a slogan that is as relevant today as it was in 1968.
There were plenty of colorful plaids, checks and patterned fabrics, like a navy-and-red tartan-esque tulle skirt with a polka dot underlay, or Dior's iconic Lady bag in the same eccentric patchwork that covered a jacket, blazer and collared mini-dress. Speaking of patchwork, Grazia Chiuri leaned into it hard: She threw the fabric (in several colorways, including denim) onto prairie dresses, oversized tapered trousers, shift skirts and even accessories, like the aforementioned bags and influencer-friendly knee-high boots. There was also plenty of leather ("The Matrix" coats; buttery bomber jackets) and, interestingly for fall, cotton eyelet, seen across breezy blouses and midi-length frocks. Dior is also making a play for its newest hero items: A classic leather belt with a gold "D" as its buckle, the ever-popular Gucci version of which can be seen on the industry's many devotees, as well as its own retro monogram, which Gucci, Fendi, Louis Vuitton and more have revived recently for a new generation of consumers. 
There were some truly beautiful pieces, like the series of gauzy, embroidered dresses that closed out the show, but there were also some more (potentially polarizing) thematic ones, like the aforementioned patchwork parade. And while the clothes, of course, matter — it's Dior, after all — Grazia Chiuri is clearly trying to do something much larger: Properly support, and outfit, a resistance, and all of us who partake in it.
See every look from Dior's Fall 2018 collection in the gallery below: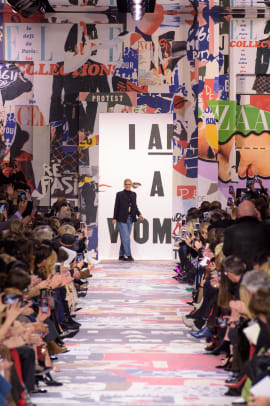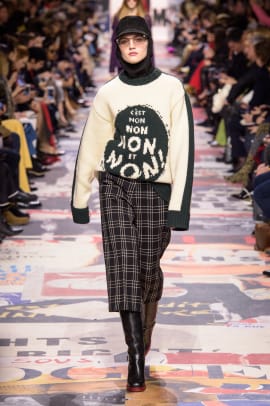 Sign up for our daily newsletter and get the latest industry news in your inbox every day.