Dolce & Gabbana Replaces Millennials with Drones for Fall 2018
No one is safe from the technology revolution.
All of Dolce & Gabbana's favorite royals and millennials were sitting front row at Sunday's Fall 2018 runway, having already served model duty at a secret show — dubbed "Secrets and Diamonds" — on Saturday night.
So the youths couldn't be blamed for Sunday's show running nearly an hour late; that honor would go to Dolce & Gabbana's next big surprise. Signs and announcements in several different languages pleaded multiple times for audience members to turn off their personal Wi-Fis and hotspots. As one might imagine, getting some 600 audience members prepared for a spectacle to turn off their connection to the internet was not exactly an easy task, and we were left wondering why it was so essential that Dolce & Gabbana have Wi-Fi dominance in the Metropol: Were we going to launch rockets? Was there a super-high security guest? Were we finally going to be launched into space?
After 45 minutes — and what was surely a very stern talking-to from one Anna Wintour, who, later, lost her patience for the proceedings and leapt up from her seat after 40 minutes and several announcements passed — we learned what was so important: Drones. The gates to Dolce & Gabbana's heaven opened up, and out flew a handful of drones toting a new style of handbag. They fluttered up towards the angels decorating the set before filing onto the runway. 
After all that fuss came the actual clothes on real models. The theme, according to the banner set above the Pearly Gates, was "Fashion Devotion," a spiritual-looking collection full of Dolce & Gabbana signatures: Lacy details, bedazzled Mary Janes, flirty minidresses, ruched corset-and-pencil-skirt numbers, brocade suiting and outerwear, and enough sequins to keep a kindergarten arts-and-crafts class in supply for several decades. Keeping to theme, many of the prints featured cherubs, and one suit came with a priest's collar; keeping perhaps less to theme was the full-length, sleeveless parka in zebra print, complete with a zebra-head hood and what appears to be real fur running down the back. 
Of course, Dolce & Gabbana still has an eye on those millennials. There was plenty of high-flash sportswear, like a fully-sequined jersey, velvet trackpants and a silky bomber jacket with cherub's wings sprouting from the back. Some of the eveningwear looks were paired with sock sneakers (also bedazzled, natch). A look featuring lace bike shorts wouldn't have looked out of place in the paparazzi-shot Yeezy collection.
Having opened the show with angels, the show closed with three holy figures: A "Young Pope"-esque coat, a "Virgin Mary" sequined dress with jeweled cowboy boots and a priest's black robe. If it sounds like it was a lot, it absolutely was. But for dedicated fans of the brand, many of whom were in the audience, it was also a lot of fun. As for the rest of Sunday's crowd, well, let it never be said that Dolce & Gabbana aren't dedicated to putting on a show.
See the complete Dolce & Gabbana Fall 2018 collection: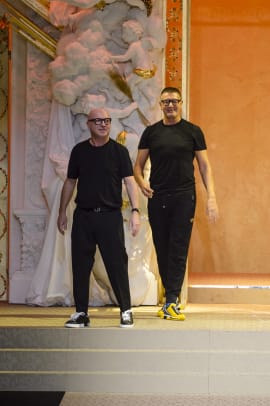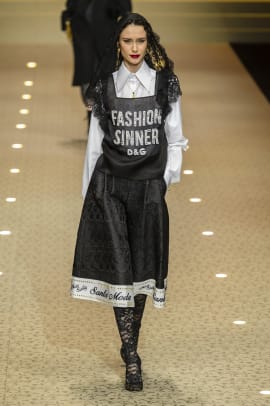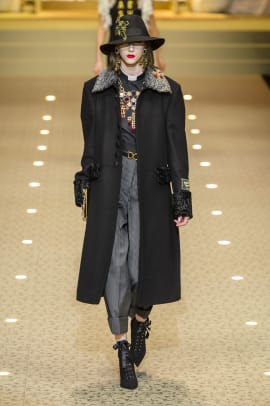 Want the latest fashion industry news first? Sign up for our daily newsletter.