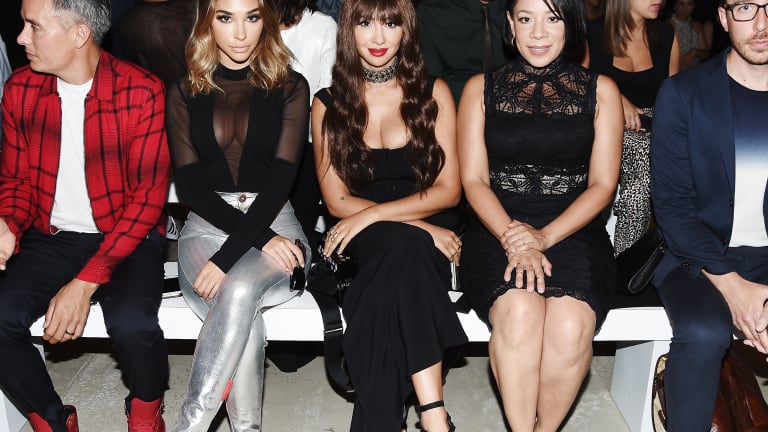 What Fashion Week Is Like for an Influencer Wrangler
"We had a Trump situation last year," says Tracey Manner, Partner & Vice President of Think PR.
"It's not the most fun part of fashion week," admits Tracey Manner, Partner & Vice President of public relations, marketing and digital agency Think PR about wrangling influencers for her clients' New York Fashion Week shows and events. "It becomes such a game."
Because on top of planning logistics for runway show productions, dealing with press requests and outreach and managing client expectations, PR agencies are also handling invitations, contract negotiations and even car service arrangements with influencers who populate the front row, from celebrities to socialites to social media stars, ranging from from micro-influencers to powerhouse names, like Chiara Ferragni, Chriselle Lim and Danielle Bernstein. 
Manner has been part of the fashion week PR machine for almost 10 years (and 20 seasons), and during that time, has wrangled influencer attendees for clients that have included Halston, 3.1 Phillip Lim, Bibhu Mohapatra and Addition Elle. Now, Manner is currently in go-mode for stacking her clients' front rows for Fall 2018. 
"I literally just left a fashion week planning meeting and it was almost slammed at me: 'We have to have people!' Because everyone's seen the social capital of it," she says. 
Fashionista caught a moment with Manner before she started the onslaught of calls and emails to VIPs (or their agents) to discuss the nitty-gritty involved in wrangling influencers for NYFW, including what negotiations are involved, why dressing influencers doesn't stop after the runway lights go down and how a Trump family member's attendance (or non-attendance) threw a wrench in the seating chart last season. Here are the highlights.
Related Articles
How do you start preparing, reaching out and starting negotiations with influencers prior to NYFW?
If a client has budget, if they're after someone specific [and/or] if there's a clear relationship established [between the brand and influencer], we'll reach right out to that person. If not, we'll find out who's in town first, because we've found, after years of honing, that it's such a chicken-and-egg situation. A lot of digital influencers are just as proactive. Our team works with them throughout the year, so they're already asking us what shows we have on our docket.
What are the negotiations like?
It really depends on level of talent. If it's someone stellar that we're going to pay, there is a full-on contract. It's a personal appearance agreement and can include everything from a fee or a huge clothing trade to a guaranteed number of social media posts and the amount of time they spend [at the show] — even down to nitty-gritty: "You must arrive on-time beforehand to see the designer backstage and take photos with designer backstage;" "You must see designer after show and take photos." It is super specific. "You must come dressed in full look," or "you must come dressed in one piece." We've found the more specific we can get in those contracts, the better. You can plan as much as you can and set up cars and all that, but the tighter the contracts are on that kind of stuff, it's a little bit easier to then say, "But she didn't fulfill her whole time."
How different are digital influencer negotiations from celebrity negotiations?
They're really different. A celebrity generally plays by the rules of that contract. I would say more of the digital negotiation is a handshake agreement and, frankly, sometimes they don't show up. Even if you sent clothes to dress them. There are a few different types [of digital influencers]. There are some that look at their world like a business, and you have others that are like, "I'm doing what I can and it's a privilege to go to shows." The ones that are more professional, they make an agreement to come to a show and they're going to be dressed there — and they're there. 
We've been in situations when they don't show, so they will come to showroom the next day or a week later to keep the relationship, especially if the brand is important to them. They understand there are brands, if you miss their show, they might not want to work with you as much. But then there are others that just are no shows and that causes the PR hustle of who is sitting in this seat at the last minute.
What type of loaning or gifting is involved, and how is it negotiated?
It depends on who it is. Some digital influencers will wear clothing once and give it back, others would like the gift and some look at the gift as an exchange of finances for their appearance. With Bibhu, for instance, his collection does have fur — all ethically sourced — but one of our negotiating points, because he does not pay talent, is we could give them a fur, potentially. But influencers, especially digital ones, they come in for fittings — we have fittings starting already in our office — and pull outfits because some of them change their clothes four or five times a day.
What's it like for your team members wrangling the influencers on the day-of the show?
You're dealing with booking car service and talent is notoriously late for car service. You're talking to their assistant or, whomever, "Your car is there." If you have to provide glam — hair and makeup — you're making sure that that was finished, but also depending on the event, sometimes there's agreements, as well, with hair and makeup being no pre-photos, which happens. Then, depending on the scenario with the talent, if the talent is giving interviews, as well, you have to coordinate the interviews, and make sure the editor is there on time and that the talent is ready for them. You have to make sure they're comfortable when seated and their guests typically sit behind them, so make sure they're fine, as well. And make sure they're ready for photos, whether it's front row or backstage. So, it's a lot of handholding.
Do you coordinate street style photography for the influencers outside the runway venue?
We alert certain street style photographers if [influencers are] coming to the show. We do not call paparazzi, but we do know certain street style photographers that have told paparazzi who's at the shows, which is fine.
How do you coordinate with influencers for social media outreach during the show?
Generally the digital girls, they're there to show the content to their followers. For the most part — I would say nine out of 10 times — you don't even have to push to get them to post during fashion week, especially in their Instagram stories. I always give social media cards out at shows with the hashtags and the handles — just as a reminder — especially to those that you can't really expect anything on social, unless you pay 100 percent. But it's just a helpful reminder. Generally, they're all playing the game, too.
How do you then report back to your client after the show?
Instagram Stories disappear, so we have a team that goes into checking all of anyone that checked in through [Launchmetrics, formerly Fashion GPS]. They're checking all the influencers' social media immediately and watching it for the next 24 hours, and then we count all the metrics through that. Because it's important for clients to understand if they got 4.4 million Instagram likes or something like that. Our clients like to see the impact they made socially, as well, outside of just press clips.
How else do you work with influencers during fashion month?
Sometimes our designers have seen more impact from influencers wearing something on the street than at their event. Like, Charlotte Simone is a really good example of that. We do her show in London. She has amazing British "It" girls everywhere, but it's more impactful for her to dress people when they're in between shows then at her show. If Chiara [Ferragni] is spotted in a Charlotte Simone beret, which happened during fashion week last year, it was such a good content.
What additional work does that entail?
It's a lot of figuring out what influencers and celebrities are wearing. It's a lot of loaning, fittings and people coming in. It's also working with celebrity stylists. Nour Hammour, a leather jacket brand from Paris, makes custom jackets for people. It's just a heightened time for all of them. And it's funny because every client — fashion, accessories — everyone's senses are heightened at that time, looking at who's wearing what and where they're going. Because Nour Hammour doesn't show [at fashion week] — they're still a baby brand out of France — it's so important that we get jackets on people. Eva Chen is a big supporter and wore their jacket during New York and Paris, and for them, it had a huge impact. 
You watched this fashion week front row go from celebrity to influencer then celebrity-influencer crossover. How has the whole game evolved for you?
I think there's still something to be said about a killer on-brand celebrity front row. It will never go away. I think that brands are really trying to find that complementary aspect where you have your great celebrity front row or your influential women, but then you also can get the digital side, as well. I think it's finding the balance. It also depends on who the brand is. If the brand is targeted at just at millennials, maybe they don't need celebrities; maybe they just need digital because their consumer is actually clicking through on Instagram and buying.
What's the biggest influencer crisis moment you've had at fashion week?
As an agency, I don't think we've really had influencer meltdowns during fashion week, ever. We had a Trump situation last year. The show that Tiffany was at was not mine, but she was supposed to come to one of ours. So, we had Secret Service walkthroughs and security issues and we made a decision on the PR side that [her attendance] didn't need to be as intentional. We did not dress her, and she did not come. We welcomed her because she had a personal relationship with the designer, but we just felt, as an agency, and also for the designer, we didn't need to make it such a purposeful thing. But because we didn't send the dress, she didn't come. All of that preparation that happened and all of those hours of work, it was for naught, basically.
This interview has been edited and condensed for clarity.
Top photo: Social media personality Chantel Jeffries and "Orange Is the New Black" actresses Jackie Cruz and Selenis Leyva at Nicole Miller's Spring 2017 runway show. Photo: Nicholas Hunt/Getty Images
Want more Fashionista? Sign up for our daily newsletter and get us directly in your inbox.