Fendi Is Feeling the '80s for Fall 2018
The Sloane Ranger rides again.
In 1982, "The Official Sloane Ranger Handbook" was published, solidifying the look of the British upper class as exemplified by one Diana Spencer, future Princess of Wales: Plenty of silky blouses, mid-length skirts and ladylike kerchiefs. Karl Lagerfeld and the Fendi team must have dusted off their copies for gathering Fall 2018 inspiration, as the collection was full of staples that same preppy set would love.
Menswear plaids and checks in greys and browns set the tone for the collection, offset by navys, plums and olives. Blazers and coats are built very literally boxy through the shoulders, a structural nod to the padded shoulders of the past. There were a few romantic dresses towards the back of the runway lineup in white, embroidered with delicate flowers for an effect not unlike your grandmother's tablecloth. (It was pretty, I promise.) Skirts and dresses featured sharp knife-pleating, sometimes hidden away under a more structured layer of wool.
Of course, it being 2018 and all, the look got a millennial twist in the form of fur sweatshirts with the Fila logo (which was created by Scottish artist Hey Reilly, and then re-appropriated by Fendi) and on-trend Western boots in various leathers; influencers will be fighting over the PETA-unfriendly matching blazer and miniskirt set in fur. And Fendi got the memo that logomania is trending again, slapping their double-Fs on everything from coats to boots to (obviously) bags. 
See every look from Fendi's Fall 2018 collection in the gallery below: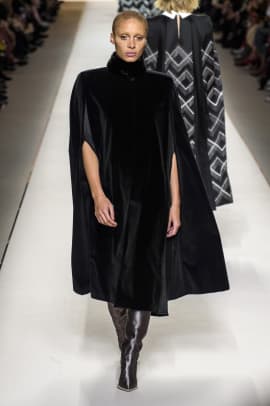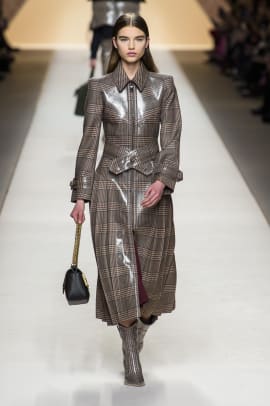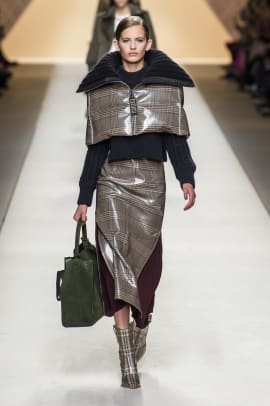 Want the latest fashion industry news first? Sign up for our daily newsletter.