Gucci Out-Guccis Itself for Fall 2018
This fashion show had everything: Nipple tassels, dragons, head purses...
To walk into Gucci's Fall 2018 fashion show was a bit unnerving — the set mimicked the operating room of a hospital, perhaps, or a particularly intense examination room.

But actually, it was designer Alessandro Michele's lab, where he has been experimenting on the Gucci Cyborg. It turns out it's possible for Michele to even out-Gucci himself: As the first model took the runway carrying a perfect replica of her own head, it was clear that, rather than experiment with a different aesthetic, Michele is ready to double down. He continues to mine from pretty much every culture globally, from Sikh to South American Indigenous culture, as well as nearly every time period. See: medieval chainmail body jewelry and '80s ruffled lamé dresses.
On the runway, there were all the signatures of a Gucci show, from oversized sequin blazers and lamé shorts for men to full-coverage velvet dresses and logo legwear for women, all layered maniacally. It would also appear that Michele is getting into the ugly shoe trend, pairing both simple sneakers and a hiking-water shoe hybrid with dresses and suiting alike.
And that was just the conventional stuff, because [cue up your best Stefon voice] this fashion show truly had it all: Diamanté nipple tassels, knit gimp masks, a pet dragon, a pagoda hat, models embellished with third eyes or eyes on their hands, unibrows... To underline that these were truly of Michele's creation, some of the models even wore sheer Gucci "garment bags" layered over their looks.
Between the staging and the pacing, it was hard to keep up with everything that was happening in every look, but pulled apart from its more-is-more styling, the collection had plenty of classic Gucci pieces for both famous and non-famous fans of the brand. (Shout out to whomever wears a tamed-down version of a black tulle gown with kelly green feathers and a chest piece to the Oscars).

The must-have pieces to keep your eye on next fall will undoubtedly be the ready-to-wear and accessories emblazoned with logos for the New York Yankees, the Los Angeles Dodgers and the San Francisco Giants. Oversized "NY," "LA" and "SF" lettering was splashed across blazers, baseball caps and the signature Gucci loafer, as well as one stellar pale blue coat that street style stars will fight over come September. And if you're not into sports, there were a few Hollywood-inspired pieces, including a "Faster, Pussycat! Kill! Kill!" sweater and a red sequined-and-feathered ode to Paramount Pictures.
See every look from the Gucci Fall 2018 show in the gallery below: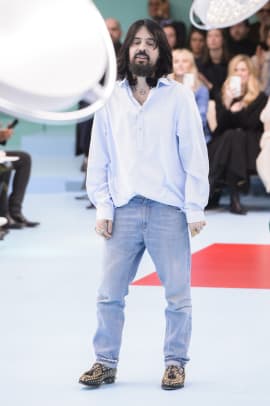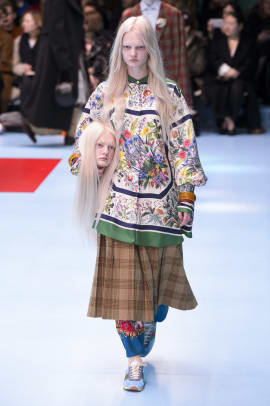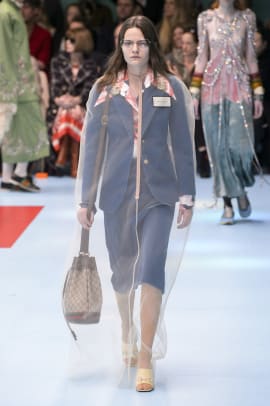 Want the latest fashion industry news first? Sign up for our daily newsletter.