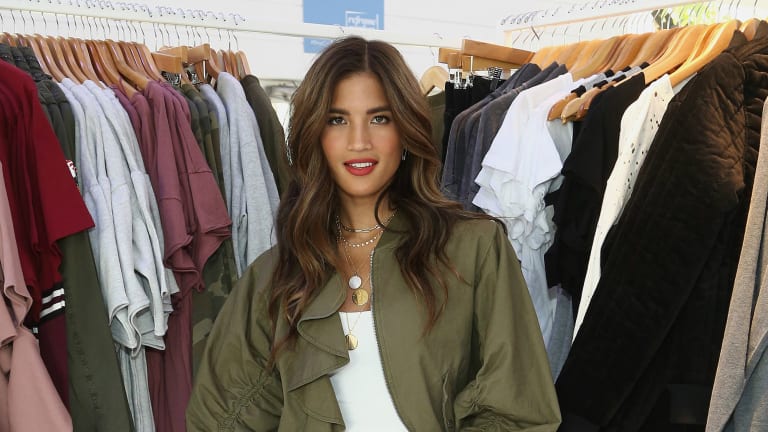 This Is How Much It Costs to Wake Up Looking Like an Influencer
Are you sitting down for this? You're going to want to sit down.
It's one of life's most bewildering paradoxes: The more money and fame you have, the more people seem to want to give you things for free. This phenomenon used to be exclusive to celebrities, but in the age of Instagram, it extends to anyone with a decent following — and, if brands are paying enough attention, high engagement rates.
But unlike sponsored posts, these freebies (a move that's often called "gifting") aren't always marked with #ad on Instagram because the FTC doesn't regulate gifting as harshly. In fact, the rules are notoriously fuzzy: You're required by law to denote any paid partnerships with the appropriate hashtags, but things like press trips, samples, gifts and other "collaborations" are a bit less clear. If you've ever seen someone hamming it up with their facialist/dermatologist/dentist in an Instagram Story, hawking their "magical/life-changing/[insert transformative adjective here]" services, the influencer — who may have anywhere from 10,000 to a few million followers — may not have been paid, but there's a very high chance the service was complimentary. Once you get into Botox/filler/thrice-weekly personal training session territory, these costs can add up, and keep in mind that most of these unwritten deals mean that unfavorable reviews are often out of the question.
The life of an influencer — especially those of a high enough caliber that they've turned it into a full-time gig — is busy, pampered and sometimes easy to mock. But it takes a lot of hard work (and thank you notes) to wake up perfectly airbrushed, toned and hairless. Ahead, a not-entirely-comprehensive list of the top beauty perks that often come to top-level influencers, and how much it would hypothetically cost you to wake up looking Instagram-ready every morning. Are you sitting down for this? You're going to want to sit down.
Related Articles
Facials
Whether you're Elaine Welteroth hawking facials at Gotham Wellness, a microinfluencer giving the play-by-play at CAP Beauty, or an A-list celebrity walking into Shani Darden's discreet West Hollywood home for a microcurrent session, facials might as well be considered their own form of currency.
Darden, a top aesthetician with a cult following and an even more cult-y skin-care line, works with celebrities like Jessica Alba, Shay Mitchell and Emily Ratajkowski. Though you won't find a ton of celeb-laden selfies among Darden's tagged Instagrams, if you look carefully, she pops up in top influencers' Stories all the time — often while they're trying out the very Instagrammable LED light mask she sells. Mitchell is a long-time fan, and Marianna Hewitt calls her a "miracle worker." Darden's customized facials start around $300, but no official word on if she offers comped services in exchange for a shout-out.
Dr. Harold Lancer, arguably one of the best-known dermatologists in the game, also has a slew of high-profile clients, including the Kardashians — it's no accident that his Beverly Hills office is a hop, skip and jump away from Dior, Valentino and Celine on Rodeo Drive — and with the Kardashians come the top-tier bloggers. Though he declined to comment on any pro-bono services, his skin consultation is no joke: "There's a crew of three people for every patient," he said via email. "Along with myself, there's a nurse and an aesthetician, and there's a consultation each and every time that a person is seen in order to keep track of how things progress … After the consultation and visual presentation, I go into counseling them on whether they are right or wrong in their focus, and what their focus should be." That alone costs about $350, and for those who aren't stateside, there's the Lancer Method, which retails for $255.
This, of course, doesn't count the endless stream of free products bloggers and celebrities are gifted on a daily basis. Though brands large and small often pay for Instagram posts (Nyx, Living Proof and Phyto all work with influencer agency Fohr Card), others rely on the hope that their product might seamlessly make it into an Instagram post without the cloudiness of a #sp tag.
Estimated total cost: $1,500+/year
Botox and Fillers
For some, Botox and fillers are often more secretive treatments, making them intrinsically less likely to be up for publicity — but that doesn't make a word-of-mouth recommendation from a popular blogger any less valuable. Two dermatologist sources speaking on the condition of anonymity confirmed that pro-bono injections aren't as uncommon as you'd think. "I know that many doctors do provide free cosmetic services in exchange for social media posts," one NYC-based derm told us. "It's like the newest generation of advertising."
And according to Dr. Joshua Zeichner, the Director of Cosmetic and Clinical Research at Mount Sinai, Botox can cost close to $500 per session. "Typically, lower amounts of Botox may be used for people with early wrinkling, as not as much is needed to give 'baby' treatments," says Dr. Zeichner, who tells us that it typically lasts three to five months. "Once you start to develop etched in lines in your 30s, you may need a full dose, which may range from $500 or more depending on how strong your muscles are and how deep the lines are."
Estimated total cost: $1,500/year
Lip Injections
Dr. Lancer confirms that volume replacement fillers like Restylane start around $600 and increase depending on the patient. They can last anywhere from about six months to a year. And as for how common this not-so-subtle practice is amongst influencers? Well, if you've ever scrolled through Instagram before or caught glimpse of anyone with the last name Jenner, you know.
Estimated total cost: $1,200/year
CoolSculpting
CoolSculpting, which uses cryolipolysis — a non-invasive process that involves cooling — to eliminate fat cells without the downtime that comes from surgery or a really hard series of workouts, is popular among celebrities and bloggers who have what women's magazines so gently refer to as "problem areas." The cost? About $3,500 all-in, when you account for the half-dozen or so sessions you'll need to see results; though it's technically a medical treatment (it was cleared by the FDA in 2010), insurance rarely covers it.
Similar to Botox, CoolSculpting and other fat-burning machines fall into the "easy way out" category, making it a less popular candidate for shout-it-from-the-rooftops Instagram coverage. Still, while some spas are particularly thirsty for business (NYC's Skinney MedSpa contacted our reporter no fewer than 23 times in one week to schedule her free consultation after she first reached out), others refuse to offer a discount in exchange for free sessions.
Estimated total cost: $3,500 total
Lash Extensions
One surefire way to get lashes on the cheap: cast a web of influence so wide-reaching that you just create your own brand of 'em. Blogger Lilly Ghalichi Mir, who got her start on Bravo's "Shahs of Sunset," did just that: In 2013, she launched Lily Lashes, a brand that now boasts nearly one million followers of its own.
If you're not #blessed enough to start your own line — or if you're just a casual fan of long lashes — extensions or lifts can run you anywhere from $100-$300, while a pair of falsies goes for about $20. (The former need to be replaced about every six weeks, and the latter are usually intended for one- or two-time use only.) There's also the lash-growth serum route, which is a popular #sponcon topic: A quick browse through @thequeenpegasus's tagged photos show the brand works with influencers on sponsored posts fairly often.
Estimated total cost: $2,400/year
Laser Hair Removal
Laser hair removal might not seem like the easiest beauty service to plug on Instagram, but Glo Spa, located in NYC's financial district, boasts some heavy traffic thanks to its influencer partnerships. "Influencers are our main source of revenue and help a great deal in getting us exposure," says co-founder Saime, who says the spa also offers cellulite reduction, skin-tightening and micro-needling. "When we started our business, we decided not to pay for any advertisements and only work with influencers in exchange for free or low-cost services. Not only has it helped our business, it has created wonderful relationships with these people and has also given me an opportunity to help other businesses with our new connections."
The brand often works with microinfluencers who InstaStory their experience —presumably, they stick to PG areas, like legs and arms — and then offer a small discount to their followers, a referral strategy that's popular among beauty and accessories brands. And with packages ranging from $300 to $800 at Glo Spa in particular, that discount goes pretty far.
Estimate total cost: $800 total
Non-Surgical Nose Job
Much to the dismay of anyone who had an old-school nose job in the '90s, non-surgical rhinoplasty is a thing now — and it requires little to no downtime. Developed about a decade ago by LA-based cosmetic surgeon Dr. Alexander Rivkin, the non-permanent procedure takes about 30 minutes from start to finish — making it a solid candidate for a five-part InstaStory.
"According to your preference, Radiesse, Voluma or Artefill is injected to fill depressions, smooth out sharp angles or change the angle of the tip of the nose, restore symmetry and make your nose appear more attractive and in better harmony with your face," says a rep from Dr. Rivkin's office. As for the price tag, Radiesse and Voluma ring in at $2,000 and $2,500 per visit respectively, whereas Artefill costs closer to $1,500 per visit — and will last about six months.
As far as giving freebies to top-tier influencers goes, Dr. Rivkin's rep said he's open to offering reduced or comped rates in exchange for social media coverage, though she wouldn't expand on any specific partnerships. "It is solely up to Dr. Rivkin to give any form of discount or comped treatment based on our average following," she told us via email. "He does need to see you first to assess your nose and make sure you are a candidate first, then he will be able to determine the amount of discount."
Estimated total cost: $2,000 total
Hair Extensions
Extensions from top celebrity stylist Priscilla Valles (whose clients include Kylie Jenner, Shay Mitchell, Chrissy Tiegen and Hailey Baldwin) can cost close to $3,000, but most in-salon hair extensions are priced around $500, plus a three-to-five-hour time investment. (Clip-ins are by far the lowest cost, ringing in around $100, while tape-ins can cost up to $1,000.) 
Though Valles would not comment on exchanging services for posts, many NYC-based salons offer top bloggers haircuts, colors or extensions for an Instagram plug.
Estimated total cost: $2,000/year
Spray Tans
Spray tanning, which is apparently still a thing, could run you anywhere from $50 per session to $400 for a month-long package. The emotional cost of being a constant, unnatural shade of orange is not included.
Estimated total cost: $2,500/year
Microblading
Just a few short years ago, the idea of tattooing your face was likely to be met with shock and horror — but in the age of the influencer, microblading (aka mini, hair-like tattoos to fill out sparse eyebrows) has become a household term. Some NYC-based salons, like Emilia Berry's Permaline, make it a common practice to gift the service, which costs about $1,000 — to both editors and influencers in exchange for coverage. And it makes sense: An influencer with good brows is your best advertisement. Typically the results last for anywhere from one to three years.
Estimated total cost: $1,000/year
Professional Teeth Whitening/Veneers
Dr. Michael Apa, a celebrity cosmetic dentist who splits his time between New York City and Dubai, boasts more than 162,000 Instagram followers, making him an influencer in his own right. (He also works with plenty of influencers, including the Kardashian-Jenner crew and Nikkie Tutorials, above.) When asked if he'd ever offer services in exchange for coverage or word-of-mouth referral, he said: "It all depends on the case. As a form of marketing we've worked with top-tier social media personalities and celebrities. We always charge something but it all depends on the person and how we can use their name." Whether that's a discount on a whitening session (which costs about $1,000) or something more extensive like porcelain veneers (which can run anywhere between $20,000-$50,000), it's not a bad perk.
Another option if you're looking for a better smile? There are always companies like Smile Direct Club, which shells out big money (upwards of $1,000/post for an influencer with about 50,000 followers) for an Instagram shout-out.
Estimated total cost: $1,000 for whitening; up to $10,000 for veneers
Personal Training
Never mind the gifted leggings and sneakers — classes or personal training sessions are often up for grabs if you're a high-caliber influencer or celebrity. Though most trainers we spoke to said they wouldn't necessarily offer long-term programs for free or reduced prices, some may comp classes, or let influencers bring friends in exchange for an InstaStory or full post on Instagram proper. SLT, specifically, offers influencer classes, though brand reps expect you to fill the class up with other influencer friends, who will presumably use their social media power for amplification. Other NYC-based studios may offer a discount on more regular personal training programs that usually go for about $1,000/month.
Estimated total cost: $7,000/year
Meal Delivery
No, we're not talking about Blue Apron or Hello Fresh. It's the boutique meal delivery plans like Sakara or Clean Program that often offer up their very expensive, health-focused meals in exchange for a few Instagram Stories. While the Clean Program's 21-day shopping list will run you $475 for two meal-replacement shakes/day (lunch is on you), Sakara's five-day plan is priced at a hefty $349.
One microinfluencer who's worked with both brands said there's no written contract about gifting or posting requirements. Rather, "there's always an understanding that I'll post about my experience." That sometimes means sharing a discount code — which doesn't come with a kick-back — and a few InstaStories about how it's going. Sample content includes complaints about how hard it is to give up burritos and wine but how good it feels to fit into skinny jeans/dress from last winter.
We won't even get started on Fit Tea or SugarBearHair.
Estimated total cost: $5,000/year
Grand total
According to our calculations, adding up the very rough estimates represented above, it would cost the average, non-influencer or celebrity human roughly $31,400 a year to maintain the standards of physical beauty represented daily in our Instagram feeds. (That number is closer to $40,400 if you were to opt for veneers rather than plain old professional teeth whitening.) We don't know if this should make us all feel slightly better or much, much worse. 
But please do keep in mind, looking photo-ready at all times is an influencer or celebrity's full-time job, and if these standards seem completely unrealistic to you, that's because they are. Instagram often reflects a fantasy more than reality — which is why it's so good at getting people to buy stuff — and while it's certainly enticing to do so, we urge you to not hold yourself up to the physical beauty standards that seem like a norm on the app. 
Main photo: Tommaso Boddi/Getty Images for Zappos x Cotton
Never miss the latest fashion industry news. Sign up for the Fashionista daily newsletter.