Kaia Gerber's First Chanel Campaign Is Here
Karl Lagerfeld shot the 16-year-old lounging in Coco Chanel's apartment for the label's latest seasonal ad.
In January, Kaia Gerber made her couture debut on the Chanel Spring 2018 runway in Paris. And Monday marked another momentous first for the model with the label, appearing in its Spring 2018 handbag campaign. For the shoot, Karl Lagerfeld invited Gerber into Coco Chanel's immaculately preserved apartment, which is perched atop the label's flagship store in Paris. In images captured by Lagerfeld himself, the 16-year-old supermodel on-the-rise rests her miles-long limbs atop one of Chanel's plush suede sofas, while showing off the brand's latest clear and quilted handbags. 
The seasonal ad explores the special and timeless relationship between a woman and her bags. Lagerfeld visually tells this story in a way that transcends generations, styles and eras by bringing the future face of fashion into the heart of its past: Chanel's residence is a historic relic — one that serves as a sanctuary to the iconic designer's creative processes and influences. The space is signature Chanel, complete with plush sofas, quilted cushions and ornate gold accent pieces. But beyond opulence, it's also a setting filled with objects that bear memories and tell stories of a life lived by a woman many decades ago. 
Click through the gallery below to see every image from the campaign: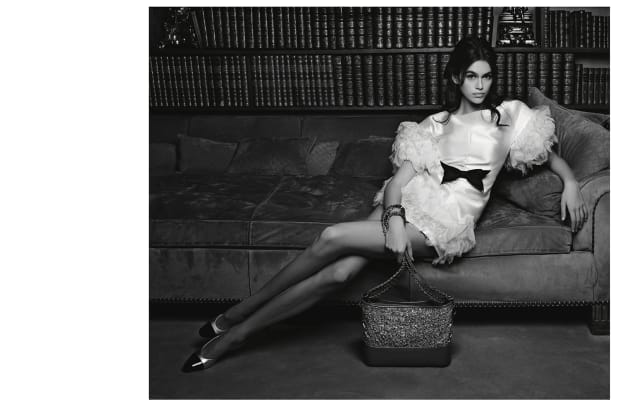 Stay current on the latest trends, news and people shaping the fashion industry. Sign up for our daily newsletter.