Laurence & Chico Is Turning Fantasy Into Fashion
Married design duo Laurence Li and Chico Wang already have lifestyle-brand ambitions for their two-year-old label.
When you wear a piece from Vancouver-based womenswear label Laurence & Chico — be it a baseball cap, a pearl-embellished bomber or an oversize ruffle tweed skirt — you become a part of the brand's otherworldly narrative. And it's a colorful narrative that contains a whimsical lineup of clothes and accessories designed for women who aren't afraid to make a statement. 
The now-married couple Laurence Li and Chico Wang began their cheery namesake brand in 2015 while attending Parsons School of Design in New York. Li, a Canada-raised illustrator, was studying fashion marketing, and Chico, a former visual merchandiser for Lane Crawford in Asia, was studying design. Wang, who hails from China, also logged time at Alexander McQueen, Givenchy and Miu Miu and won the Chinese equivalent to "Project Runway" before bringing his sartorial talents to the U.S.  
Outside of class, Li kept a diary of illustrations depicting himself and Wang as little characters, and Wang encouraged him to sell them as mini works of art. "We started selling postcards in Soho across the street from Miu Miu at this little laundry stand from Ikea," says Li. "We sold more than $1,000-worth on the first day and then that's how we got encouraged to extend to T-shirts — we were like, 'Oh, people are not opposed to our style'." 
Following the postcard success, they dropped out of school and went to work on their first collection. But Li didn't stop making his four-by-six-inch illustrations of the duo's daily lives when they moved on to ready-to-wear: For every collection, Wang transforms Li's paper creations into fashion creations. What then comes to life season to season, are wild plays on shape, texture and color. 
Wang designs each collection — which typically contains a large assortment of outwear, separates and dresses — with dramatic beauty in mind. He pays close attention to detail and employs his couture-level skills to invent new ways of decorating garments. Key fabrications include luxe silk, shredded tweed infused with glitter, embroidered denim and Interlacing pearl embellishments, which punctuate most of the current collection. 
Three years have passed since the brand's launch, and it's remained true to its maximalist roots. "Our presentation will always be full of crazy, bold wigs and super-size silhouettes that tell our brand's story," notes Li. "But because the market has responded very well to certain things, we've added in more feminine pieces." Laurence & Chico's spring and fall offerings both appeal to an outspoken lady with their generous use of pearls, glitter, ruffles and monstrous bows throughout. 
At the time being, the label can be found at range of luxury retailers, including: Moda Operandi, Luisa Via Roma, H. Lorenzo, Politix Studio and Farfetch. But it's important for Li and Wang to keep the brand affordable. "We don't want someone to think about it when they purchase," explains Li. "They shouldn't have to wait for it to be on sale."
This emphasis on affordability stems from Li and Wang's desire to share the brand's wacky story with as many people as they can. And thanks to their entrepreneurial spirit and a never-ending pool of ideas, they plan to further spread the Laurence & Chico vision by opening cafés as well as expanding into makeup and furniture.  
"The reason why we want to do a café, is because we find our clothing to be such a niche market and it's very specific to that clientele, but we want everyone to experience Laurence & Chico's culture and story," Li says. "So you don't have to buy our couture technique pieces, but you can buy a T-shirt or even a coffee for $3.50 with our packaging and our story." 
Related Articles: 
They're well on their way. A café in Vancouver is set to open later this year, officially marking Laurence & Chico's foray into the food and beverage industry, as well as its transition into a lifestyle brand. "Everything from the ceilings to the wallpaper to the furniture to tableware, we will design," says Cathy Ho, the brand's in-house PR Director. "Eventually, everything in the café will be whatever you see, you can buy — from tea to tiles to lights." 
In addition to working on the café, makeup and furniture, Li and Wang have their sights set on more celebrity dressing: The brand already counts Solange Knowles, Björk and Charli XCX as fans, but it's eyeing Rihanna. 
"We want a range of people from commercial to much more avant-garde," says Ho. "We've always believed that there's something for every type, because there's avant-garde pieces, but there's also girlie, feminine, sexy pieces that we want celebrities to also be able to wear." 
With its large collections, there really is something for everyone: A structural tweed jacket for Anna Wintour, a beehive wig for Björk and a velvet puffer for everybody else. 
See Laurence & Chico's Spring 2018 collection in the gallery below.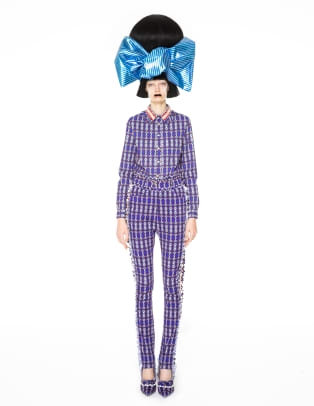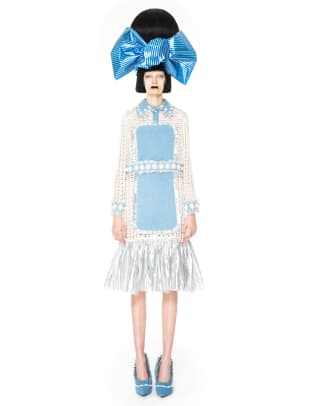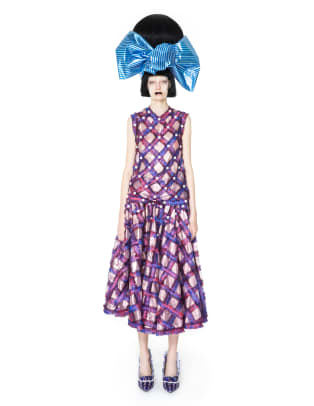 Stay current on the latest trends, news and people shaping the fashion industry. Sign up for our daily newsletter.