Pat McGrath Created Glittery Oil-Slick Lips for the Maison Margiela Fall 2018 Runway
They're as mesmerizing as they sound.
The Maison Margiela runway is always, season after season, a reliably jaw-dropping standout moment, full of drama and creativity — especially where the beauty look is concerned. To accompany John Galliano's quirky designs, makeup artist Pat McGrath and hairstylist Eugene Souleiman have spent years cultivating the Margiela aesthetic, one of individualism (it's rare that any two models have the same look), strangeness (bleached brows and multimedia elements are common) and mesmerizing beauty. 
Each Maison Margiela show is an opportunity for the two pros to come together and show their mastery and innovation of their crafts, truly living up to the title of "artist" and pushing the boundaries of what hair and makeup can lend to a runway show. That held true as ever at Wednesday's Fall 2018 runway show in Paris, where lips were the focus. 
McGrath and her team crafted a series of lip looks that are the stuff of makeup mood-board dreams: precise and hit-you-over-the-head bright, in traffic-cone orange, antifreeze blue and electric violet. And then there was the glittery oil- slick look (above) on model Alyssa Traoré, which matched the holographic skirt suit she wore on the runway (below). 
Beneath the hoods, caps and hazmat suits, Souleiman often didn't have the opportunity to do much with models' hair. But in certain cases — on Teddy Quinlivan, who whore a shimmery ruby cap, for example — the messy, wet-looking texture he created lent the ideal grungy contrast to the glitz and campiness present on the runway.
Click through the gallery below for a closer look at some of the stand-out beauty looks from the Maison Margiela runway (and see the full collection here).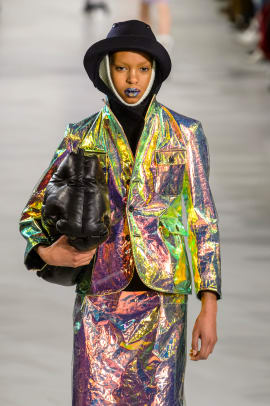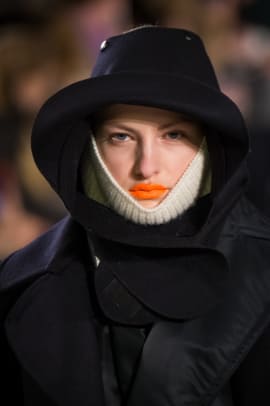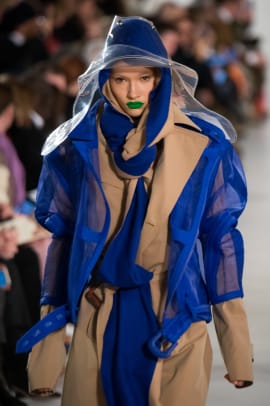 Homepage photo: Imaxtree
Never miss the latest fashion industry news. Sign up for the Fashionista daily newsletter.