Marc Jacobs Served Up a Spectacular Dose of Old-School Drama for Fall 2018
With extreme silhouettes, rich textures, vibrant colors and expressive models, the designer put the "show" back in fashion show.
As the fashion industry at large continues to chase modernity, social media success and the millennial customer, it's an increasingly rare phenomenon for a runway collection to transport you a bygone era. Marc Jacobs has always been a showman, and though his last two New York Fashion Week presentations were relatively sparse, he turned the drama way, way up for Fall 2018 with a richly layered range that recalled those of history's design greats — and further secured his own place among them.
For fall, Jacobs was all about a dramatic, oversize silhouette, making for a collection that was theatrical, textural and artistic, and while the runway styling was certainly over the top, each separate element looked easily wearable. The designer swaddled models in gigantic, colorful cashmere coats topped off with matching scarves, voluminous blouses with twisted flourishes at the neck, roomy high-waisted trousers and skirts and menswear-inspired overcoats. Each look mixed rich materials like leather, velvet, silk, wool and tweed, as well as a vibrant array of colors, ranging from jewel tones to bright, primary shades to shining metallics. Pattern play was big, too, with everything from polka dots to pinstripes to plaids and abstract graphic prints popping up throughout the collection.
Every single look had a personality of its own, with at least one unique standout feature: Sharp hats sat atop some models' heads, while others had their hair dyed to match their designated ensemble. A few came down the runway with a long fur stole hanging from their arms, while others walked with their hands on their hips, or with an arm raised allowing a handbag to hang from the crook of the elbow. Some were nipped at the waist with a wide leather belt or a flower-like flourish, and several were accessorized with an ever-popular belt bag (otherwise known as a fanny pack) — one of the most commercial elements of the collection. Sweaters were bedazzled; shoes were embellished, striped or animal print; gowns came complete with balloon sleeves or bow trains... the list of divine details could go on forever. The entire range was a feast for the eyes, and worth poring over yourself — perhaps several times in order to truly appreciate it.
Thanks to Jacobs, editors, buyers and the like closed out the week in New York with an experience on par with a piece of theater, or at least a brief flashback to decades past, when new silhouettes and big ideas attracted shoppers and pushed the industry forward. It's safe to say that, this season, Jacobs successfully put the "show" back in fashion show.
See every look from the Marc Jacobs Fall 2018 show in the gallery below: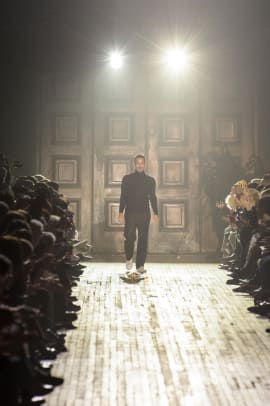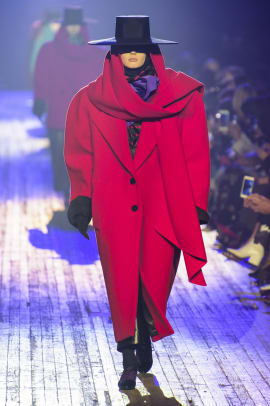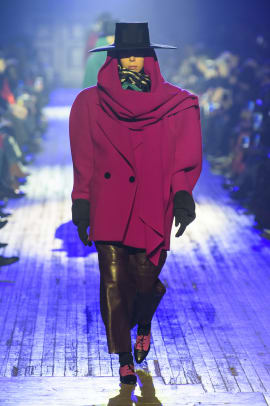 Want the latest fashion industry news first? Sign up for our daily newsletter.