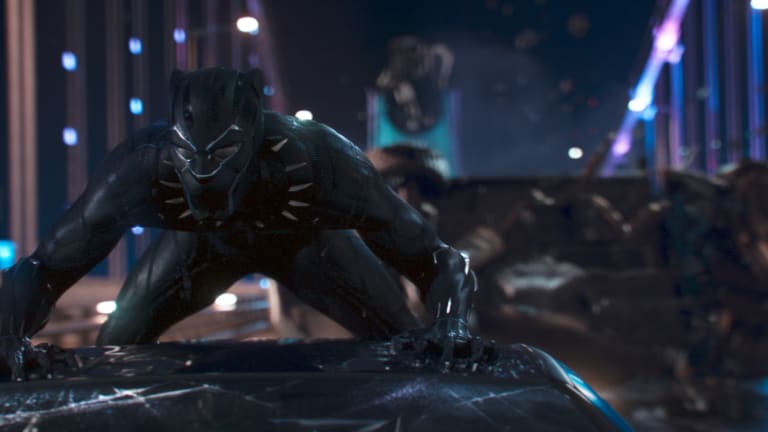 The Costume, Hair and Makeup in Marvel's 'Black Panther' are a Celebration of Black Culture and Heritage
From the new Black Panther supersuit to Lupita Nyong'o's Wakanda-honoring knots.
"Black Panther" hasn't even hit theaters yet, but it's already making history. It broke Fandango's pre-sale record, it's the first Marvel Cinematic Universe movie featured on the cover of TIME magazine — in the form of star and Black Panther himself, Chadwick Boseman — and it's the first big budget Marvel superhero movie with a predominantly black cast and behind-the-scenes talent, led by "Fruitvale Station" and "Creed" director Ryan Coogler.
RELATED ARTICLES
"Black Panther" is a celebration of black culture that both powerfully pays homage to African heritage, while honoring the future through the highly advanced Wakanda, powered by vibranium, an indestructible (and very coveted) metal native to the never-colonized (and hidden) Afrofuturist nation. To help tell T'Challa and Wakanda's stories in such a powerful way, the costume, hair and makeup were designed to create new, never-before-seen, and sure-to-be iconic looks and personas to inspire generations (and sequels) to come.
Fashionista spoke to the talent behind the scenes, starting with Camille Friend, "Black Panther" Hair Department Head, Emmy-nominee and Marvel vet, as well as Joel Harlow, Makeup Designer, Oscar winner and "Buffy" alum. Creating the supersuits is a team effort, starting with the talented illustrators at Marvel Visual Studios, including Ryan Meinerding, Head of Visual Development and Anthony Francisco, Senior Visual Development Illustrator. They designed the costume concept art for the hero (and villain) suits, which were then given to Oscar-nominated costume designer Ruth Carter to bring to life — along with upwards of 1000 costumes for the royals, warriors and citizens of Wakanda, plus additional baddies, bystanders and background players. Carter's work on this film is especially poignant, as the premiere of "Black Panther" marks her 30th anniversary in the 'biz, starting with designing costumes for Spike Lee's "School Daze."
Read on for a spoiler-free, behind-the-scenes deep dive into why the Black Panther supersuit 2.0 fits so perfectly snug on Boseman, how Lupita Nyong'o's hairstyle honors Wakanda and what it took to remove the body makeup Michael B. Jordan wore to play villain Erik Killmonger. (Hint: It involves hot steam and oils — caught your attention?)
Wakanda
"I tried not to use any of the influences from the colonization of the different areas of Africa," explains Carter, who then heavily researched "real pieces": original art, jewelry, beadwork and artifacts from ethnic groups on the continent. To represent Wakanda's unparalleled technological capabilities, Carter also infused "very avant garde, very Afropunk" qualities. (More on how she studied her "Wakandan bible" here.) 
At Coogler's request, she created specific color palettes for each of the Wakandan tribes, like plums and purples for the merchants, referencing the Sub-Saharan Tuareg; green for the river tribe, based on the Suri in Southwestern Ethiopia; and ochre for the mining tribe, inspired by the Himba in Northern Namibia. One of the most breathtaking moments in the movie is filled with saturated colors, beautiful prints, and African-inspired finery and weaponry, as all five Wakandan tribes gather to celebrate T'Challa's coronation at Warrior Falls. 
Harlow, whose team came onto production later, "took a huge note" from Carter's established palette for the face and body-art designs designating each of the groups. "The ceremony was the chance to really showcase what that culture and that heritage would look like when everybody is exhibiting their finest representation of their specific [tribe]," says Harlow.
Of course, hair is an integral part of a celebration of Wakanda, which Friend was proud to take on in such an unprecedented scope. "We've never really seen a movie about the continent of Africa and African people in this way," says Friend, who looked to traditional African art, fabrics, hair and textures and the current-day natural hair movement. "They're a technologically advanced society, so I felt very honored to be able to do the hair and keep the hair natural. We did braids, locs and twists. We used extensions, wigs, everything under the sun." Each tribe also had their own identifiable hair aesthetic, like the mountain-dwelling Jabari people's hair is shaped in "very straight, clean lines" with war-paint detail, inspired by Senegalese warriors. 
Black Panther a.k.a. T'Challa
To headline his own blockbuster, T'Challa (Chadwick Boseman) slides into a second, upgraded version of the first Black Panther suit, originally illustrated by Meinerding for "Captain America: Civil War." Coogler suggested new design elements inspired by the 2016 version of the "Black Panther" comics, written by Ta-Nehisi Coates and drawn by artist Brian Stelfreeze, starting with the mask. Tasked with the supersuit redesign, Marvel Concept Artist Adi Granov tweaked the earlier feline visage into a combination of "an African panther mask and a man's face," with a lowered nose and the ability to reveal Boseman's eyes. Also, "Ryan [Coogler] liked the idea of the ears being swept back; more like an actual angry, growling panther," explains Meinerding. 
The Panther suit 2.0 features its own superpowers beyond vibranium, expressed in the new design. To depict the nanotechnology aspect, the suit has a "sleeker, more elegant silhouette" that fits like a "singular skin," as opposed to the earlier "bulkier" version. Plus, during particularly intense moments, ultraviolet (of course Wakanda would predict fashion trends) patterns illuminate to reveal tribal prints and Wakandan script.
Carter then took on the complex and critical task of bringing the ultra-sleek design to life with four-ply, high-performance Eurojersey. But at first, the suit was perhaps a little too perfectly snug. "When we first got [Boseman] in the suit, it fit great, but it kept blowing apart as he did his stunts," Carter says. So she enlisted 20-year-veteran of ballet costume design, April McCoy, who assessed the situation and redesigned the gussets for Boseman to perform blow-out-free action scenes in the sexiest damn supersuit ever (giving Cate Blanchett in her smoking hot über-villain bodysuit in "Thor: Ragnarok" a run for her money).
Okoye, Nakia and the Dora Milaje
T'Challa and the royal family are protected by the Dora Milaje, Wakanda's all-female, super-elite bodyguards, led by the most badass of badass Okoye (Danai Gurira). To illustrate three versions of the Dora Milaje uniform, Francisco first looked to the comics and then cultural influences from warriors around the world for a modular design that's "80 percent Masai [from southern Kenya and northern Tanzania], five percent Samurai, five percent ninja, and five percent Ifugao tribe," from the Philippines, speaking to his heritage. The imperial arm band and neck ring "centerpieces" reference the South African Ndebele women and, as in the culture, denote stature — hence general Okoye's gold, compared to the troop's silver.
Carter then worked her magic to achieve her goal of building "museum"-worthy Dora Milaje uniforms, first by finding the most imposing shade of red, inspired also by the Masai and Turkana people of Northwest Kenya. "I felt like the red could be much brighter and also it would be intimidating, like if you saw one Dora it could feel like there were two or four," she says. Carter enlisted South African artisans to make the leather harness straps that hold the tabards (the vest-like part) in place. She then accented the tabards with African beads, small jewels and symbols personalized to each fighter, with the idea that the uniforms are heirlooms to be passed down to further Dora generations. Carter also found jewelry maker Douriean Fletcher to hand-tool the striking metal adornments, including the panther buckle on the belts.
Covert spy Nakia (Lupita Nyong'o) wears her shoulder silver armor in an asymmetrical fashion, unique to her boss and colleagues. "We called it 'the armadillo,'" says Carter. Francisco originally designed the intentionally mismatched armor to express Nakia's "rebellious" nature, but the design ended up being a symbol of her higher — but not highest — rank, as well. 
Francisco illustrated the foundation of the head and face-paint worn by Okoye and the Dora units, also as "symbols of stature." In the hands of Harlow's makeup team, the designs eventually evolved into a system of bands and stripes. "The more tattoo work that you have as a Dora Milaje, the higher in rank you are," he says. Harlow's team designed a "three-fold" stencil and temporary tattoo process, which required Gurira to sit for 20 minutes to have her head re-shaved every day for a smooth foundation and then another "two and a half to three and a half hours" to apply the artwork.
Nakia and Okoye Undercover
Although, presumably as a spy, Nakia doesn't have to shave her head. Instead, while home in Wakanda, she wears her short, auburn-ombré hued hair in what Friend lovingly calls "Wakanda knots," sculpted shapes to represent her strength as a warrior. When she, along with Okoye and T'Challa, head out on a glam mission to a casino in Busan, South Korea, Nakia sports a different, statement-making "wedge-shaped" style. "I was just thinking 'Casino Royale,'" says Friend. "We did two strand twists and we took them apart and that gave her the explosion of hair."
Also undercover (literally), Okoye hides her head tattoos under a relaxed-hair wig, which she's not so fond of — thanks to Gurira's input. "I was going to give her a very natural texture of wig," says Friend. "And she's like, 'No, Camille, you gotta give me something that [Okoye] would not wear, like she would find this totally ridiculous." 
The three also wear black-tie looks that reference their Wakandan roots. Nakia's iridescent chartreuse and navy gown, made in the same Eurojersey as the Black Panther supersuit, is sublimation printed and hand-painted in an ombré with a Kente cloth pattern. "When you see her sit at the bar, she is lighting up," Carter says.
Okoye is, of course, in Dora Milaje-red, but the flowing four-layers of silk chiffon on the crystal-detailed, lattice-front gown wasn't engineered just for aesthetic appeal. The skirting cleverly obscured a piece of equipment holding the stunt double in place during a high-speed car chase scene, but it's visually spectacular regardless. "It [looked] like flames," says Carter.
Queen Ramonda
Queen Ramonda, played by Queen Angela Bassett, wears the costume that's most exemplary of both traditional African culture and the most hi-tech of fashion technology available in our real non-vibranium-fueled world. To communicate a majestic, regal "classic queen" — as opposed to Ramonda's "real casual" appearance in the comics — Carter looked to headwear worn by married women in the South African Zulu tribe and based the half-moon shoulder mantle on African lace. To produce the meticulously proportioned pieces and the majestically intricate lacework in a pliable and wearable resin, she sought out 3D printing expert Julia Koerner, who's created pieces for Iris Van Herpen and haute couture fashion houses in Paris. 
"So it was simple and it was traditional, but it was also made with the latest technology that we know here, today," explains Carter.
Ramonda's hair — shown when she's not wearing one of her magnificent hats — is also fit for a queen, but with some of the Oscar-nominated actress thrown in, as Friend went on a binge of Bassett's work beforehand. "I wanted to do something that we had never seen on her before," she says. For Ramonda's snow-white dreadlocks, Friend enlisted artisans to hand-craft a wig out of four different colors of hair.
Shuri
T'Challa's little sister Shuri (Letitia Wright) — essentially Q to his Bond, but with a cooler wardrobe — "represents the new Wakanda," says Carter. The costume designer wanted to reflect the character's genius-level STEM acumen (and aversion to what Shuri deems as stuffy Wakandan tradition) through a cutting-edge wardrobe that suggests ultra-advanced hi-tech materials. Carter looked to Stella McCartney's use of recycled materials to also incorporate a forward-thinking sustainability factor and created a theme of structured neoprene, mesh materials and lab-friendly whites. Everything was custom-made, except for the pleated silver skirt the Shuri wears when she first greets T'Challa at the airstrip. 
But, ironically, in that scene, Shuri is the one who wears the most traditional of superhero accoutrements. "I was like, 'somebody in this superhero film is gonna have a cape,'" laughs Carter. "So she got the cape."
Despite her long hours in the lab (and fighting villains), Shuri enjoys the most hairstyle changes in the film like a real-life teen, which Friend says Coogler was "very instrumental" in determining. "She's super smart, but she's super young. She's funky. She's cutting-edge, so that's why we decided to do the braids," explains Friend. Her team weaved four different hair colors into Wright's own hair, which allowed the flexibility for a myriad of styles, plus the opportunity to add accessories "to pop it with whatever outfit she was wearing."
Erik Killmonger
T'Challa's adversary, Erik Killmonger (Michael B. Jordan) wears an asymmetrical, shorter hairstyle in the movie — completely different from the comics. The inspiration came from a reference photo that Coogler gave to Marvel Senior Visual Development Illustrator, Rodney Fuentebella to draw — completing Killmonger's military-inspired "tactical" vest and camo fatigues guise. Jordan grew out his own hair "really, really long" for the role and Friend's team added dreadlock extensions and sometimes braided the dreads together for additional shape and texture. "I think it really put him into character," she says. 
Underneath the costume, his torso is covered in scarification marks, which speak to African heritage and tradition, although Killmonger has a specific explanation about his. Harlow and his team brilliantly created clear silicone sheets of hundreds of precisely-sculpted scarification "hash mark" molds, each filled with a prosthetic mel gel. The sheets were then pressed onto and peeled off of Jordan's skin leaving very real-looking marks, which were then blended in with makeup — a fairly straightforward process for the actor. But the removal was more of an ordeal, involving a two-hour steam and silicone oil to induce a glistening sweat barrier to loosen up Jordan's chest prosthetics.
"So we got a sauna that was on loan from 'Guardians of the Galaxy' — I guess it was Drax's sauna on that film," laughs Harlow. "And it's like four guys in the sauna with Michael rubbin' him down with oil." (As the entire Fashionista office collectively shouted, "I want that job!")
Want more Fashionista? Sign up for our daily newsletter and get us directly in your inbox.