Moviegoers Went to See 'Black Panther' Decked Out in Their Finest Wakanda-Inspired Fashions
"I've been waiting to see my own royalty reflected on the screen my whole life."
Since the trailer was released last June, Black Twitter has been buzzing about the release of "Black Panther" — it's not every day that there's a blockbuster movie set in Africa with a Black superhero, Black director and largely Black cast! For months, a hot topic of tweets and memes has been centered around what people are going to wear to the opening, so it should come as no surprise that people used Thursday night's release of "Black Panther" to express their own interpretations of Black fashion, directly inspired by the movie's costuming and the rich sartorial heritage of Africa and its Diaspora.
The movie's costumes were designed by famed Oscar-nominated costume designer Ruth E. Carter, who drew inspiration from African patterns and silhouettes. Moviegoers packed theaters across the U.S. to see what might turn out to be one of this year's top-grossing films, but they also seized this opportunity to transmit political messages via their dress and adornment. We visited the AMC Magic Johnson Harlem 9 last night to interview and photograph moviegoers decked out in their finest Wakanda gear.
At the premiere last month, the "Black Panther" cast established themselves as arbiters in Afro-centric style, but Thursday night, it was the turn of moviegoers to sport their best Wakanda style. "We were inspired by the fashions that [the cast] wore to the premiere," said moviegoer Cesley Burgess.
RELATED ARTICLES:
What else inspired their looks? Moviegoers offered a litany of responses: Afro-futurism, the Black Panther Party, Black dandyism and, of course, Africa. "I made this outfit myself. I was inspired by my homeland," said designer Kwabena Ofosu-Ware, who was born and raised in Ghana. Moviegoer Surayyah Rogers also drew direct inspiration from the African continent and her own personal style. "I was inspired by 'Coming to America,' my trip to Ghana and my general fabulousity," said Rogers.
Speaking for both himself and his friend Isaiah Alexander, Rhondel Whyte used the premiere as an opportunity to reconnect with his African heritage. "Both of us are from Trinidad and Tobago. But we thought we should focus on not where the [slave ships] dropped us off, but where they picked us up. So, we chose outfits with bright African prints that reflect our heritage," said Whyte.
"After seeing the previews, I realized that I needed to put on some something special," said Lisa Marie Bronson. She wore a jacket emblazoned with the Chiwara, a deity of the Bambara people of Mali. She also wore elaborate braided hairstyle to match her Afro-centric outfit. "I was absolutely going to bring some Afro-centric hair to the occasion, 100 percent. I sat for a few hours to get my hair braided for tonight, to bring a royal feeling to the occasion. I'm excited. I've been waiting to see my own royalty reflected on the screen my whole life," said Bronson.
Inspiration not only came directly from Africa, but the rich cultural diversity of the African Diaspora at New Yorkers' footsteps. "I went to 116th Street, to the Malcolm Shabazz Harlem Market, last night and bought this matching headscarf and skirt," said moviegoer Althea Kitchens.
When not inspired by the Afro-centricity of "Black Panther," moviegoers drew inspiration from revolutionary aesthetic of the Black Panther Party. Jasmine Pittman wore a black beret that read "Hella Black" that riffs off the party's iconic uniforms. Bryant Worrell, too, was inspired by the Black Panther Party, modeling his outfit on that of the slain revolutionary Huey P. Newton.
"Black Panther" is notable for portraying a hidden corner of Africa untouched by slavery, colonialism or racial oppression. What is equally important is the popular reception to the film and how moviegoers have chosen to celebrate its release with sartorial ingenuity and flair.
"We usually wouldn't dress up this much to go to the movies, and yet for this momentous occasion that we thought it was worth getting dressed up for and wearing colors that popped," said Daniel Morales-Armstrong.
The film transcends the story of Wakanda or villainous superheroes or vibranium. It's an opportunity for Black people to use fashion to celebrate a vision of Blackness that is free of the stifling effects of racism. 
Photos: Khristen Wilson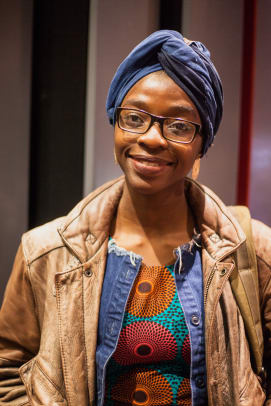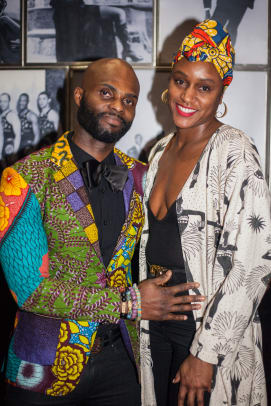 Want the latest fashion industry news first? Sign up for our daily newsletter.