Michael Kors Goes Off the Rails for Fall 2018
Should we be worried?
Is Michael Kors okay?
Typically, his collections are reliably inspired by an all-American kind of glamour, full of classic pieces like camel coats or beautiful cocktail dresses. Maybe it's not always the most exciting or trend-forward fare, but he does it well. 
The Fall 2018 collection was...not that. The show notes indicated that it would be "a Valentine to personal style" but he must have meant "street style," as the runway was chock-full of every trend that's dominated the sidewalks outside the shows for the past several seasons. In fact, it was a collection as eclectic as the soundtrack — which bounced from Prince to The Carpenters to Britney Spears to the "Sex and the City" theme song to Rihanna to the "Hamilton" soundtrack (to name literally just a few), no single track lasting for more than 30 seconds, before closing with a maddeningly long version of "My Favorite Things." (I love Julie Andrews as much as the next person, but hearing that song essentially four times on repeat is not one of my favorite things.)
There were oversize floral dresses paired over knee-high boots (Vetements), oversize puffers worn around the shoulders (Balenciaga), several oversize knits paired with clashing checked scarves and pants (Burberry), embellished platform heels and oversized pearl details (Gucci), camo hoodies layered under camo leather vests (just about every streetwear brand), combat boots and slitted-up-to-there lingerie-inspired skirts and dresses (Altuzarra) and one look featuring checked pants and a white button-down under a sequined blazer that could have been in any J.Crew catalog from the years 2010 to 2016.
There were also dresses that felt like dresses Kors had already designed, but had done much better the first time around. Again, perhaps it was the incredibly disorienting soundtrack, but the whole thing felt kind of deranged — especially coming from Kors, who typically is the picture of refinement and relaxed chic. I left hating it, and it's hard to imagine the Kors customer will be flocking to pick up most of these pieces. 
Or maybe I loved it? Pull apart the maniacal styling and there were still some great pieces, like a black satin dress or a leopard print trench coat. As one prominent fashion editor said to a friend on the way out of the show, "Let's let all that sit for a minute." 
Let the full Michael Kors Fall 2018 collection sit for a minute: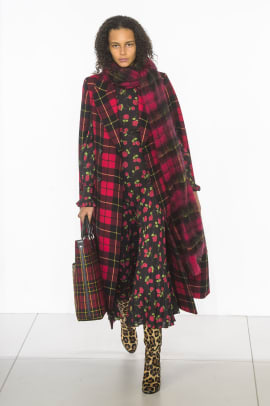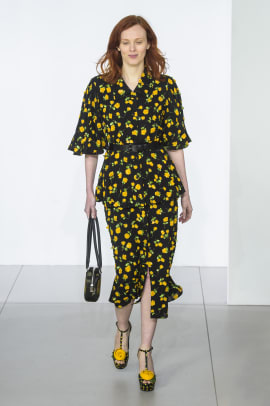 Want the latest fashion industry news first? Sign up for our daily newsletter.