Jeremy Scott Envisions a Future Past for Moschino's Fall 2018 Collection
Sleek, sexy daywear in day-glo neons actually proved sophisticated.
It's no secret that Jeremy Scott loves a theme, be it literal trash, "Valley of the Dolls" or most recently, overgrown floral bouquets. But for Moschino's Fall 2018 collection, the designer proved that he doesn't need all those gimmicks to put on a great show.
Scott returned to one of his favorite wells of inspiration — the jet-setting women of the 1960s — but imagined them in the future those women once imagined (stay with me): Think Judy Jetson neon-colored skirt-suit sets, complete with matching pumps and pillbox hats (and flippy hair to boot). Of course, this is Moschino, so there were plenty of zipper pulls and BDSM-lite details, like slick patent leather trims, to give these girls a little edge. Driving home this "Valley of the Dolls in Space" theme were Lichtenstein-esque prints on dresses and accessories advertising some kind of Moschino candy-meets-prescription pill hybrids, like "Crazy Fruit" — a box of which was delivered to showgoers with the invite buried inside like a prize.
There were some real standouts in the eveningwear, as well, including a silver sequined jumpsuit worn by Kaia Gerber and a seafoam green gown which closed the show on Gigi Hadid, both of which would look lovely on the Oscars red carpet paired with the right, extra-bright young stars. (If they can bear to wear them; the sequined detailing left angry red marks on many of the models.)
Some of the tricks fell flat, like a half-chopped blazer worn by Joan Smalls or models painted to match the collection. But overall, it felt like a chic and — dare I say it? — downright-sophisticated collection from Scott. It was a reminder that underneath all the bells and whistles, Scott has the talent for making the kind of clothes that straddle the line between tasteful and tacky in the most fun way possible for his most fervent customers.
See every look from Moschino's Fall 2018 collection in the gallery below: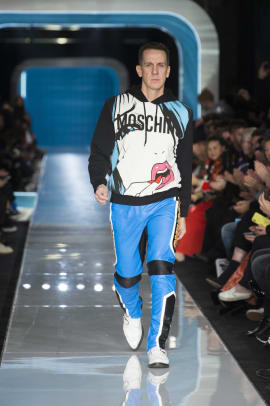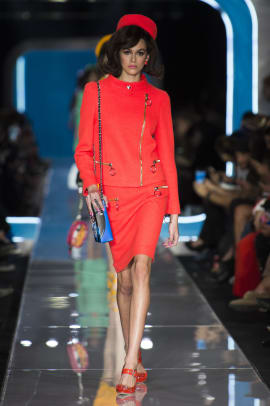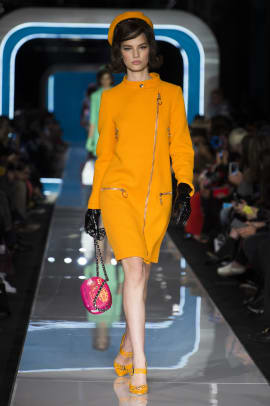 Want the latest fashion industry news first? Sign up for our daily newsletter.