Berets Have Taken Over the New York Fashion Week: Men's Runways
For Fall 2018, the French Guy is the new French Girl.
While Paris Men's Fashion Week saw the revival of the bucket hat, the runways at New York Fashion Week: Men's are making a sartorial push for — ooh la la! — berets. The soft, round and woven accessory has already made a handful of designer-name appearances, including David Hart, Dyne, Maiden Noir, Ovadia & Sons and Private Policy. Each brand had its own original take on the headpiece: David Hart had a Parisian-inspired spin; Dyne paid homage to the Black Panther wardrobe; and Private Policy's version riffed on a military uniform with a New York youth culture twist. Maiden Noir sees the beret as the perfect staple for a trip to the Pacific Northwest, while Ovadia & Sons played with a punk-rock-western theme.
Already a trend among the street style crowd last fall at women's fashion month and in addition to its runway cameos, the beret is also making the rounds among showgoers in New York. We've spotted the accessory on a few stylish individuals, including Mister Mort (née Mordechai Rubinstein), a self-proclaimed "Reluctant Anthropologist" who documents the anti-fashion street style of New York City. If "NYC's Resident Menswear Grump" co-signs this buzzy hat style, then so can you.
So there you have it, folks. Time to stock up on some berets because for Fall 2018, French Guy is the new French Girl.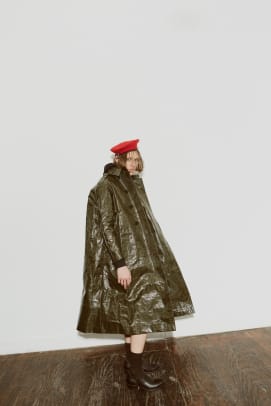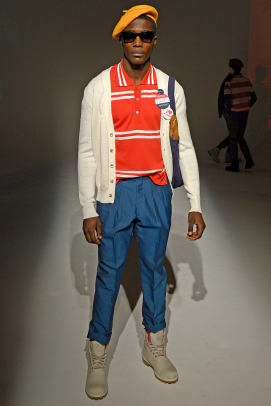 Sign up for our daily newsletter and get the latest industry news in your inbox every day.