Prada Brings the Industrial Revolution to the Runway for Fall 2018
These were bright clothes for dark days.
It seems that everyone is feeling a bit gloomy these days, and really, who can blame them? There's climate change, political instability and an American president so bad he's worrying people who aren't even under his direct control. That anxiety has been spilling over into the Fall 2018 runways, whether it's through party-until-you-can't-remember-it's-happening style collections like Tom Ford's or post-apocalyptic undertones like Raf Simons's vision for Calvin Klein.

The same could be true for Prada's Fall 2018 collection, a line infused with industrial-chic touches — from the neon-backlit set to the practical galoshes worn by half the models. Prada's now-famous nylon made a return in a big way, appearing on everything from outerwear to bags. The color scheme of the night was neon against neutral backgrounds; think bright orange beading scattered across a sheer black dress or an electric orange tulle bow trailing behind a khaki coat. Ladylike shapes in pleated midi-skirts and dresses were paired with practical, utilitarian shoe choices like rubber boots or elastic-tied heels.
Bright structured tweeds were layered over chiffon, acid-spill florals; bucket hats (no, they're not going away) were paired with matching oversize vests and plastic-fringed skirts. Fans of the brand will note that the flame wedges from Spring 2012 are back — this time with dangerous acid tones and a curved shape that suggest more of a factory fire than the flames of a hot rod. After all, if we're going down, we might as well have a little fun first (and look good doing it), right?
See every look from Prada's Fall 2018 collection in the gallery below: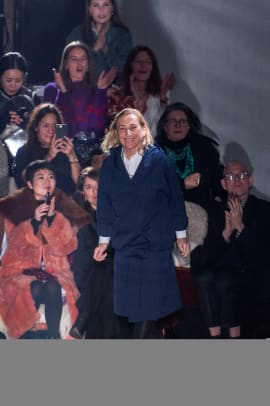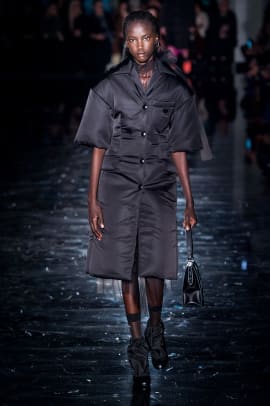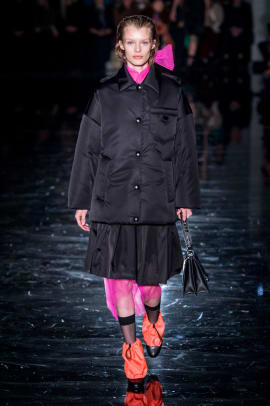 Want the latest fashion industry news first? Sign up for our daily newsletter.