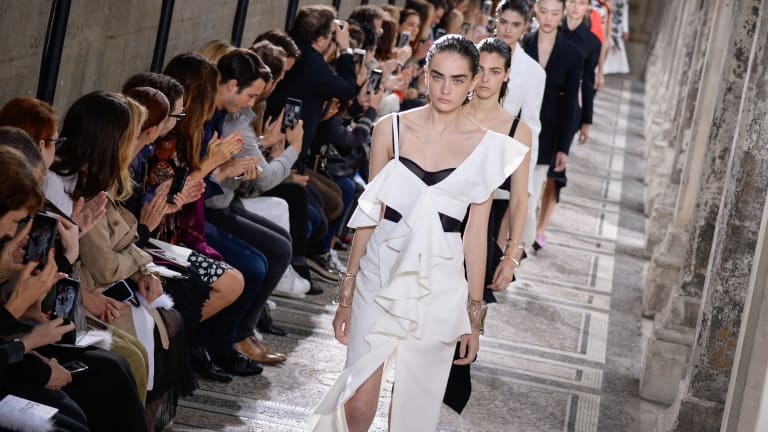 How Proenza Schouler's Jack McCollough and Lazaro Hernandez Still 'Keep People Guessing' 16 Years Later
We caught up with the dynamic duo ahead of the launch of their debut fragrance, Arizona.
In our long-running series, "How I'm Making It," we talk to people making a living in the fashion industry about how they broke in and found success.
I caught Proenza Schouler designers, founders and partners (in life and business), Jack McCollough and Lazaro Hernandez, in a rare, sure-to-be brief quiet moment. The two just returned to New York after a two-week vacation — skiing in the Swiss Alps and zip-lining through the rainforests of Costa Rica — following an extended work trip in Paris.
Instead of New York, they showed their USA-inspired fall 2018 runway collection in the French capital and thus are especially chill — well, relatively — this New York Fashion Week. Although, Hernandez and McCollough couldn't completely relax, as they returned just in time to launch the first Proenza Schouler fragrance, Arizona (more on that in a bit), with a big blowout party whose guest list included the likes of Sienna Miller, Alexa Chung and SZA.
RELATED ARTICLES
"We've gotta start the next thing soon, whatever that is," says McCollough, as we sit in an architecturally minimalist room tucked away on the lower level of the spacious Proenza Schouler Soho flagship. Despite its spare design, the room still felt inviting, perhaps due to the warmth emanating from the two founders, who, after nearly 16 years together, practically finish each other's sentences and share a lot of laughs, which instantly spread to the rest of the people in the room.
At this point, the legendary origin story of Proenza Schouler, named after their mother's maiden names, is well-known: In 2002, McCollough and Hernandez partnered on their senior thesis collection at Parsons, which was snapped up in its entirety by the king-making Barneys New York. The next year, the two held their first runway show and were immediately embraced by the industry as the faces of the new guard of New York fashion. A year later, in 2004, Proenza Schouler received the first-ever CFDA/Vogue Fashion Fund award — the first of five honors from the prestigious industry organization. (And counting, I'm sure.)
Now the grown ups of the industry, McCollough and Hernandez have continued to keep fans of their conceptual, architectural and always sexy aesthetic on their toes: They've expanded, launching accessories in 2008 and a little sister diffusion line of elevated basics, PSWL, last fall. And there was the big renegade move: As a homegrown darling defecting from the traditional calendar, the brand combined its ready-to-wear and pre- collections to show during the Paris couture schedule starting with Spring 2018.
It was a surprising and, to some, foreboding move. But let's have McCollough and Hernandez explain it themselves, as well as what keeps the brand's magic alive after all these years and why Arizona's scent evokes the ultimate vacation. Here are the highlights from our interview.
Looking back to the now-legendary Proenza Schouler origin story, what did you take from that experience that you still use today? 
Lazaro Hernandez: Just boldness.
Jack McCollough: Fearlessness. Just going for something you believe in and not overthinking it too much.
Hernandez: It gets harder and harder the older you get because you have more to lose. We had nothing to lose when we started our company. We were just out of school. If that failed, we'd get a job like everyone else. So, we still try to approach things with that same fearlessness and try to be inspired by that moment.
Looking back, is there anything you would have done differently?
McCollough: God, so many things [laughs].
Hernandez: I was going to say, 'nothing.' [Everyone laughs.]
McCollough: Those first couple years were very formative years. We were trying to figure out who we were as a brand, a brand identity and who we stand for, but under the scrutiny of the public eye and being reviewed by the Suzy Menkes and the Cathy Horyns of the world. It's not like we came to some heritage brand where we had ideas and a history to pull from. We were kind of making it up as we went along. So I think it took a minute to kind of figure out what we were about.
When do you think you had that moment when you were like, 'We found it. This is our aesthetic. This is our signature?'
Hernandez: We're still trying to figure it out [laughs]. But in the beginning, as Jack said 'we tried this, we tried this, we tried that.' I think in those days you were a lot more free to play around. There was a lot less scrutiny and pressure about these brands. These days you have to come out with a very specific point of view and be about one thing and do that thing over and over and over. I think back in the day, things were a little bit looser. There was less people in the industry, less designers, there was a little bit more freedom to try things and fail. These days, the stakes are so high. These young designers can't make a misstep, and that's unfortunate, but it is what it is.
Fashion retail is such a dynamic and volatile landscape these days, experimentation with see-now, buy-now, fast fashion...
Hernandez: Showing off schedule ... [laughs]
Yes, and the calendar... How do you navigate this ever-evolving landscape?
Hernandez: There's no big answer anymore. There's no consensus as to what's right for everyone. Those days of there being this one golden rule that every brand — no matter what market, no matter what you do — has to abide by ... I think that's crap and no longer exists. I think everyone is just doing what's right for them and what makes sense for their company and, I think, as a result, the system has been broken, fractured, and it's going in all these different directions. 
It's not like one thing that applies to everyone. For us, it makes sense to show in July and in January. We started that a year ago and all of a sudden people in New York are doing it the next season. 
What was challenging about combining your ready-to-wear and pre-seasons and showing in Paris during couture? 
McCollough: Having to bring our whole team out there and set up a temporary atelier and all that stuff — logistically, it gets a little complicated. We've been showing here [in New York], season after season, for a number of years, so even just on a personal level — from a design standpoint, from a creative standpoint — it's been really invigorating for us to just kind of switch things up and it motivates us to work a little differently or think a little bit differently about the collections we've been putting out. So in that way it's been super positive.
Hernandez: Some of the benefits have been: The spring collection is already upstairs. It's been upstairs for like two months and it's selling really well and it's selling much sooner. It's going to be on the sales floor much longer. We've had time to actually produce it. It has much more of a life. That's the whole point of this whole thing.
McCollough: That was our business angle: To deliver the fashion earlier, but it still goes on sale when everyone else's [collections] go on sale. These are the pieces we pour our heart and soul into — the show collections — but we've found, in the past, we deliver them and, sometimes three weeks later, it goes on sale. So it has no chance to really live. 
Hernandez: We're seeing the proof of the success of that move now — a year after the fact, which is super interesting. The sell-throughs have been really awesome. The store is doing really well and I think it's due to that change we made a year ago. 
McCollough: It makes sense to show when 80 percent of the business is done during the pre-collection market. The tricky thing is getting all the right people there. During couture week and stuff, it's a smaller audience than back in New York, but you have to just weigh out what's more important and go for that.
You've said that you might bring the show back to New York — is that still a possibility?
McCollough: Yeah, for sure. So we could easily show here next season, show in London the season after, not have a show do something online, whatever. 
You're more nimble.
Hernandez: I think it's important to be nimble and to be free or sit out a season or show in June or show in Paris. Like Jack says, 'just be free.' Keep people guessing on what we're doing and keep it exciting. We just found showing the same season, the same month in New York over and over, after all these years, started to feel really repetitive and started to lose a little bit of its magic and excitement for us. 
You've also said that your sensibilities and methods are complementary to each other. What's a typical brainstorm session or meeting like between you two?
Hernandez: We don't really have meetings. [Everyone laughs.]
McCollough: We try to have meetings sometimes and it's like, 'ew, this is weird.'
Hernandez: We don't talk so much in words. We talk more in images. We have big walls and we're always putting up or taking off images. If I put something up there and he doesn't like it, I take it down, or vice versa. We are just constantly feeding this wall of images and it ultimately creates a vibe that we both respond to and then we draw from that.
McCollough: Almost to the point where I feel like it needs to be broken again. I feel like we're constantly trying to rethink our process, which is interesting to us. How can we approach things differently in hopes of getting a completely different result?
Well, you just launched Arizona, your first fragrance — what inspired it and how did you embody the Proenza Schouler brand into a scent?
Hernandez: It's always been a dream of ours to have a fragrance. It's the next logical step. We were always told, if we wanted to do a fragrance, we should wait for L'Oréal to call us. I was like, 'OK, how do we have them call us?' 'Well, you just have to sit and wait.' [Laughs.] But one day, they called us and they asked us if we were interested in doing a fragrance. So we kind of dated for a bit. Went out to dinner a few times, got to know each other, then we sort of committed to each other [laughs]. We got married. 
Then we started working the creative. After a show, we always try to go away and take adventures. That season, we went on a road trip to California and drove through the whole Southwest.
McCollough: We were trying to figure out what feels right — not only for us, but, in general, the feeling in the air right now. Something that speaks to a lot of people. When we were out West driving, we lost touch with our phones, we had no cell service, we really felt disconnected and I think this spirit of escape is the ultimate freedom that a lot of people are really craving these days. People are feeling really bombarded by lots of things: too much information, emails, technology, all of it and I think people want to go back to the basics and get back in touch with those core values. Arizona represents that for us: The spirit of escape and getting back in touch with nature.
Hernandez: Disconnecting from the world, kind of going inwards.
McCollough: Along the way we stopped at all these crystal shops, so we collected all these crystals and brought them into the first meeting with L'Oréal. We're like, 'this would be such a cool bottle to figure out a way to encapsulate the spirits,' so it was a starting point in terms of the bottle shape. And, in terms of the fragrance, what does a cactus flower [a key note, along with orris accord] smell like? It's never been used [in a fragrance] before. 
Hernandez: It becomes a narrative, like storytelling, and it was really inspiring on that level. The cactus flower is really interesting because it only blooms one night a year, so it's really rare and really special. 
You added accessories in 2008, a diffusion line PSWL last year and now fragrance — what's next?
Hernandez: I don't know. We'll wait and see. We've done a lot in the last couple years with the disruption of the show and the fragrance and the PSWL.
McCollough: We've been working on this fragrance for the last two and a half years now, so this weekend we're finally giving birth to it [laughs]. Once we let this out in the open, then we can free some space.
Hernandez: There's something in June that we're doing in Paris… That other thing.
McCollough: What thing?
Hernandez: [Whispering...] We can't talk about that [laughs].
McCollough: We have things.
It's an interesting time to be in fashion right now, there's no 'lane' anymore. Fashion can be political or it can be protest, it can be a statement. How do you like to have your brand be a part of that conversation?
McCollough: What's always been interesting to us about fashion is that it really is a sign of the times we're living in and just to be able to speak to that on certain levels is always interesting to us.
Hernandez: It's autobiographical for us. It's our medium to reflect whatever we're interested in at the moment. Sometimes it is political, sometimes it's purely functional; sometimes it's something we saw, a piece of art that was really amazing or a trip we took that was really great. So we can always tell you what we were thinking, where we were, what was going on in our lives by a collection. When I go Spring '17 or Spring '15, where were we? I could tell you what trip we took, what was on our minds, what we were listening to, what was interesting to us at the moment. So in a way it's just a medium of expression for us.
McCollough: And a business.
Hernandez: Let's not forget about that.
This interview has been edited and condensed for clarity.
Top image: Proenza Schouler spring 2018 runway show in Paris. Photo by Francois Durand/Getty Images
Want more Fashionista? Sign up for our daily newsletter and get us directly in your inbox.