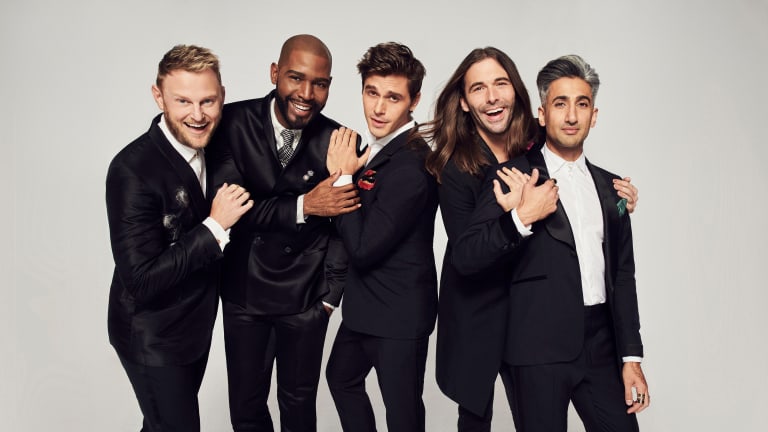 How Netflix's 'Queer Eye' Reboot Is Making Over Fashion- and Grooming-Challenged Straight Dudes, 2018-Style
Fashion expert Tan France and grooming guru Jonathan Van Ness break it all down for us.
Back in 2003, Bravo's original makeover series, "Queer Eye," (initially "Queer Eye For the Straight Guy") made history as the first TV show in America to feature an all-openly-gay cast. Today, in a very 2018 kind of way, the show is back, but rebooted with a binge-able format on Netflix, a diverse new generation of experts — aka the "Fab 5" — a move from the blue, coastal elite New York area to the South (Atlanta and its surrounding small towns) and a more ambitious goal than the OG.
"The original show was fighting for tolerance, our fight is for acceptance," says fashion expert Tan France in his smooth British accent during the opening credits. 
But, of course, the straight male makeover subjects — or "heroes," as they're affectionally called this time around — still possess college dorm-level home decorating skills, an underdeveloped sense of fashion, rudimentary grooming habits and, at times, a questionable level of hygiene.
RELATED ARTICLES
France joins founder of his self-named home furnishings line, Bobby Berk (décor), former "MTV Real World: Philadelphia" cast member and activist Karamo Brown (culture), protégé of the first "Queer Eye" food expert Ted Allen, Antoni Porowski (food and wine), TV host and hair stylist and TV host Jonathan Van Ness (grooming) to round out the new Fab 5. The extremely telegenic group not only gives an appearance and lifestyle revamp to each episode's hero, but also plays life coach and emotional therapist to help boost confidence and self esteem. Plus, this being America in 2018, the experts and heroes delve into political and social issues and misconceptions, while, say, on a ride to shop for a grown-up mattress or while culling a makeover subject's closet, which possibly includes a MAGA hat. 
"It's so rewarding for all of us," says France, whose fashion expertise includes founding womenswear brand Kingdom & State. "We had our connections with certain heroes and every one of us has certain heroes who keep reaching out to us via Instagram and text saying, 'You have no idea. For you guys, it was probably just a show, but for us, it was life-changing.'"
Fashionista jumped on the phone separately with the oh-so-polished France and the hilarious Van Ness — who already enjoys a cult fan base for his Emmy-nominated Funny or Die series, "Gay of Thrones" to discuss how they scored their coveted spots in the Fab 5, the difference they want to make with "Queer Eye" 2.0 and their favorite hero makeover moment. Plus, to answer everyone's burning question: Yes, the heroes get to keep all their new clothes. Read on for the highlights.
How did you become a member of the 'Fab 5?'
France: [The production company] saw and liked my social media, so I had an audition over the phone. I had no idea what it was all about. I've never dreamt of being on TV; I had never tried to be in the entertainment business at all. I didn't think I was going to get the job, so I went to the casting thinking, 'I'll just make some gay friends.' I live in Salt Lake City and I don't have a lot of gay friends. I was myself, I think that's why I got the job.
Van Ness: It came out in January that they were redoing the series and I was just like, 'That is like one of my favorite shows ever.' My team reached out and we had a little meeting and from there, it was on to the chemistry audition. I was a cheerleader in high school and college, and it was kind of an ultimate cheer tryout on steroids. It was pretty intense and I met so many amazing men — such a diverse and amazing collection of guys — and the five we ended up with, I feel like we have a new family forevs.
What did you want to do differently from the original series to reflect where we are in 2018, especially in terms of inclusion and awareness, and also changes in attitudes towards men's fashion and grooming?
France: There's a lot more that you learn about us, the Fab 5. In the original show, I didn't know about their lives and I think that was purposely done. I think with it being the first [American TV show with an all-openly-gay cast], they could only give you a small peek into the gay world, but mostly were just trying to the win crowd over by helping straight men. This time, it's different. We talk about the fact that I'm married, that Bobby is married, that other guys are in long-term relationships. That we have real feelings that we want to talk about when it comes to issues. It's a lot more meaty where you get to really connect with Fab 5, not just the hero of the show, and we hope that it's always lighthearted and fun, but there are serious topics in that aren't really covered in the original. 
Also, one thing I hope the audience knows: Those are regular clothes in the man's closet. It's not like I went to Dolce or Bottega Veneta or any of these stores to get these men clothes. The big difference between the fashion segments is that I don't have access to brands that Carson [Kressley] had access to in the original show. We're not dressing the 'metrosexual' man in New York anymore. I [picked the local stores] where we shot those [shopping] scenes. Most of the episodes are filmed in these small towns. I had to work with what that client would have to work with ordinarily. They need real clothes for their real lives, but just a much more stepped up, elevated version of what they previously wore.  
Van Ness: One thing that I really wanted to bring into this: What is the idea of being a 'metrosexual?' I think the first version of 'Queer Eye' coined that term and made that into a thing, like 'man-scaping' — this idea that gay men have a different approach to how to groom themselves and that's somehow superior to how a straight man would. It was really important to me to break that part of things down, because I don't believe in gender roles so much. You want to be more hairy, that's beautiful. You want to be more clean-shaven, that's great. I think it's more about meeting yourself where you're at and really loving yourself. 
Grooming to me is an under-the-skin job, too, and I really wanted to bring that into the forefront. So often grooming is meant to make you feel better about yourself, and a lot of times we use it to make ourselves feel worse. I really wanted to use this opportunity to make them feel better about themselves, not worse.
What was one moment when you first walked in and thought, 'Oh my God, this is an impossible task'?
France: OK, I'm going to be honest: Cory, the cop [in episode three]. He was our second episode that we filmed — we didn't film in order. Whilst we were on our way in the car, I saw the video of how he dresses, and he's always with the boys. He doesn't spend much time with his wife. I thought, 'This guy is going to be a nightmare.' 
Also, you saw all the political signs he had in his house and he had a certain kind of hat — you know which one I'm referring to. We had only been in Atlanta for a couple of weeks at that point, and I wasn't open enough to people to realize that just because they show certain things that doesn't mean they're going to be a certain way. So when I met him, I thought, 'Oh my gosh, this is going to be a really tough one. He's going to hate me. I'm everything that his party probably hates. He's probably really going to not really respond well to me.' I couldn't have been more wrong. I'm so glad for that. He was really open-minded and willing to take the help we were giving. 
Van Ness: Tom [shown in the photo above]. That one really pulled on my heartstrings. You can't make them heal unless they are really wanting to. When I first met him, he was just like, 'you can't fix ugly,' and I think he felt so defeated. Skin is the first thing you have to deal with in getting his confidence up.
What was the most triumphant and resonant moment for you in helping someone with fashion or grooming on the show?
France: I'm going to say Neal [above]. Neal was so important to me because he was different from the other heroes we helped. All of them had a nervous disposition, but there was something particular about Neal's nervous disposition. He couldn't look at you. He didn't like physical contact. He had kind of given up on life, so I think that moment when Jonathan cuts his beard and his hair and I transform him through clothes had such a profound effect on him. It all started with my first outing with him when we were at the [Bonobos] store. I wasn't willing to let him laugh and joke around, he had to try on the clothes that I wanted him to try on. Neal is somebody who kept in touch a lot since the show and he's changed his life so much since filming.
Van Ness: He was my favorite. He was my favorite physical transformation because there were times where I didn't have that much hair to work with in the first place, so that was like really fun for me personally because I finally got to really get my hands dirty, so to speak. He was hysterical. He is really truly one of the funniest people. He had me falling out laughing that whole week. Could not keep a straight face with him.
These interviews have been edited and condensed for clarity.
Follow Tan France @tanfrance and Jonathan Van Ness @jvn on Instagram. 'Queer Eye' premieres on Wednesday, Feb. 7 on Netflix.
Want more Fashionista? Sign up for our daily newsletter and get us directly in your inbox.