Raf Simons Threw a Bacchanalian Rave to Close Out New York Fashion Week: Men's
Complete with free-flowing wine, lasers, booming techno and sleeveless hoodies that read, "DRUGS."
Raf Simons's fascination with underground club culture has been well-documented in his collections throughout the decades, and to close out the Fall 2018 edition of New York Fashion Week: Men's, he did his best to transport guests to famed Berlin nightclub Berghain — or, at least, a similarly dark industrial space lit up by lasers and thumping with techno. But in Simons's version of an all-night rave, there's a Bacchanalian feast involved; the runway was lined with decadent bouquets of flowers, goblets filled with red wine and heaping plates of charcuterie, fruit, dark chocolate, waffles, loaves of bread and cheese — all of which were free for the taking as attendees awaited showtime. (Afterwards, it also served as many a model's — and an editor's — dinner.) 
Sure, this all sounds indulgent and glamorous, but that was not exactly the point. This season, Simons found inspiration in the non-fiction book-turned-film Christiane F. – Wir Kinder vom Bahnhof Zoo, in which the young title character falls into the 1970s club scene in West Berlin, leading her to spiral into drug addiction. Her story is not dissimilar to that of many people struggling with addiction in America today, and according to the show notes, Simons sought to "consider the persistent, almost ubiquitous presence of narcotics (prescribed or otherwise) within our society and acknowledge our often conflicted relationships with them; in turn opening up a more nuanced dialog around the implications for a society where addiction and [its causes] remain largely taboo subjects, with — as both Christiane F. and the current opioid crisis demonstrate — often untold human consequences."
In true Simons fashion, graphic prints were a focal point of the collection, with the faces of actors Thomas Haustein and Natja Brunckhorst — the teen actors who portray the main characters in the Christiane F. film adaptation — printed on T-shirts that were layered throughout the show. Two neon, sleeveless hoodies were emblazoned with "DRUGS," but although they might appear to be little more than clever, high-fashion ravewear, they're a reference to the obscure 1980s Cookie Mueller and Glenn O'Brien play entitled "Drugs" that Simons also views as a cautionary tale. 
Colored patches printed with "DRUGS," as well as the names of a handful of designer substances like "XTC," "GHB," "LSD" and "2C-B" — all of which are popular on the club scene — appeared on the knees of trousers, knit scarves and as elbow patches on coats. In other rave-ready accessories, there were long latex gloves and lace-up, platform rubber boots that play to the fetish theme. Whether these statement pieces will serve as "warnings" against the all-consuming power of addiction when they hit stores remains to be seen, but one thing is for sure: These goods will be top of mind for Raf Simons fans and Instagram influencers alike until they're finally available in six months. Besides, a good old fashioned shopping high is usually a safe alternative to the hard stuff.
See the full Raf Simons Fall/Winter 2018 collection in the gallery below.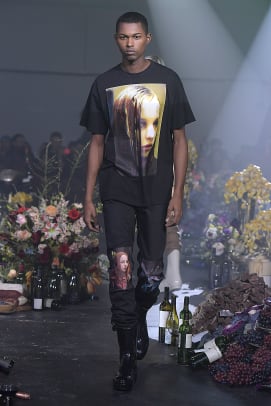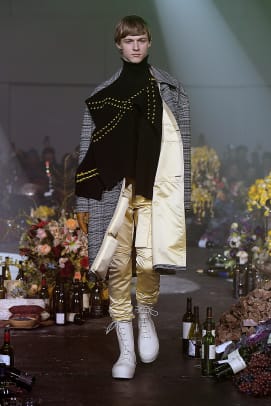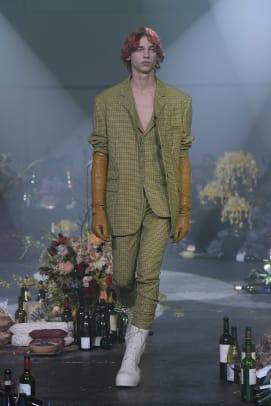 Want the latest fashion industry news first? Sign up for our daily newsletter.