Saint Laurent Does Moody, Sexy Rock 'n' Roll for Fall 2018
A mostly-black color palette, super-skinny silhouettes, Bohemian details and loads of both leather and sparkle are sure to please fans of the French house — and its former designer, Hedi Slimane.
The modern Saint Laurent muse is a fairly easy one to describe: She's unabashedly sexy, willing to pair sky-high heels with the shortest of skirts or shorts; she has an affinity for the '80s, never shying away from a sharp shoulder, a statement hat or a shiny party dress; in terms of silhouette, she'll generally opt for something super-skinny or impeccably tailored; and luxe materials are key, whether she's investing in a fur coat, a leather jacket or a bedazzled crystal blazer so sparkly that it could probably be seen from space. In other words, women like Rihanna — among the coolest on the planet — wear Saint Laurent frocks to their birthday parties. 
The rock 'n' roll aesthetic that Anthony Vaccarello (and before him, Hedi Slimane) has brought to the French house is not only strong branding-wise, it's a real crowd pleaser, and its parent company, Kering, has the sales numbers to back it up. For Fall 2018, the label offered up a collection of more than 80 looks for both men and women that will surely spawn many commercial hits, thanks to its impressive mix of sumptuous staples, recognizable accessories and special occasion pieces.
The first quarter of the show was a parade of monochromatic, moody black, with variations in both texture and inspiration to spice things up. From leather shorts and cropped pants to Bohemian lace tops and fringed scarves to studded shoulder pads and plunging mini-dresses, these were looks for ladies serious about retro glamour for both day and night. Basic blazers and button-down shirts came in leather; classic houndstooth jackets were paired with dangerously high platform boots; knit sweaters were tucked into sequined trousers and belts; sleeves and slouchy boots were accentuated with fringe. Everything from the large earrings and cuffs to the wide-brim hats that hid models' eyes to the silk scarves tied loosely at the neck gave off that rockstar vibe for which Vaccarello and Slimane have become beloved, and could help give even the simplest of outfits an edge.
In the middle came the menswear, which consisted mainly of slim, crushed velvet suiting, the skinniest of pants, cowboy-style boots and a significant amount of glitter. There were also furry, Ugg-like booties and equally fuzzy hats that gave the illusion of '80s-rocker mullets, as well as the impeccably fitted outerwear — in furs, leathers and more — that gave off more than a few Slimane vibes throughout.
As for the eveningwear, there was a mix of floor-length gowns with artful necklines, mini-dresses with giant flourishes at the neck, chest or sleeve, and the colorful, floral party dresses that made up the final 20-or-so looks. Many had very deep-V-cuts and were cinched at the waist; some had sharp shoulders or voluminous sleeves; a few balanced out the short hemlines with a more modest high neck, but all of them glistened under the runway lights and added some much-needed cheerful hues to an otherwise dark showing. These are the kinds of pieces that someone like, say, Rihanna would wear to her 31st birthday party.
See every look from Saint Laurent's Fall 2018 show in the gallery below: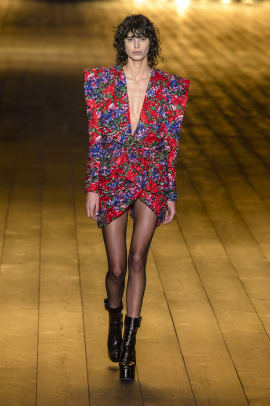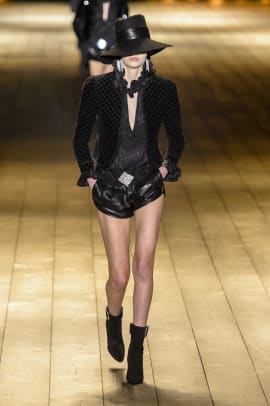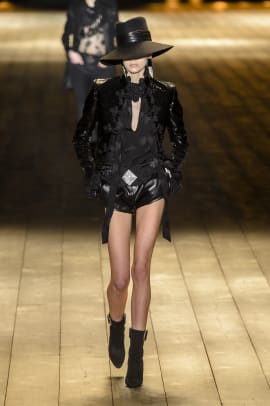 Want the latest fashion industry news first? Sign up for our daily newsletter.