Instagram Account @shitmodelmgmt Posts 'Blacklist' to Protect Models From Sexual Assault [UPDATED]
The anonymously managed handle names photographers, designers and more who have been reported as crossing boundaries with models.
In the fallout since the Harvey Weinstein scandal began late last year, sexual assault and gender inequality across a host of industries have come into the spotlight through movements like #TimesUp and #MeToo. Fashion's been no exception, with serious allegations leveled against major photographers like Bruce Weber, Mario Testino and Patrick Demarchelier coming out in the newspapers and models like Cameron Russell using Instagram as a platform to tell the stories of models who have experienced assault or abuse on the job.
On Tuesday, Instagram meme account @shitmodelmgmt decided to jump into the fray in a serious way by posting a public list of designers, photographers and other industry figures that have reportedly assaulted, abused or sexually harassed models. Much like the "Shitty Media Men" list started by Moira Donegan was intended to do in media circles, the list is based entirely on the stories of those who have chosen to share with the administrator and is intended to help models make informed decisions about who to work with — or not.
"I started this list a few months ago, when models began sharing their stories with me," the @shitmodelmgmt administrator (who also claims to be a model) writes on the list, which is posted in the form of a one-page website. "I asked my followers to message me the names of any photographers that acted sexually inappropriate towards them. My DMs immediately blew up. I was receiving thousands of messages from different models."
The list contains hundreds of names, ranging from more obscure entities to very well-known figures. It also differentiates between names which were mentioned by one model that reached out to @shitmodelmgmt and those that were mentioned three or more times — marked on the list with an asterisk — and which the admin says "should be avoided at all cost in my opinion."
"We are always warned of 'creepy photographers,'" the admin writes in the preface. "But it isn't always the typical 'creep.' It can be someone you know. Someone you trusted. It can be a young, cute guy. It can be a woman. A lot of times, a sexual assailant is someone popular or 'famous' in the fashion world."
See Shit Model Management's full blacklist here.
UPDATE, Monday, March 5, 5:06 p.m.: The administrator of Shit Model Management announced via Instastory that the blacklist will be taken down at midnight tonight. "I'm getting too many death threats and threats to 'find my family' and 'make me sorry I did this,'" the admin shared in their stories. "I will be checking the rest of my emails and adding names on my computer all day until tonight at 10 p.m. So copy and paste / screenshot tonight."
Despite the fact that the admin is taking the list down, they made it clear that they have no regrets about making it public in the first place.
"I'm still not sorry for protecting models from future negative experiences," they wrote.
See all the slides included in @shitmodelmgmt's Instastory below: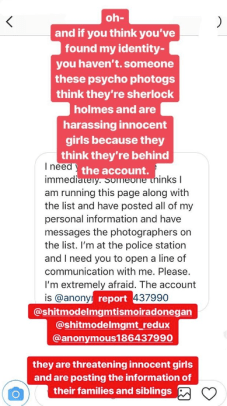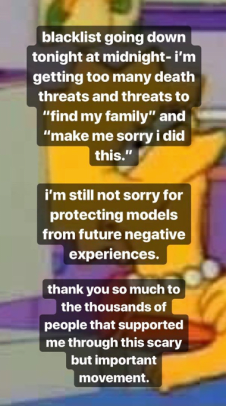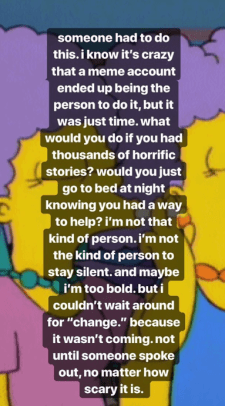 Stay current on the latest trends, news and people shaping the fashion industry. Sign up for our daily newsletter.