Tom Ford's Fall Collection Was a Blinged-Out, Well-Tailored Acid Trip
Sequins, animal prints, neon patchwork and rhinestones walked alongside the designer's famously impeccable suiting.
Thursday marked the first night of New York Fashion Week, and also boasted one of the biggest names on the Fall 2018 calendar: Tom Ford. The Los Angeles-based designer, who'd just presented his Fall 2018 menswear collection on Tuesday, can always be counted on for a high-wattage display of glamour, excess and sex appeal, as well as a crowd chock-full of celebrities. Julianne Moore, Rosie Huntington-Whiteley, Hailey Baldwin, Elizabeth Banks, Karen Elson, Gina Gershon and Zayn Malik were among the front-row guests, but not even this sort of blinding star power could distract attention from the sporty, bling-y and downright funky range he sent down the runway.
Much like the rest of the industry, Ford seemed to have the street on the brain this season, offering up practical pieces for everyday wear — albeit the flashiest and most expensive ones imaginable. His leggings came in leopard, zebra and snake prints, sequins and metallic versions; simple crewneck sweatshirts sparkled under the house lights, including one that read "Tom Ford Beverly Hills" spelled out in rhinestones; puffer jackets were dramatically oversize and embellished, whether by faux fur collars, all-over animal print, mixed materials or gemstone accents; and the models' hair was held back with thick headbands that gave an athletic slant to even the most nipped-in, evening-ready looks.
It was clear that Ford drew inspiration from the '80s, as well — the soundtrack included The Pointer Sisters hits from early in the decade and LL Cool J's 1987 hip-hop classic, "Going Back to Cali" — and this came through even further in the sharp-shouldered suiting, a duo of front-gathered silk pieces with side cut-outs and open backs that wouldn't have looked out of place at a dance audition that decade and the neon, patchwork finale dresses that were layered over loud, leopard tights. But Ford's not completely stuck in the past: The most buzzed-about accessories of the show seemed to be the designer's answer to the Time's Up and #MeToo movements, including a pair of low heels emblazoned with "Pussy Power" spelled out in rhinestones.
Several models also carried a small handbag bearing the same message on the runway.
While texting post-show thoughts with a trusty fashion friend, she offered up a much more succinct summary of the collection than I ever could: "So bad it's good!" Yes, Ford really went for it this season, and though "more is more" is a fitting motto for him, some of the pieces might be a little too wild for his usual customer. However, once someone with the swagger of Joan Smalls — who playfully unzipped her red leopard coat as she walked down the runway — gives the collection a first go, we bet we'll be seeing the Instagram set hit red carpets wearing it in no time flat.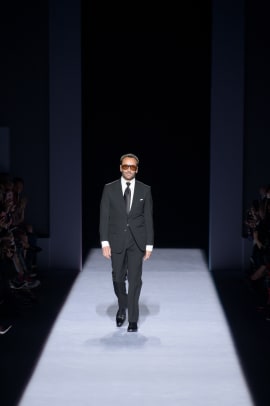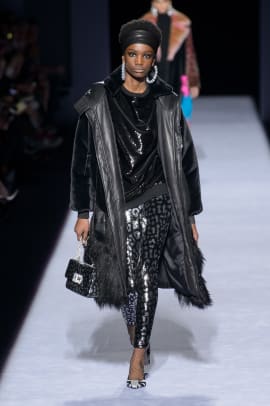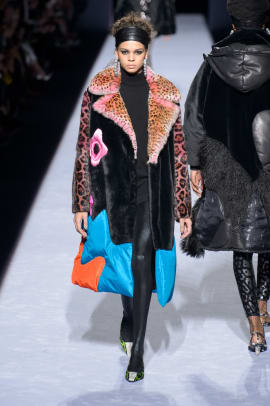 Want the latest fashion industry news first? Sign up for our daily newsletter.