Gigi Hadid and Tommy Hilfiger Race Off Into the Sunset Together
It's the end of Tommy x Gigi.
It's been a good run. After two years and four blowout fashion shows, the Tommy Hilfiger and Gigi Hadid tour ends Sunday night in Milan. 
They've certainly left a lasting impression, from turning a New York City pier into a carnival, a Malibu beach into the grounds of a music festival and a venue in London into a "Rock Circus" (we're still not clear on that one, actually). On Sunday, Tommy x Gigi shut things down at the end of Milan Fashion Week with another blowout show at the Milano Congressi. Set up to look like an oversized race track, the venue was complete with a Tommy x Gigi shop (naturally), Formula One race cars in partnership with Mercedes-Benz and 2,000 of Hadid and Hilfiger's closest friends and influencers.
As one might assume, the collection was racing-themed, with plenty of black and white checkerboards and loads of red mixed in, as well. It was the kind of cute sportswear Hadid and her posse of cool kids (who packed out the VIP section) are already wearing: sleek bike shorts with oversize sweatshirts, silky boxer shorts worn with a bra top and a cardigan and bandeau tops worn under sheer overalls. Keeping the '90s revival alive were platform slides and clear plastic visors. The brand put a new twist on its staples, remixing the classic Hilfiger-branded polo and slipping patterned bike shorts under loose khaki sets. Fans of the collaboration will love the graphic tees, which are bound to become collectibles now that the collaboration has ended.
As Hadid and Hilfiger took their finale victory lap, they waved and smiled at everyone in the audience who had helped make their one-time capsule into a blockbuster collaboration. Gigi's sister Bella followed behind, clapping enthusiastically and saying, "I'm so proud of you," even though Gigi was a ways ahead of her. It was a perfectly lovely ending to a fun run for Tommy x Gigi.
See every look from Tommy x Gigi's Spring 2018 show in the gallery below.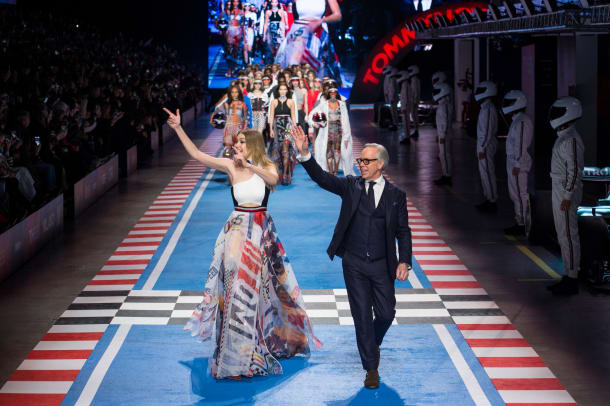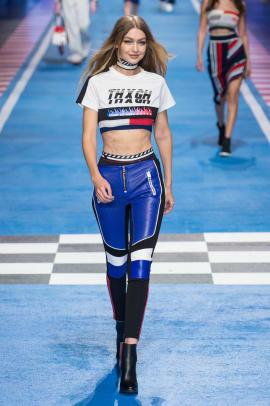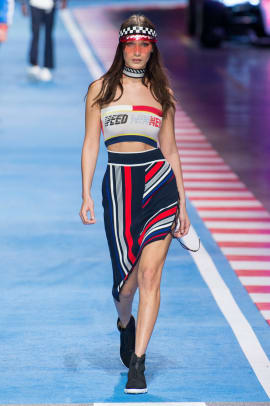 Sign up for our daily newsletter and get the latest industry news in your inbox every day.