Versace Returns to the Nostalgia Well for Fall 2018
If it ain't broke...
Last September, Donatella Versace put on a supermodel-filled, blockbuster fashion show complete with updated versions of all of her brother Gianni's biggest hits. It was an instant success, not just in terms of press but in terms of must-have status: The Versace logo hasn't looked this cool since the '90s. 
As the saying goes, if it ain't broke, don't fix it, and as such Versace returned to the nostalgia well for Fall 2018. The collection was full of throwbacks, whether it was those Cher Horowitz-worthy plaids or the black bodycon dresses that were ripped straight from Robert Palmer's iconic music videos. Plaids were layered on top of each other in looks ranging from the casual, stitched up with denim, to the formal, billowed out in silk skirts paired with graphic tees. There was power suiting, Versace style: sleek, black blazers with pops of neon or fitted (and we mean fitted) pencil skirts with wide belts.
The millennial set will flock toward Versace's take on sporty — get ready to see footballer scarves in primary colors everywhere come fall — and the sexy, fringed minidresses paired with animal print bodysuits. It's all about the illusion of being covered up and dressed in layers when, in reality, everything is skintight — just the way Versace likes. Whether you pair it with vertiginous platforms or sporty sneakers is entirely up to you.
See every look from Versace's Fall 2018 collection in the gallery below: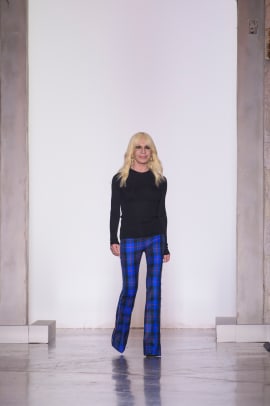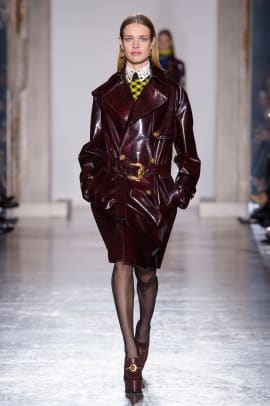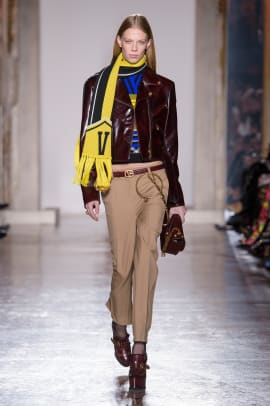 Want the latest fashion industry news first? Sign up for our daily newsletter.