Britney Spears Is the New Face of Kenzo
From Instagram runway videos to her first high-fashion modeling gig.
Britney Spears is no stranger to the world of fashion: She's been the face of Candie's, has her own lingerie line and frequently posts runway videos on Instagram. Now, she's officially the face of a luxury label for the first time, starring in Kenzo's La Collection Memento No. 2 campaign.
As Fashionista's resident Britney Spears Expert, when images of the campaign leaked on Twitter on March 8, I let out a shrill scream (sorry, coworkers) and immediately began digging for more information. But then, all of the tweets containing the blurry, behind-the-scenes photos began getting taken down as the accounts that posted them were threatened with legal action. This was no joke: Britney Spears was going to be announced as the new face of Kenzo and I just had to sit and wait.
Related Articles
I turned on push notifications for Kenzo's Instagram account and had 14 minor panic attacks while the brand posted about its Spears-less Spring 2018 ad campaign. On March 16, it posted a cryptic video telling followers to "stay tuned" with a blurry shot of a seemingly white, seemingly blonde person. Cue another shrill scream.
The next day, Kenzo posted another teaser image. But for Stans across the world, it was undeniable. That's our girl and her weave, no doubt about it.
On Monday, we were gifted yet another "clue" — and I considered applying for another credit card so I'll be able to buy the entire collection.
Now, all of that panic and screaming has come to the most beautiful end point. Britney Spears, Princess of Pop, is the face of a major French fashion label. Britney Spears, who is generally known for wearing the same bejeweled naked dresses, Going Out Tops and espadrilles for years, is modeling 2018 streetwear like a pro. Britney Spears, Miss American Dream since she was 17, is the face of a denim campaign and she looks absolutely gorgeous. It's almost absurd that it hasn't happened sooner.
I'm not sure who at Kenzo loves Spears as much as I do, but from the bottom of my (broken) heart, thank you.
Watch a behind-the-scenes clip of Britney shooting the campaign and see the entire La Collection Memento No. 2 campaign, shot by Peter Lindbergh, below.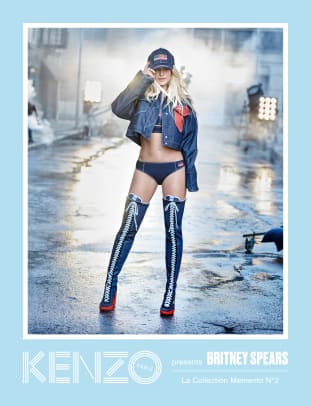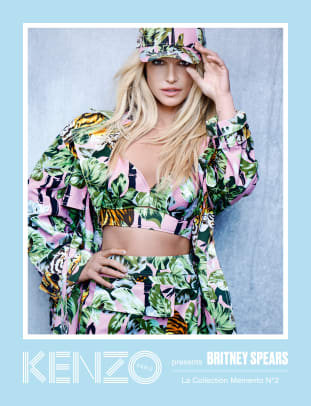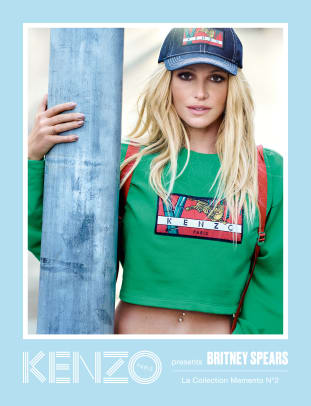 Never miss the latest fashion industry news. Sign up for the Fashionista daily newsletter.