Chanel Brought the Great Outdoors in for an Autumnal Fall 2018 Extravaganza
Even the runway was covered with damp, mossy leaves — complete with the scent of the woods.
In recent seasons, Chanel has both literally and figuratively taken us to the mountains, ancient Greece, a digital data center, a Cuban street party, Coco Chanel's studio and, of course, an actual rocket launch. Karl Lagerfeld is nothing if not exhaustively detail-oriented, so each one of his hijinks — be it the churning waterfalls or a functional spacecraft — is both stunningly scaled and executed to perfection. 
In Tuesday morning's case, showgoers were tipped off to Chanel's Fall 2018 runway theme by the invitation, which featured a print of a single autumnal maple leaf. As we arrived, our suspicions were confirmed: For its show at the Grand Palais, the French house had created a wooded wonderland that came complete with no less than 20 real trees, its floor covered with damp, mossy leaves. But it was a familiar smell of rich soil that made the venue feel more like reality than fantasy. Had Chanel flown the dirt in from somewhere, Alyssa and I wondered, somewhat insanely, as we took our seats? (We'll get back to you on that.)
The set was a very telling sign of the clothing to come. Following last season's plastic-swathed, pastel parade, Lagerfeld abandoned Spring 2018's gimmicky PVC for a darker and moodier — albeit equally commercial — collection. Fashionista-favorite Grace Elizabeth opened the show in a black velvet overcoat that had a crisp white shirt collar peeking through underneath, and this buttoned-up aesthetic was repeated in subsequent looks. The runway lineup moved onto tweeds in fall-appropriate colors like caramel and inky emerald green, with witchy wrap scarves and hoods accompanying the otherwise gussied-up suiting. 
A glittery sheen coated almost everything — we were in an enchanted forest, after all — including the subtle, shimmering beauty look, with some models' highlight glinting under the Grand Palais's natural light. If Spring 2018's go-to street style bait was the (seemingly unwearable) PVC rain gear, Fall 2018's is its range of marbled black-and-gold, as seen on everything from pointy-toed, over-the-knee boots to Lagerfeld-friendly fingerless driving gloves and exaggeratedly large maxi skirts to wide-legged trousers. The jewelry was also especially gilded: One necklace in particular, a choker that spelled out "CHANEL" in huge serif lettering, is certainly going to be all over the place in, like, three minutes. Proving that Lagerfeld is, in fact, hip with the times, the collection also included a number of on-trend parka jackets, tracksuit-esque separates, puffer coats and even a handful of "The Matrix" sunglasses.
The runway ended with a series of beautiful black eveningwear pieces, like Kaia Gerber's dainty lace mini with sequined spaghetti straps, styled with hot pink, long-sleeved gloves. The closing look kept true to theme, too, with a silver, maple leaf-shaped brooch fastened at the neckline of a pleated silk gown. 
The wares weren't exactly practical for a muddy walk through the woods, but it did have us fast-forwarding our excitement for cooler, post-Labor Day temperatures. For whatever occasion you wear this stuff (casting spells, hunting for truffles or even disregarding the outdoors in favor of sitting in a conference room drinking a Pumpkin Spice Latte), you'll not only be outfitted to perfection, but you'll also wear it knowing it came with a hint of that lush October charm — probably just as Lagerfeld intended.
Click through below to see Chanel's full Fall 2018 collection.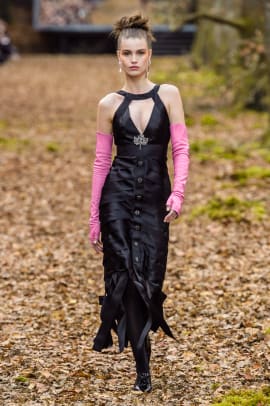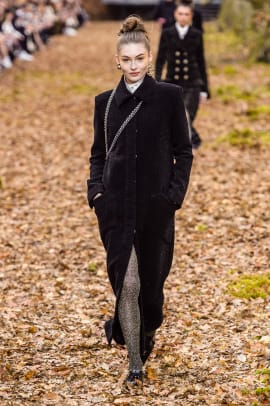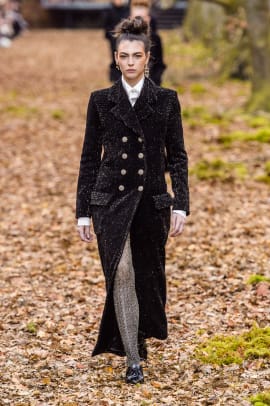 Sign up for our daily newsletter and get the latest industry news in your inbox every day.