Comme des Garçons's Fall 2018 Was a Moving, Frilly and Campy Fantasy for the Ages
"I think camp can express something deeper," noted Rei Kawakubo, "and give birth to progress."
On Saturday, I saw a tweet pop into my timeline to the sarcastic effect of: "You've never seen a more miserable group of people than editors at a runway show." And as of this weekend, the Fall 2018 ready-to-wear season has been trucking along for the better part of a month; looking around at audience members myself, I certainly understand where the tweeter was coming from. But the Comme des Garçons show, held on Saturday evening in Paris, existed in a bubble: I had never attended one of Rei Kawakubo's banner presentations, but I was more-than-pleasantly surprised at the calm, respectful eagerness that seemed to blanket the intimate crowd of attendees. But then, I remembered: This is Kawakubo. This is unlike anything else on the calendar — and that is something everyone anticipates.
This being my first Comme des Garçons experience (aside from the Met exhibition), I was perhaps expecting to lay eyes on something darker, or something more sober, than the 16 looks that came down the runway. I learned fairly quickly that this was an unfair judgment on my part. As two vintage stage lights began lifting from their suspension above runway, a Vaudevillian soundtrack started playing, setting the stage for the most unapologetically girlish, and accordingly most moving, show in recent memory. 
In a rare post-show email to showgoers reprinted by Vogue, Kawakubo noted that for Fall 2018, she was influenced by camp, and the significance it can hold when interpreted through the proper lens. The inspiration began with a reading of Susan Sontag's 1964 essay, "Notes on Camp." "Camp is not something horribly exaggerated, out of the ordinary, or in bad taste," wrote Kawakubo. "This collection came out of the feeling that, on the contrary, camp is really and truly something deep and new, and represents a value that we need. For example, there are so many so-called styles such as punk that have lost their original rebel spirit today. I think camp can express something deeper, and give birth to progress."
Kawakubo's creations were as gloriously exaggerated and inventive as ever, the best of which we saw at the Costume Institute's Comme des Garçons: Art of the In-Between last spring. But this season, it took a lovely, innocent turn, like stepping into a circus or a young girl's daydream — a girl who is just beginning to discover both the enigmatic joy and physical construction of clothes. Both the music and the old-school lighting fixtures indicated that this girl was not of this current era. In fact, she may have been of the Jazz Age, as was further represented in the accompanying beauty look: Heads were adorned with glitter- and print-covered caps, some created to resemble a simpler swim cap, while others came with flapper-friendly bobs or finger waves. 
The clothing itself was an artful explosion of tulle and lace and even more glitter; the candy-colored, saccharine confections embodying that childlike ingenuity. While some looks came with items — like the structured white lace jacket that opened the show — that could more easily be translated for market, others — like a fluffy representation of cotton candy, or layers of cloud-like tulle, stacked like a plate of pancakes — were simply more abstract. But the greatest aspect of the collection was the cheeky earnestness of it all. Imagine a young girl playing dress-up with her mother's special evening gown for the first time, its bodice strewn incorrectly, or with a tulle hoop skirt that didn't quite make it down her torso. Each look was made better, and given that Kawakubo edge, by a pair of way-cool raised flatform Nikes.
To be earnest is not a bad trait, but in the world's current state of, well, disenchantment at best and brutality at worst, enjoyment can sometimes feel like a betrayal. Kawakubo took her time to remind showgoers that we really don't have to be miserable, exactly, when embracing joy can, as she noted, "give birth to progress." Judging from the way the room full of beaming, some teary-eyed showgoers applauded during the finale, it was a reminder worth hearing — and probably, in my case, exactly what many of us needed.    
Click through below to see Comme des Garçons' full Fall 2018 collection.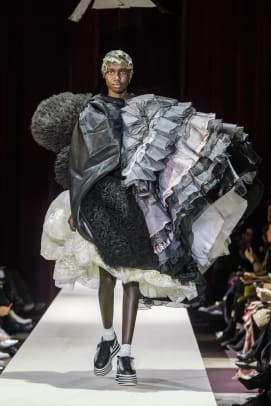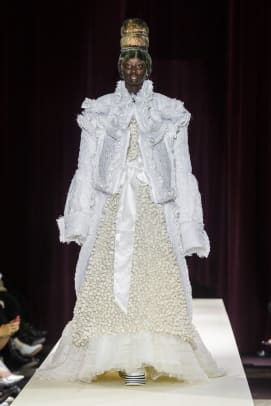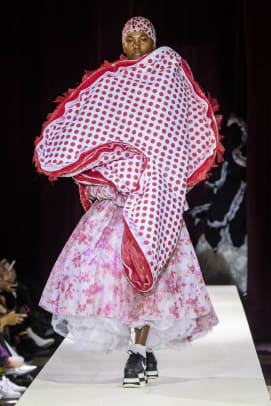 Want the latest fashion industry news first? Sign up for our daily newsletter.