Everlane Is Launching 'No Frills' Underwear in Sizes XS-XL
The debut collection, two years and 40 prototypes in the making, offers four bottoms, one bra and a bodysuit.
Back in 2013, we began discussing how lingerie startups are changing the way we shop for bras and underwear. And in those five-plus years, these so-called "disruptors" — including (but definitely not limited to) True & Co., Lively, MeUndies, Negative Underwear and Land of Women — have been giving larger, multi-category retailers a run for their money, to the extent that many have begun offering intimates of their own. Madewell debuted its cute, cozy line of underwear last February, only to be followed by big-sister brand J.Crew just last month. With similar, no-fuss aesthetics now taking over across the board, brands are clearly latching onto a market that's moving away from lacy lingerie and, instead, in the direction of simple, inexpensive underwear.
Everlane is the latest direct-to-consumer brand to get in on the action. The ethical retailer announced on Wednesday that on March 26, it's set to launch its first-ever underwear range, two years and 40 prototypes in the making.
"Underwear should be made for you. But for decades, it's been designed with someone else in mind," noted a press release. "Bras that push, pad and squeeze. Fabrics that suffocate. Lace that chafes. The industry has made billions telling women that in order to feel sexy, they need to look like something they're not. But times are changing — and so should our underwear." 
Everlane began product development with one mission in mind: to create simple, natural underwear — "No frills. No bows. No bullshit." — in which "women can feel confident and comfortable." This, eventually, took the form of seven styles, in sizes XS-XL. 
On that note: The average American woman is now between a size 16 and 18, which often corresponds to a 2X/3X, according to a 2016 study in the International Journal of Fashion Design, Technology and Education. Back in December, writer Amanda Mull initiated a conversation that called out Everlane and other fashion "disruptors" for failing to serve plus-size customers, to which Everlane responded by saying that a more inclusive range is "in the works," with launches "starting next year." In this case, the sizing of its underwear remains better than most of its clothing — its apparel still only goes up to a size 14 — but the retailer certainly has outstanding work to do in the plus-size industry. (Not to mention, the collection is already getting flak on social media for deeming "lacy underwear the problem" amid Everlane's current sizing controversies.)
The range breaks down to four $12 bottoms (a thong, bikini, hipster and high-rise hipster), a $22 tank bra and a $30 bodysuit, each available in heather grey, powder pink, white and black. There's an $18 boxer brief for men, too, which will be available in heather grey, white, black and navy. 
The entire collection is made from Supima cotton, notable in that the material is both grown in the U.S. and made up of extra-long fibers that give the material its premium strength, softness and color retention. For the line's production, Everlane turned to one of the world's largest and most progressive factory groups in Sri Lanka, MAS Holdings, which pays twice the national minimum wage and offers worker education programs (like women's health initiatives and financial planning training) for its 70,000-person, predominantly female workforce.
Ahead of the collection's Monday drop, click through below to see the full lookbook (which stars, among others, Jemima Kirke).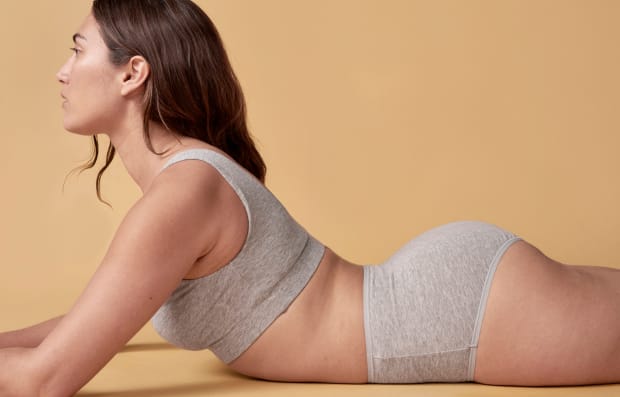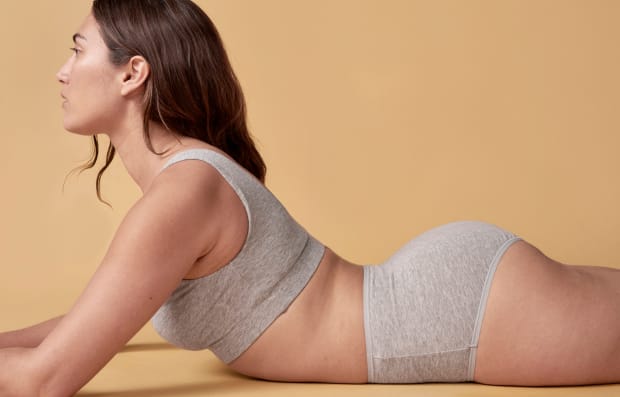 Note: A previous version of this story incorrectly stated that a size 16/18 often corresponds to a size XL. Instead, an XL usually has a 34" waist, and the average American woman has a 38" waist.
Sign up for our daily newsletter and get the latest industry news in your inbox every day.