Designers Are Prepared for the Apocalypse, According to All the Hazmat Gear on the Runways
How to dress for dystopia like a fashion girl?
A nice, courteous thing about fashion is that it's come up with solutions for even the most obscure sartorial quandaries. Like, combining your glasses with your hoop earrings! Or wearing a high ponytail and a baseball cap at the same time! Or filling your tiniest Mansur Gavriel with three to four chicken nuggets! This season, designers appear to have taken it upon themselves to provide clothes for a new, extremely grim and hopefully entirely hypothetical situation: the apocalypse?
It all started with Raf Simons's post-disaster, dystopian Fall 2018 offering for Calvin Klein, in which models came down the runway stomping on popcorn — possibly an interpretation of nuclear ashes or singed-out cornfields — while clad in hazmat gear; brand-favorite Lulu Tenney opened the show in a burnt orange suit, embellished with glossy warning tape and enormously oversized rubber overboots. Elsewhere in the collection, we saw hazmat helmets and gloves, quilted takes on thermal foil blankets and even more warning tape gracing the hems of coats and dresses.
Later, in Milan, Miuccia Prada showed her own take on hazmat geat for Prada's Fall 2018 range, complete with an assortment of bright, punchy rubber. There were a large sampling of protective shoe coverings, bucket hats and even more overboots, as well as heavy-looking rubber pants, vests and skirt sets. 
The post-apocalyptic aesthetic soon after landed in Paris, at John Galliano's latest for Maison Margiela. The collection may have featured the most literal interpretation of hazmat gear yet: Models walked the runway in clear plastic helmets and overcoats, their gear stowed away in similarly transparent plastic bags. There was no shortage of extra-long rubber gloves, clompy boots or parkas that appeared to be suitable for, let's darkly say, a nuclear winter. 
Perhaps we're being too bleak here: Maybe Prada was inspired by a romantic stroll home in a lovely autumnal rain, or the helmets at Margiela were referencing deep-sea diving. (But Calvin Klein, however, was definitely, absolutely, exactly what it appeared.) Or, everyone all over the world is equally alarmed at the prospect of our rapidly decaying planet and the potential for impending nuclear war. 2018! 
Before we spiral out further, just click through below to see how designers are all oddly reinventing hazmat gear, as seen on the Fall 2018 runways.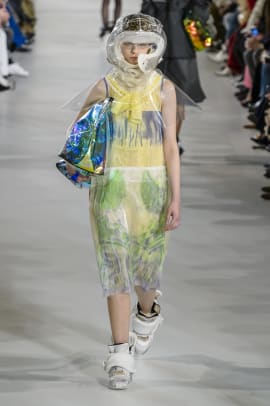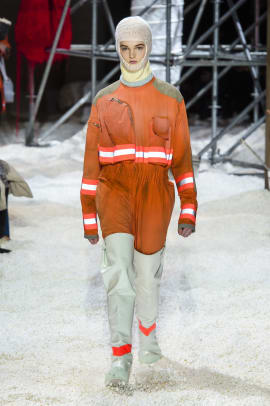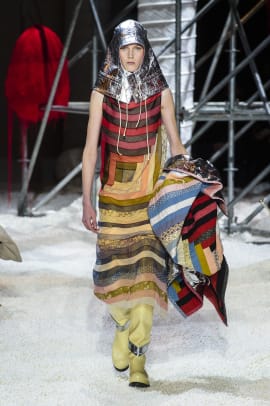 Sign up for our daily newsletter and get the latest industry news in your inbox every day.