Messy, Glitter-Doused Makeup Looks Are All Over the Fall Runways
Next time you spill something sparkly in your makeup bag, just go with it.
Glitter has been trending on the runways, in one form or another, over the past few years. But Fall 2018 will go down in fashion history as the moment makeup artists officially went glitter-crazy.
Things started simple at New York Fashion Week, with a smattering of subdued, sparkle-based eye makeup looks; makeup artist Tom Pecheux rimmed models' eyes in subtle sparkles at Oscar de la Renta, for example. But then the European shows got underway, and all-over, glitter-doused looks started cropping up all over the damn place.
Rather than concentrating a bit of shimmer in any one area, like the eyes or lips, makeup artists at the European shows began dusting it liberally all over models' faces, with little regard for fallout or perfection. The first time we spotted this was at the Preen show in London, where makeup artist Val Garland blanketed models' foreheads with it, creating a veil of glint-y sparkle.
Garland posted a video showing how the look came together — she literally blew a puff of loose glitter over the front of models' faces — to Instagram, where she referred to it as "glacial" and also took the opportunity to aptly use ample sparkle emojis.
But it seems that taste of glitter wasn't quite enough for Garland. At Monday's Giambattista Valli show in Paris, she again dipped into her stash of sparkles, taking it to an even more extreme, full-face effect that almost looked like a mask from off the runway (it wasn't). While only a handful of the models in the show received the glitter-doused treatment — the rest wore subdued, no-makeup makeup — it was nevertheless quite an impactful beauty moment. 
Meanwhile, Pecheux didn't quite get his glitter fill back in New York either, it seems; for the Antonio Marras show in Milan, he also created an all-over glitter effect, though his version was markedly subtler than Garland's. His blink-and-you-might-miss it sparkles were subdued and restrained, appearing almost imperceptible in photos (though more noticeable on the runway, as Fashionista's own Tyler McCall, who was in attendance at the show, can attest).
Let's just hope the models all packed their suitcases full of de-glittering tape for Europe.
Click through the gallery below for a close-up glimpse at the glitter-bomb looks we've spotted all over the Fall 2018 runways.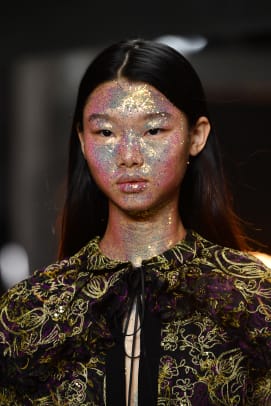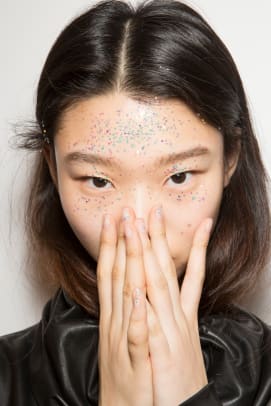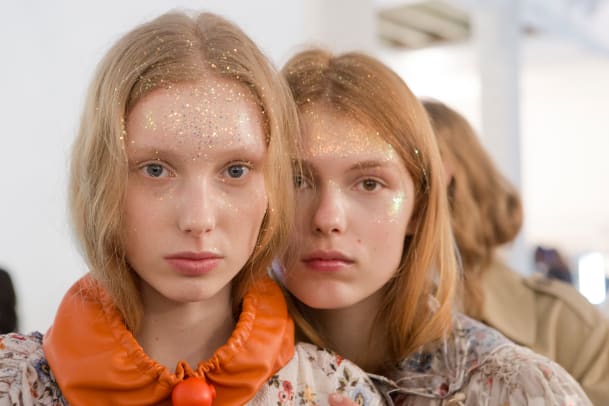 Never miss the latest fashion industry news. Sign up for the Fashionista daily newsletter.