See the Pictures From Harry Styles's Gucci Tailoring Campaign
#HARRY4GUCCI IS REALLY HAPPENING!!!!
About three years ago, we here at Fashionista started what we called the #Harry4Gucci campaign in an effort to combine two of our favorite things: Harry Styles, and Alessandro Michele's work at Gucci. 
We're pleased to announce that, finally, it's all happening: Gucci posted a teaser image featuring one of Styles's unmistakable tattoos to its Instagram on Sunday with the caption, "Hand and hound: peeking on set with @harrystyles for the new #GucciTailoring campaign."
Frankly, we can't believe it took this long to get Styles a fashion campaign — particularly one for Gucci, which outfitted him throughout his first solo tour — but we're just thrilled its here. And we feel lucky it combines two of our favorite things with a third favorite thing: dogs. 
Harry Styles, Gucci and adorable pups? Truly, what could be better? Stay tuned for the full campaign, which we'll be freaking out about until it arrives in our inbox.
UPDATE, June 2, 3:45 p.m.: Gucci has shared two official images from the campaign, shot by Glen Luchford and art directed by Christopher Simmonds. As anticipated, at least one of them features Styles accompanied by a dog (not to mention a green cape-blanket situation with an animal face on it).
Continuing the animal theme in a more unexpected direction, a second image depicts Styles carrying a pet chicken into a fish and chip shop, because what else would one do while wearing a floral two-tone Gucci blazer and plaid shirt?
Watch this space for more from the campaign as the brand continues to release new images.
UPDATE, June 4, 10:10 a.m.: Because good things come to those who wait, Gucci has finally unveiled its full Harry Styles-starring Fall 2018 men's tailoring campaign — including additional imagery that hadn't been rolled out over the weekend. Ooh! You can see all the official ads, photographed at an English "chippy" shop by Glen Luchford, below: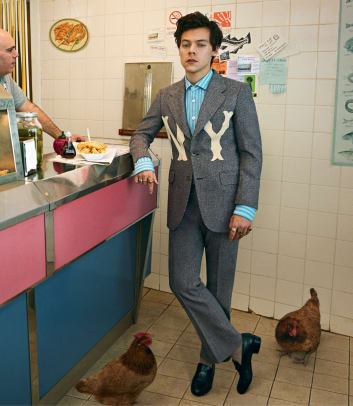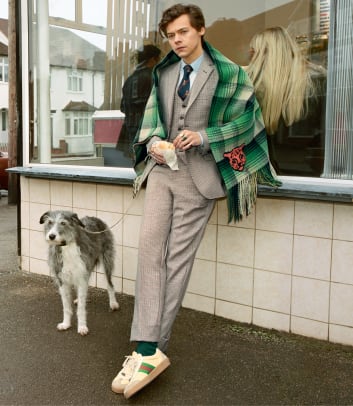 There's also a campaign video, which Luchford also directed. You can catch that below, too!
Stay current on the latest trends, news and people shaping the fashion industry. Sign up for our daily newsletter.