H&M Studio Transformed a Parisian Art Museum Into a Grand Japanese Tea Room for Its Spring 2018 Show
With paper lanterns, a traditional sushi dinner, a live koto performance and a finale that rained down faux cherry blossoms, it was a charming, respectful nod to Japanese culture.
On Wednesday night in Paris, H&M took over the famed Musée des Arts Décoratifs to present its Spring 2018 Studio collection — and to celebrate the influence that Japan has had on both H&M Studio's most recent offering and on Western culture as a whole. (From Nov. 18, 2018 through March 3, 2019, the museum will host an exhibition entitled "Japonismes" that will display a curation of nearly 10,000 pieces of Japanese art, and of which H&M is an official sponsor.) Upon learning that the country's "minimalistic design and quiet grace" directly inspired the "see now, buy now" show, it was only natural to anticipate at least one instance of cultural appropriation in either the clothing or beauty looks. However, H&M took great care to ensure that the event was a charming, respectful nod to Japanese culture, and was able to transport guests to the serene hills of Kyoto for the evening.
As we entered the show space, attendees were instructed to remove their shoes and put on a pair of traditional tabi socks that separate the big toe from the others — often worn indoors or for special occasions. Oversize paper lanterns hung above a cluster of dining tables that mimicked the Japanese custom of dining on pillows while seated on the floor, allowing for cozy, hushed conversation. Before long, a full sushi dinner was served with ceremony — as was a bottomless supply of saké — and a tatami-style straw mat was rolled out as the runway. Just ahead of the start of the show, a live performer kicked off the soundtrack by playing the koto (the national instrument of Japan) before it was remixed into Western pop songs.
The womenswear and menswear both had very subtle Japanese inspiration: The country's traditional colors of red, yellow, green and blue, as well as cherry blossom pink, made up the majority of the color palette. Lace-up wooden sandals recalled geta, the traditional footwear that resembles both a clog and a flip-flop. Sharply cut and crisp utilitarian separates were mixed with more relaxed dresses, trousers and knits. A couple of kimoni-style jackets and obi-like belts popped up throughout the collection, and both vacation-ready fringe and sparkling embellishments added an element of carefree fun. Another particularly delightful aspect? The models. They were clearly instructed to smile as they came down the runway, and VIPs in the audience — including Alexa Chung, Joan Smalls and Winnie Harlow — cheered on the diverse group, which included a number of plus-size women, several women of color and seasoned industry veteran Amber Valletta.
For the finale, a confetti shower of faux cherry blossoms covered the entire space to the crowd's (and models') delight. H&M Studio doesn't often bring its show on the road to Paris these days, but when it does, it's a production not to be missed.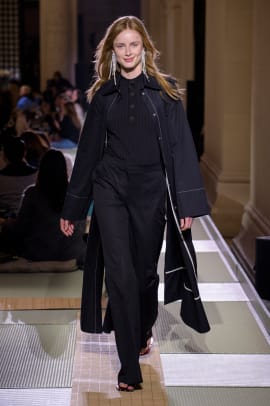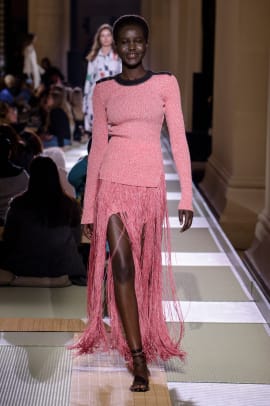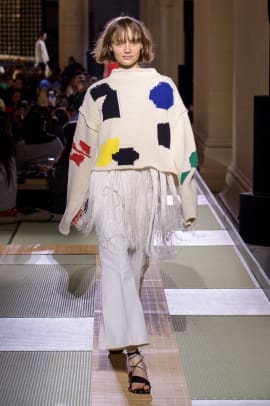 Want the latest fashion industry news first? Sign up for our daily newsletter.