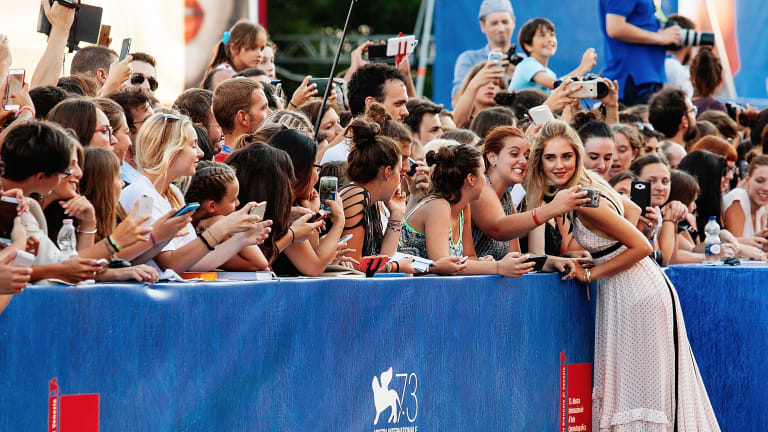 Inside the World of Top Fashion Bloggers' Biggest Superfans
Get to know the (mostly) teenage fandoms that follow influencers like it's their job.
Celebrity obsession has manifested in myriad ways throughout history. In the '20s, you might have paid monetary dues to a fan club that sent out a monthly journal about a beloved movie star; in the '90s, you might have set up a Geocities page dedicated to your favorite boy band. In 2018, if you want to show how much you really, deeply care about someone famous, you start a social media account tracking their every move.
We've come to expect this kind of rabid online fandom for mega-stars, often with a cutesy nickname attached. Members of Beyoncé's BeyHive, Rihanna's Navy or the now-defunct One Direction's Directioners often scoop traditional media outlets on Twitter, while Kesha's Animals helped organize protests on the singer's behalf during her battle with her former producer and alleged abuser Dr. Luke. But it's not just Grammy headliners that inspire legions of "Stans" (a portmanteau of "stalker" and "fan" that's been embraced by pop culture in recent years, as well as a reference to the 2000 Eminem single of the same name that tells the story of an unstable, violent fan).
Many top-level fashion influencers — that is, those with seven- or eight-digit follower counts — have cultivated fanbases that not only like and comment on their posts religiously, but also show up in screaming droves to their product launches and events, keep tabs on their friends and family on social media, and run fan accounts that, in some cases, have tens of thousands of followers themselves.
Predictably, Chiara Ferragni, founder of The Blonde Salad and arguably the industry's most well-known, highest-earning influencer, has among the most active fandoms. Her enthusiastic supporters have been known to brave wind, sleet or snow, swarm city streets, and wait outside her hotel in hopes of getting a selfie, autograph, or even just a glimpse at her latest collection. Her relationship with Italian rapper Fedez — a celebrity himself — has only escalated matters, particularly since the couple got engaged and announced that they are expecting a baby this spring.
Anna, a 20-year-old Italian fan of the couple's, says she cried while watching Fedez propose to Ferragni on stage at a concert last May. While a crowd of thousands got to witness the moment IRL, Anna watched on Instagram, and the next day she created her fan account, @chiaraefedezfanpage, where she and her best friend, Maddalena, could post photos and videos of their favorite couple. At first, she says, she figured she'd abandon the account in about a month (a reasonable assumption, considering the number of long-deserted tribute handles on the platform), but nearly a year later, the pair keeps up a daily posting schedule, and the account boasts more than 23,000 followers.
"I'm so proud because it [has] become such an important thing for me and for my BFF," says Anna. "We have reached unimaginable goals. We have never thought that one day Chiara [would] decide to follow us. That was unbelievable."
Their account is one of the few that have earned a coveted follow from the 30-year-old blogger (the others being a Mexican fan page and @FerragniCloset, which tracks down shopping links for nearly every outfit she and her sister Valentina wear). When she got the notification, Anna says she screamed aloud.
Every day around 1 p.m., she says, either she or Maddalena starts posting, and together they try to put up a piece of content every hour or two, be that a collage of the couple or a throwback photo from Ferragni's pre-blogging days. At 20, both friends have finished school, and balance managing the account with studying for their careers. While they haven't met any of their followers in person, Anna says, she's gotten friendly enough with a few of them that, when one was having trouble with her homework recently, she called her up to help.
Still, Anna says, the pair has had to learn some boundaries. Other fan pages message them often, and while they're happy to give advice ("you have to be original"), they don't promote other accounts, since they've found that doing so opens the floodgates to dozens more requesting the same.
Anna is also quick to point out that she doesn't think that her account is the best out there, or that she's bragging or looking for fame. She just loves Chiara, Fedez and (soon-to-be) baby Leo, and wants to share this passion with the world. "I like everything about her," she explains. "She's my idol. She makes me strong, and thanks to her I think that I can make all my dreams come true. She's so determined. I like her personality so much."
Fashion bloggers' main currency may be their wardrobes, but many fans say it's their drive, personality and success that they admire most. Beatriz, 14, says she first discovered Brazilian blogger Camila Coelho through her fashion and beauty content, but became a fan because of how humble and hardworking she seemed in her videos. Since 2014, she's run @forcamilacoelho, posting a curated mix of arty edits, images of Coelho accompanied by impassioned captions in her native Portuguese, and snaps from the two events at which she got to meet her in person, one in her home city of São Paolo, and one at Disney World in Orlando, where she currently lives. (On an influencer trip to Ibiza with e-commerce site FWRD, Harper's Bazaar's Senior Digital Editor Chrissy Rutherford said fans recognized Coelho wherever they went, and on multiple occasions, cried upon meeting her. FWRD also allegedly required a top-secret address and extra security for its Hamptons activation last summer to keep influencers' fans at bay.)
"Camila is one of the greatest [people] I've ever met," says Beatriz. "She's really sweet and humble, and she has the most beautiful smile I've ever seen … In the last three years I've seen her grow, become more famous and recognized. Now she wears expensive clothes and lives in a really big house. But her personality never changed. She's still the same girl she was before, but more mature."
She says it can be hard to find time to post since she's currently in school and takes care of her little sister, but she's still managed to build up a following of more than 11,000 over the years, and thinks it's "crazy" that she gets more than 100 likes on each post. Coelho liked her first-ever post on the account, and since they now follow each other, she can message her directly. But even though Coelho always answers, Beatriz says she doesn't do it that often: "I don't want to be annoying!"
Bloggers often talk about the importance of interacting with their followers, and if you look at the bios of many Stan accounts, you'll see why — they often tally the number of posts a celebrity has liked, how many times they've commented, the date they followed the account, and other major milestones.
For @mirsalehigosover, which bills itself as the "first daily news [page] for Negin Mirsalehi in Iran" that number is 312, representing every time the Persian-Dutch blogger has liked a post. Last month, Anna, the 16-year-old fan who runs the account, got to add an extra line: "followed by Negin." "My goshhhhh…I don't know what happened…Can't speak…Can't believe!!!!" she captioned the screenshot of the notification, along with a handful of crying and gasping emojis. In the comments, her followers congratulated her on the achievement, often in all-caps.
About two years ago, Anna says, she and a group of other dedicated Mirsalehi followers decided that the fandom needed an official name, and christened themselves "Neginators." Since then, she and another teenage fan have kept their followers updated on Instagram and Telegram, the popular messaging app, with daily posts of the blogger's travels, trivia about her life, and polls comparing her magazine covers and outfits.
Anna says she first followed Mirsalehi on Instagram in 2014 because she heard she was Persian, like her, and came to admire the blogger's 11-year relationship with her boyfriend, Maurits Stibbe, along with her style and personality. Over the years, she says, she's seen "more and more about her kind heart," and found "that she's not the thing haters or some people think!"
The "haters" in question are generally fixated on Mirsalehi's apparent plastic surgery, and they're more vocal than most in calling it out. While the blogger has never acknowledged having any work done, Anna says she doesn't think it's such a big deal either way. She'll quickly come to her defense with a post comparing two similar photos and asking "Where are the surgeries?" but ultimately, she says, "I think everyone has their own choice in life! We live in freedom now. Negin could choose what she likes and it's up to her!"
Mostly, though, Instagram is a relatively tame space for fashion bloggers' fans — drama tends to be confined to a few trolls in comment sections, and unlike in the beauty vlogger world, feuds are few and far between.
Interestingly, top American bloggers don't tend to have the same active communities of superfans as their European and South American counterparts. While there are dozens of fan accounts celebrating Ferragni, Mirsalehi and Coelho, our search turned up only one for the similarly well-followed Aimee Song of Song of Style, while all of those for We Wore What's Danielle Bernstein and Sincerely Jules' Julie Sariñana appear to be abandoned.
Marie, 21, from Chicago, runs @somethingicons, an account dedicated to Arielle Charnas, the New York-based blogger behind Something Navy. She says she wanted a place to keep up with Charnas's family and friends — including her fashion stylist sister, Danielle Nachmani — and couldn't find anywhere that compiled all of their content in one place.
"I wanted a better outlet to express my obsession with Something Navy instead of just in the comments section on her Instagram page," she says. "I wanted to start a page where other fans could populate and express their love for Arielle's life just as much as I [do]."
Though Charnas has proven that she has a loyal fanbase (her first collaboration with Nordstrom label Treasure & Bond was said to have sold $1 million in merchandise online in the first 24 hours, and she's since inked a long-term deal with the retailer), the audience for the fan page so far is modest — 600-odd followers. Charnas and her husband followed right away, though, says Marie, adding that she plans on keeping it regularly updated by screenshotting content from the family's accounts and re-posting it to Instagram Stories and her feed throughout the day.
Marie says that she's inspired by Charnas's lifestyle, along with how "real" and "natural" she is. "I really look up to the fact that she's a successful woman, mother, wife, sister, daughter, and friend," she says. "She lives a successful life with her husband while following her passion. In my future I see my life being like that in certain ways."
Charnas, unlike many of the other bloggers mentioned here, is rarely photographed jetting around the world or walking the red carpet at a film festival; almost all of the photos on her feed are taken in New York City, and she favors contemporary labels rather than head-to-toe runway looks. Her brand, while aspirational, is resolutely normal (or, per WWD, "she's basic and she knows it.")
It's a stark contrast to someone like Thassia Naves, the top Brazilian blogger whose recent posts include snaps from Milan Fashion Week (lounging in bed with a pile of Gucci boxes, sitting front row at Versace, posing outside the Duomo in a head-to-toe sheer corset dress). Naves embraces larger-than-life glamour, and her fans lap it up: @teamthassia, one of several active fan pages dedicated to the blogger, has more than 50,000 followers, and Vitória and Gabi, the university students that run the account, fill the feed with street-style snaps, party photos, and videos from Naves' international travels. Relatable? Not so much. But the pair don't seem to mind, particularly since the page has given them an open line of communication with their fave since she followed them in 2014.
When personal-style bloggers first started gaining traction in the industry around a decade ago, there was a fear that they would render experienced critics and editors obsolete; in the years since, however, the top tier has morphed into something more akin to celebrities than journalists. The Chiaras and Camilas of the world broadcast their outfits, relationships, homes and lives to millions of fans and followers, and the more fabulous (and expensive) these become, the more they seem to be idolized by their fans.
Curiously, it's the bloggers with more "relatable" brands that seem to have the most vitriolic haters — the forums of influencer-snark site Get Off My Internets are chock full of criticism towards lifestyle bloggers like Pink Peonies' Rachel Parcell, Cupcakes and Cashmere's Emily Schuman and, yes, Something Navy's Charnas, while high-fashion types like Ferragni and Naves are left almost entirely unscathed.
Whether you're a Stan or a hater, however, influencers have one distinct advantage over pop stars or actors: You don't have to wait for a new album or movie to come out for something new to obsess over. There's always more content where that came from.
Homepage photo: Chiara Ferragni at the 2016 Venice Film Festival. Rosdiana Ciaravolo/Getty Images