Isabel Marant Takes the French Girl Out West for Fall 2018
Supple leather, swingy fringe and kicky boots had us saying, "Yeehaw!"
Despite the almost-mythical intrigue surrounding "French girls" and doing anything and everything like them, there's also a more low-key excitement surrounding down-home Americana. We've seen it most prominently at Calvin Klein, which Raf Simons has brought further and further out West; the brand's utilitarian, old-school work shirts and cowboy boots are now as covetable as any number of French-girl fixings, like silk scarves or berets. So, are we ready for some wild, wild West in our wardrobes? 
Isabel Marant sure is, or at least made a strong case for it with her Fall 2018 collection, presented in Paris on Thursday evening. While the range embodied that easy, breezy French-girl je ne sais quoi for which the designer is adored in her home country and beyond, it also had an undeniable Western flair in every last detail, from clothing to accessories. Meanwhile, the runway show's soundtrack helped set the tone with kicky country hits like Dolly Parton's "Jolene" and Chris Isaak's "Wicked Game," and a delightful banjo melody booming for the finale.
Brand-favorite Anna Ewers opened the show in a belted, camel-and-black-striped wool peacoat, its large size allowing for Ewers to skip pants altogether. The same stripes adorned midi-length coats, sweaters and capes, while another bandana-inspired paisley pattern decorated frocks with oversized shoulders, femme collared blouses and flouncy prairie dresses perfect for a day spent frolicking in the sunshine. Knitted eyelet was another hit, taking the form of dainty cropped tops, including a particularly stellar rendition with extra-wide sleeves worn by Andreea Diaconu. 
The accessories were also delightfully on-theme, though, thankfully, without verging on costume. Where many looks were styled with slouchy over-the-knee boots in a range of supple, buttery leathers, others came with cap-toed cowboy boots, which we already know will be a big street style story come autumn. Several Western-style belts accentuated waists or adorned jean loops, while new crossbody bags got a thematic update with punchy hardware.
The show finished up with a series of super-short party dresses admittedly reminiscent of Anthony Vaccarello's at Saint Laurent, including Vittoria Ceretti's one-shouldered, puffy-sleeved number done up in ruched, ruffled black leather. Gigi Hadid closed out the lineup in a broad-shouldered sequined top tucked into leather pants that sort of fit the way your favorite pair of all-American Levi's might — a bit roomy at the top, but tapered and semi-cropped at the ankle.
It was a beautiful, yeehaw-worthy and undeniably commercial collection, and the brand can surely expect for individual pieces (like its always-excellent knitwear, for instance) to sell as well as full looks — especially if we all decide to stay out West for a few seasons. If it would mean getting to wear this collection, there are no complaints here. 
Click through below to see Isabel Marant's full Fall 2018 collection.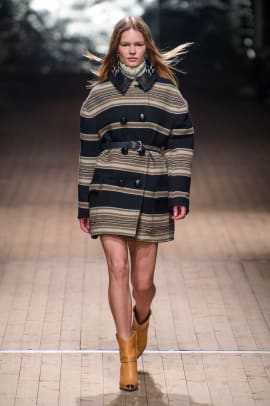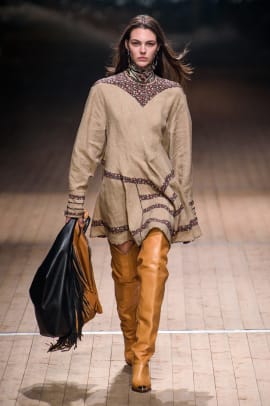 Sign up for our daily newsletter and get the latest industry news in your inbox every day.