Juicy Couture's New Crystal Collection Includes a $25,000 Jumpsuit
The revived brand just dropped a sparkly, nostalgic collaboration with Swarovski.
For a new collaboration with Swarovski, Juicy Couture — recently revamped by celebrity stylist Jamie Mizrahi — will be selling the jumpsuit pictured above at retail for a cool $25,670. For some, that's a year's worth of rent, a wedding, a car or even a salary. But can you really put a price on the most perfect embodiment of Fall 2018's major crystal trend, or a more tasteful version of Paris Hilton's 21st birthday ensemble? I mean, most marriages end in divorce anyway, and there's Uber now.
Jokes aside, the jumpsuit is the hero piece of a full assortment of throwback Juicy staples — some solid, others embellished with various crystal motifs and almost all with personalization options. That's right: You can own a Juicy velour tracksuit with your name, in crystals, embroidered onto the butt, for instance. If you remember how weird it felt to always be looking at people's butts in the early aughts because they bore the word "Juicy," get ready for that, times 10. Clearly, the new Juicy is leaning heavily into the early aughts aesthetic that made it successful the first time around.
The sparkly collection's first drop is available right now, exclusively on Farfetch, with additional items to be rolled out in April and May drops. You'll have to wait until April to snag the jumpsuit; for the rest of the collection, prices range from $275 for unembellished pieces to $1,350 for very embellished ones, with customization costing from $40 for a monogram to $200-plus for logos and words.
It's not cheap, but the nostalgia factor and Kirakira opportunities just might make it worth it.
More images in the gallery below.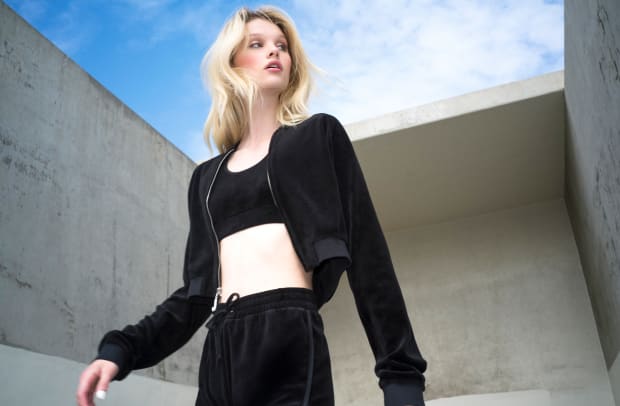 Never miss the latest fashion industry news. Sign up for the Fashionista daily newsletter.