Kanye West Is Being Sued Over Yeezy's Camo Print
LeBron James's company Unknwn is also named in the suit.
You can add another name to the ever-growing list of Kanye West's enemies: On March 15, Jordan Outdoor Enterprises LTD filed a copyright infringement suit against Yeezy Apparel LLC and Unknwn LLC, LeBron James's Florida-based boutique.
The issue at hand is trademarked Realtree camo, which, if you have a relative in the South who enjoys the sport of hunting, you have likely seen. The brand is alleging that West has also definitely seen Realtree camo, as the suit claims that a "representative" of Yeezy reached out to Jordan Outdoor Enterprises in March of 2016 "regarding use of JOEL's camouflage patterns." That representative was informed that they would need to submit a licensing application for approval, and the suit alleges that the company never heard from anyone at Yeezy again. (It's worth noting that the company isn't opposed to licensing Realtree to fashion brands, as it collaborated with Supreme in 2017.)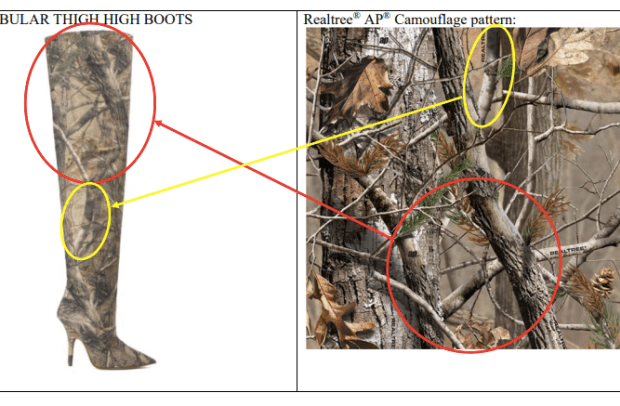 The problem, then, is that three of Jordan Outdoor Enterprises' trademarked Realtree camo patterns popped up on several Yeezy items with their marks removed. These include a long-sleeved moto tee from Yeezy Season 3 (which would have been designed and shown before Yeezy allegedly reached out to Jordan Outdoor Enterprises), a pair of thigh-high boots and a hooded bomber from Yeezy Season 5, and a pair of camo sweatpants modeled by none other than West's wife and muse Kim Kardashian West. This last piece is also a sticking point, as Jordan Outdoor Enterprises claims that Yeezy is promoting the "infringing" clothing by putting them on "third parties" to be seen in public. 
James and Unknwn are included in the suit for selling these infringing designs in his boutiques and through its website. (Indeed, that these garments were sold online has also facilitated the suit, filed in the Middle District of Georgia; because consumers in the state of Georgia can access theses goods through Yeezy and Unknwn's websites, the court has jurisdiction in this case.)
Jordan Outdoor Enterprises, unsurprisingly, is demanding quite a lot: The company is asking to be paid three times the damages suffered as a result of the infringement (plus all legal fees), that Yeezy and Unknwn be stopped from selling any infringing product and that all remaining infringing product be turned over to be destroyed.
So if you were thinking of picking up some of Yeezy's camo print, you may want to hurry — or just swing by your local Bass Pro Shop and pick up the real deal. It's much cheaper anyway.
Want the latest fashion industry news first? Sign up for our daily newsletter.