At Kenzo, a Lush Celebration of Art, Knits and a Lot of Weird Fun
There was nothing not-delightful about Carol Lim and Humberto Leon's latest offering for the French label.
Prior to Kenzo's latest Paris Fashion Week presentation at the opulent Paris Mint on Wednesday evening, the French label had already debuted two Memento collections — capsules that cater to historical and artistic events, rather than straight-seasons. It's all  emblematic of both the house's legacy and its current designers, Opening Ceremony's Carol Lim and Humberto Leon, actually: Since Kenzo Takada debuted his eponymous label in 1970, the brand has become known for its particular sense of vivaciousness and eccentricity, and broader so, its fun. A general runway show is never just that — there are also aerial dancers or a drum line. Lim and Leon do it big, or they don't do it at all, which is what makes its events so special.
For Kenzo's La Collection Memento N°3, or the third installment of its Memento capsule, Lim and Leon looked to Takada's love of Henri "Le Douanier" Rousseau, a self-taught French painter whose lush works of turn-of-the-century art went on to influence many famed surrealists, including Pablo Picasso and, much later, Takada himself. Takada, who stepped away from his label in 1999, recently went about recreating several of Rousseau's works, including 1891's "Tiger in a Tropical Storm" and 1910's "The Dream." The latter of which holds particular significance: "It was thanks to the work of Henri Rousseau that I began to look for a name for the boutique in the vein of 'the dream of the jungle,'" said Takada in a release. "Later, the name would become simply 'KENZO' and in the 1980s our second line was called 'Jungle.'" Hence, the house's iconic tiger emblem. 
Takada's recreations, which were presented ahead of the show on Wednesday, were already striking, but made even more so when considering the fact that he made a few of his own alterations, including changing the faces of the main protagonists and painting himself in. For La Collection Memento N°3, Lim and Leon took Rousseu's work — and Takada's adoration of it — and ran, applying the recognizable jungle imagery across denim, ankle-length coats, ruffled dresses and even blanketed sheaths, like the one pictured above. 
The collection's real standouts were its knit pieces, already a cornerstone of the brand; imagery from Rousseau's works covered such covetable items as safety orange cable knit crewnecks and cozy cardigans. There was also no shortage of the brand's familiar stripes, covering clothing (from ruffled midi skirts to slim-fitting turtlenecks) and winter accessories (scarves to beanies) in several colorways. Models in enormous jungle costumes interspersed the runway lineup, too, filling the room with laughter.
As the show wrapped up and we stood up from our long feast tables (the entire room was filled with indulgent bites like beet lollipops and open pomegranates), a familiar feeling set in that this was a presentation that would stick with us for the foreseeable future — as many of Kenzo's events have.
Click through below to see Kenzo's full La Collection Memento N°3 capsule.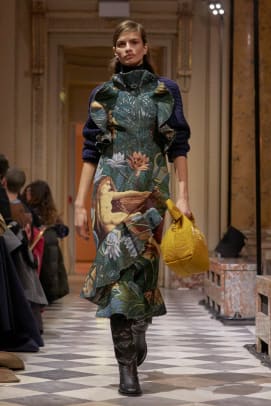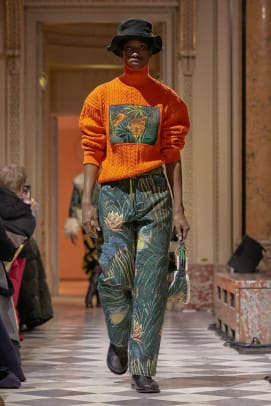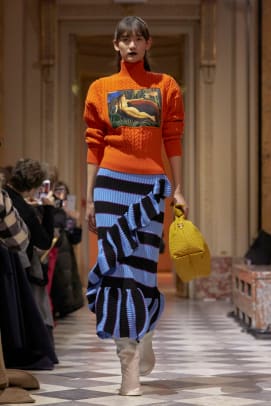 Sign up for our daily newsletter and get the latest industry news in your inbox every day.