Louis Vuitton's Fall 2018 Collection Expertly Mixes the Past, Present and Future
Classic silhouettes from centuries ago appeared alongside more recent staples.
While it's a hard fact that most fashion people feel pretty loopy by the final show of Paris Fashion Week, which just so happens to be Louis Vuitton, there's nothing that can make you wonder whether you're actually going crazy quite like walking into the Louvre's private Lefuel Court — a majestic 19th century courtyard with a horseshoe-shaped staircase in the center — to find it transformed into something resembling a spaceship. Artistic Director Nicolas Ghesquière has long had a knack for the futuristic, the sci-fi and the otherworldly (he's such a fan of "Stranger Things," for example, that he included a T-shirt printed with the teenaged cast on his Spring 2018 runway), but was he about to transport us to an entirely different dimension for Fall 2018? Not exactly.
The beautiful collection that walked on Tuesday night was well-balanced mixture of past, present and future. Classic silhouettes from centuries ago, like lace-up waist corsets, dangly shoulder epaulettes and Victorian-style peplum coats, appeared alongside staples from the more recent past, like tweed jackets and pencil skirts, argyle knits, long leather gloves and simple, silk pleated skirts. Then, of course, there were the must-have items of now: leather jackets (complete with shearling or embroidered collars); sporty, roomy crew-neck tops in a variety of textures complete with a Louis Vuitton logo; sexy, tailored trousers done up in sequins suede or pinstripes; and the sorts of fuzzy, cozy coats that millennial customers go crazy for, especially in hues like sunny yellow.
Elements of each era were expertly layered throughout the show. Basic, oversized sweaters were worn underneath fitted slip dresses adorned with ribbons, gold buttons and chains; old-fashioned houndstooth made its way onto patchwork silk tops, airy shirt dresses and even the sharp collars of blazers; office-appropriate skirts were paired with athletic or party-ready shirts (with fringes and sequins galore); and the drapey evening pieces that rounded out the finale were topped off with a contrasting collar. Who ever said you can't mix business and pleasure?
Heavy metal, holographic and computer-inspired elements were also big, with small, shiny handbags that recalled battery packs and larger ones that were patterned like a motherboard. The collection's chain belts, chunky jewelry and embellishments were offset by the easy silk frocks and sporty separates, and since today's woman is all about mixing and matching — just like last season's cult-favorite casual sneakers and regal brocade coats — this one's likely to be another commercial hit. If his track record proves anything, it's that Ghesquière is always several steps ahead, somehow knowing exactly what his customers will want to wear in the future — whether in six months when the collection hits stores, or years down the road when it's passed on to the next generation of fashion fans.
Click through below to see Louis Vuitton's full Fall 2018 collection.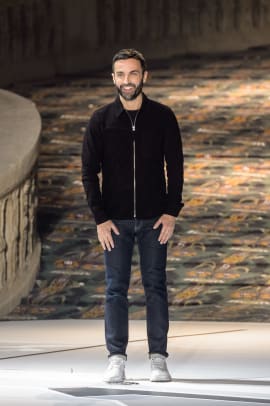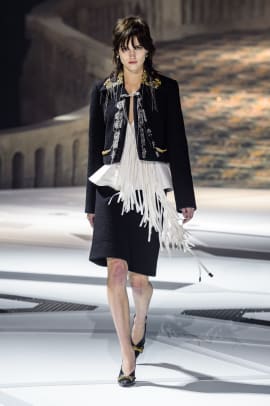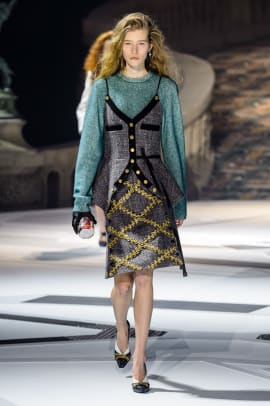 Sign up for our daily newsletter and get the latest industry news in your inbox every day.