At Off-White's Fall 2018 Show, A Mob Scene of Virgil Abloh Fans Overshadowed the Fashion
The designer has hit such a high level of hype that his Paris Fashion Week show became dangerous.
There's no question that fashion brands today are either living or dying by the hype surrounding them. We're living in the era of Alessandro Michele and Demna Gvasalia, whose blockbuster logo tees, hoodies, shoes and accessories for Gucci and Balenciaga, respectively, led parent company Kering to post its most profitable year on record in 2017. Competing French luxury conglomerate LVMH had a banner year for sales in 2017 as well, thanks in no small part to Louis Vuitton's brilliant collaboration with streetwear giant Supreme, which made its debut on Kim Jones's Fall 2017 menswear runway. And then there's Kanye West: From his Pablo merch to his ever-growing range of sneaker styles, people all over the world will do almost anything — and pay any price — to get their hands on what he's selling.
The same can be said about Off-White's Virgil Abloh — a frequent West creative collaborator — whose levels of hype are among the highest in the industry. His "The Ten" collection for Nike was nearly impossible to buy at retail, and resellers are able to flip them for thousands of dollars like it's nothing. Off-White's signature graphic hoodies, industrial belts, binder clip bags and "quotation mark" branding have not only become surefire street style and Instagram bait, but they also often sell out just days after they're stocked. Abloh has also positioned himself as a champion of the youth, giving talks at the likes of Harvard and Columbia and preaching a DIY lifestyle. All things considered, it's not too surprising that — despite his bonafide celebrity status — many of his fans and customers likely see him as an approachable peer who probably wouldn't mind terribly if they tried to sneak into his show at Paris Fashion Week. Hell, he claims he used to do it himself, and he's invited his Instagram followers to shows in the past! What could possibly go wrong?
As it turns out, a lot. On Thursday evening, on a tight block off Rue Cambon, a full-on riot broke out at the entrance to the Off-White venue, proving that Abloh's reached such a high level of hype that people are willing to put each other in danger just to get a piece of him. Cops were screaming instructions in French, blowing whistles and forcefully pushing ticket holders out of the street to allow cars to pass. Abloh disciples without invitations attempting to gatecrash (and who spilled over from an Off-White pop-up shop held earlier in the day) were likely to blame for the mob scene; a young French boy even stopped Maura and I on the street to ask if he could tag along with us. While the spirit of inclusivity is admirable, hundreds of men and women were pushing, shoving, trampling and hitting each other in order to inch closer to the door. Very senior-level editors, buyers, photographers and stylists were stuck inside this mosh pit — some squashed so tight that both feet hovered off the ground — for over half an hour until the front-of-house production team was able to manage the crowd. It was violent, it was scary and it completely overshadowed what was otherwise a very polished showing from the label.
Entitled "West Village," the collection was inspired by the type of New York City woman who goes to "[SoulCycle] on weekdays and rides horses in Westchester [on weekends]." This lifestyle is likely relatable for a number of his affluent clients — show opener Bella Hadid, for instance, is an accomplished equestrian — and the show mixed modern updates on classical, well-tailored riding style (quilted capes, tall boots, jodhpurs, slim-cut collared shirts and jackets) with slick athletic gear like skin-tight bodysuits, sporty bra tops, hot pants, anoraks and, of course, sneakers. There were a few dresses thrown in, too — some in reflective paillettes, leather or with cutouts for a night out downtown, others in airy tulle or silk for a more highbrow affair in the country or out East. But what the hypebeast-types will truly be clamoring for are the several new shoe and handbag styles, the slim black sunglasses and the underwear with an elastic waistband emblazoned with the brand name. Who they have to step over in the process of copping them won't matter.
There's a precedent to all of this madness: The Supreme x Louis Vuitton pop-up shops were cancelled in fear of mayhem ensuing, and sneakerheads have dealt with out-of-control drops for years, particularly in 2014 when the NYPD shut down the Supreme store ahead of the Nike Air Formaposite release due to violence among the crowd. While West's Pablo pop-ups were relatively tame, he caused a riot himself in 2016 after announcing a surprise show at Webster Hall that had desperate fans falling over one another to get inside, essentially shutting down several blocks in the East Village. It's nice when designers make an effort to be more inclusive and democratic than the exclusive fashion industry has traditionally been, but with celebrity designers like Abloh — whose fans are savvy enough to find out his event's address — where does the industry draw the line? When ticket-holding guests are physically assaulted before a show starts, there's a problem. And as transparency, social media and the hype model continue to increase in importance for brands, it's only going to get worse.  
As designers in every fashion capital are being forced to rethink the way they format and schedule their runway shows and release their collections to consumers, this is just one more issue that needs solving. And if there's one super-creative mind in the industry who's equipped to come up with an ingenious solution, we're betting that Abloh's the man for the job.
See the full Off-White Fall 2018 collection below.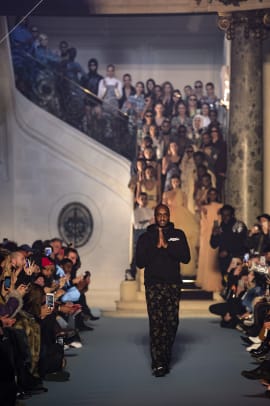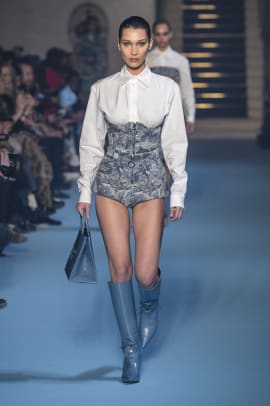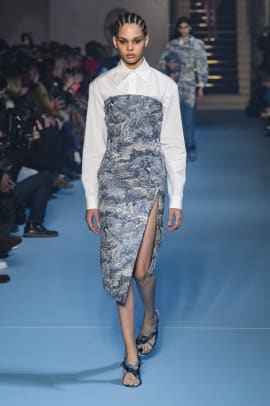 Want the latest fashion industry news first? Sign up for our daily newsletter.