Behold Entireworld, Scott Sternberg's New, Accessibly Priced Brand
The Band of Outsiders founder is back with a direct-to-consumer line of cool wardrobe staples at wallet-friendly prices.
After several years of working in fashion, I've come to recognize a familiar feeling when shopping at the designer level (beyond the anxiety of going broke): I feel like I'm being tricked — namely, with price tags that I know don't correlate to what an item cost to make. It's a feeling that's become all the more real with the rise of what people are actually calling "troll" brands like Vetements (and the recent debate over whether it's still selling through at retail). There are way too many fashion brands out there, but decent quality and design that isn't overly trend-driven at an analogous price is surprisingly hard to find, particularly alongside good branding (albeit for reasons that have more to do with the broken fashion system than designers).
Enter Entireworld, an ambitious new project by Los Angeles-based Scott Sternberg — the founder of once-beloved designer label Band of Outsiders — in which there is no trickery involved. Sternberg's official second act after Band closed in 2015 launches Monday with a utopian, democratic, somewhat anti-establishment ethos, explained in the below video. Maybe it's all the "Wild Wild Country" I've been bingeing, but something about it made me feel a bit like I was (successfully) being recruited into a cult.
His proposition, a democratically priced men's and women's line made "without compromising anything about the design or quality," as he says in the video, paired with the appealing, no-nonsense branding at which he excelled at Band of Outsiders, is hard to resist.
But what about the clothes themselves? Below is a sampling of the initial women's offering, complete with prices. There are striped tees, a peasant blouse, a slinky turtleneck and a cozy fisherman's sweater styled on real-looking, albeit beautiful girls in a way that makes the clothes look lived-in. These are truly just wardrobe staples, perhaps with a (very Sternberg) retro-preppy twist, the inspiration for which can be gleaned from the brand's Instagram account, which is full of pop culture imagery from decades past.
Most items come in a size range of XS-XL and are priced between $15 and $225. According to Business of Fashion, the collection is made in Japan and China and is of comparable quality to Band of Outsiders, despite the much lower price point. Entireworld will release new product online in drops — a staple of brands born after 2016 — every month or so. Undies, a bralette and a camisole are among the items that will drop in May. 
It's hard not to draw parallels to brands like Everlane, Uniqlo and American Apparel, but in the video, we're shown imagery of iconic companies like Patagonia, Apple, Ben & Jerry's, United Colors of Benetton and Coca-Cola as Sternberg says, "I started thinking about brands, and how the greatest brands can actually be something meaningful."
While the video might feel cult-y, a word that was also used to describe Band of Outsiders, Sternberg's vision for Entireworld — and I guess it's right there in the name — seems bigger; still, he's wisely starting out small. Get a sneak peek below, and shop it here on Monday.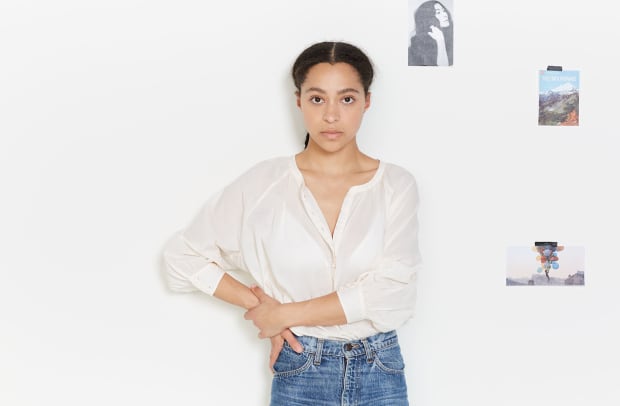 Never miss the latest fashion industry news. Sign up for the Fashionista daily newsletter.